Roberts, Owen Josephus
Roberts, Owen Josephus (1930–1945)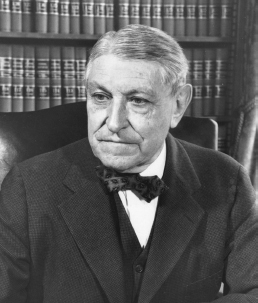 Birth: May 2, 1875, Germantown, Pennsylvania.
Education: University of Pennsylvania, A.B. with honors, 1895; LL.B., cum laude, 1898.
Official Positions: Assistant district attorney, 1903–1906; special deputy attorney general, Eastern District of Pennsylvania, 1918; special U.S. attorney, 1924–1930; umpire, Mixed Claims Commission, 1932; chairman, Pearl Harbor Inquiry Board, 1941–1942.
Supreme Court Service: Nominated associate justice by President Herbert Hoover May 9, 1930, to replace Edward Terry Sanford, who had died; confirmed by the Senate May 20, 1930, by a voice vote; took judicial oath June 2, 1930; resigned July 31, 1945; replaced by Harold H. Burton, nominated by President Harry S. Truman.
Family: Married Elizabeth Caldwell Rogers, 1904; one daughter.
Death: May 17, 1955, West Vincent Township, Pennsylvania.
Participation in Key Cases
Opinions Written
Learn more about Supreme Court Justices
Learn More About This Supreme Court Justice
Owen Josephus Roberts's ancestors left Wales in 1808 and settled in southeastern Pennsylvania. He was born May 2, 1875, to Emma Laferty Roberts and Josephus Roberts, a prosperous hardware merchant and wagon dealer. Owen Roberts was a quiet youngster who displayed a love for books and an aptitude for debating. He attended the University of Pennsylvania and graduated Phi Beta Kappa in 1895. He went on to the University of Pennsylvania Law School, where for two years he was the associate editor of the American Law Register (University of Pennsylvania Law Review). He graduated cum laude in 1898. In addition to starting private practice the same year, Roberts also taught at his former law school, rising from lecturer to full professor. He continued to teach part-time at the university until 1919.
In 1903 Roberts was named assistant district attorney in Philadelphia. He returned to private practice in 1906 and built a prosperous business representing a large clientele, including several corporations.
Appointed a special deputy attorney general in 1918, Roberts prosecuted several cases in the Philadelphia area under the terms of the Espionage Act. In 1924 President Calvin Coolidge named him and former senator Atlee Pomerene, D-Ohio (1911–1923), as special U.S. attorneys to investigate the Teapot Dome Scandal of the Harding administration. Roberts uncovered a network of bribes to administration officials, several of whom were convicted but received relatively short prison sentences.
In May 1930 the Senate refused to confirm President Hoover's nomination of North Carolina judge John J. Parker to the Supreme Court because of Parker's rulings upholding "yellow dog" labor contracts and his derogatory comments on blacks. Roberts was Hoover's next choice, and the Senate confirmed him May 20.
Roberts joined a Court that was divided between a conservative group nicknamed the Four Horsemen and a more liberal group. As a swing vote, he could decide the outcome of a case. He is generally regarded as more conservative than liberal. He wrote the 1936 opinion in Butler v. United States, which struck down one of the pillars of the New Deal, the Agricultural Adjustment Act. He also, however, voted to uphold a Minnesota law that provided mortgage relief to homeowners suffering financial difficulties due to the Great Depression. In Nebbia v. New York (1934) he came out in favor of price regulation.
It is a popular myth that Roberts made the "switch in time that saved the Nine." Just months after President Franklin D. Roosevelt proposed adding more members to the Court, the story goes, Roberts changed his vote in a case involving a Washington State law providing a minimum wage for women. In truth, Roberts had voted before the "Court-packing" plan became known.
In addition to his Court duties, Roberts oversaw an investigation of the attack on Pearl Harbor and headed the Commission for the Protection and Salvage of Artistic and Historic Monuments in Europe. The commission traced and catalogued art objects stolen or destroyed by the Germans during World War II.
After resigning from the Court, Roberts returned to his alma mater and served as dean of the University of Pennsylvania Law School from 1948 to 1951. He was involved in the world federalist movement and served in 1953 as the chairman of the Fund for the Advancement of Education. He died May 17, 1955, in Pennsylvania.