Kavanaugh, Brett M.
Kavanaugh, Brett M. (2018–)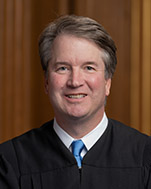 Birth: February 12, 1965, in Washington, D.C.
Education: Yale College, B.A., 1987; Yale Law School, J.D., 1990.
Official Positions: Law clerk to Judge Walter Stapleton, U.S. Court of Appeals for the Third Circuit, 1990-1991; law clerk to Judge Alex Koxinski, U.S. Court of Appeals for the Ninth Circuit, 1991-1992; law clerk for Justice Anthony M. Kennedy, U.S. Supreme Court, 1993; attorney, Office of the Solicitor General of the United States, 1992-1993; associate counsel, Office of Independent Counsel, 1994-1997, 1998; partner, Kirkland & Ellis, Washington, D.C., 1997-1998, 1999-2001; associate counsel, then senior associate counsel, President George W. Bush, 2001-2003; assistant to the president and staff secretary, President George W. Bush, 2003-2006; judge, U.S. Court of Appeals for the District of Columbia, 2006-2018.
Supreme Court Service: Nominated as associate justice of the U.S. Supreme Court by President Donald Trump, July 9, 2018; confirmed, 50-48, October 6, 2018.
Family: Married Ashley Estes, 2004; two daughters.
Participation in Key Cases
Opinions Written
Learn more about Supreme Court Justices
Brett M. Kavanaugh (1965 – ) joined the Supreme Court in October 2018 in the second week of a new term after a contentious hearing before the Senate Judiciary Committee and a historically narrow confirmation vote in a Senate deeply divided along partisan lines. His appointment by the Republican President Donald J. Trump to succeed the retiring justice Anthony M. Kennedy gained strong support from conservative advocacy groups, who viewed Kavanaugh as likely to solidify the Roberts Court's conservative majority on a range of contentious issues, and fierce opposition from liberal groups, who similarly expected him to shift the Court to the right.
Kavanaugh was born in Washington, D.C., on February 12, 1965, and grew up in the adjacent suburb of Bethesda, Md., as the son of a trade association lobbyist father and a mother with a late-in-life career as lawyer and state court judge. He had served twelve years on the U.S. Court of Appeals for the District of Columbia Circuit when Trump nominated him on July 9, 2018, to succeed Kennedy. The Senate's majority leader, Republican Mitch McConnell of Kentucky, promptly promised to schedule hearings and a confirmation vote in time for Kavanaugh to join the Court with the opening of a new term in October. McConnell's Democratic counterpart, New York's Chuck Schumer, vowed to oppose Kavanaugh's confirmation "with everything I have."
After his graduation from the private, Jesuit-operated Georgetown Preparatory School in Bethesda, Kavanaugh earned his B.A. degree from Yale University in 1987 and his J.D. from Yale in 1990. After law school, he clerked for two well-known conservative federal appeals court judges, Walter Stapleton of the Third Circuit and Alex Kozinski of the Ninth Circuit. He then worked for one year in the U.S. solicitor general's office before clerking for Kennedy in the Supreme Court's 1993–1994 term. He was also associate counsel in the Office of Independent Counsel under Kenneth Starr from 1994 to 1997 and again in 1998 during the investigations of President Bill Clinton that resulted in Clinton's impeachment by the House of Representatives and acquittal in the Senate.
Kavanaugh worked in the White House under President George W. Bush for six years as associate counsel and senior associate counsel from 2001 to 2003 and assistant to the president and staff secretary from 2003 to 2006. Bush nominated him for the D.C. Circuit in 2003, but Senate Democrats criticized his record as politically partisan and blocked action on the nomination. He eventually won confirmation in 2006 on a mostly party-line Senate floor vote of 57–36 after negotiations between the two parties to allow action on a number of Bush's judicial nominees.
On the D.C. Circuit, Kavanaugh compiled a generally conservative record and was viewed by many conservatives as a potential Supreme Court nominee with a Republican in the White House. Kavanaugh was not on Trump's list of potential Supreme Court nominees during his presidential campaign in 2016, but he emerged as a leading candidate after Kennedy announced his decision to retire as the Court ended its 2017 term in June 2018. Trump had picked another former Kennedy law clerk, Neil Gorsuch, as his first Supreme Court appointee in his first month in office in January 2017.
Trump announced his decision in a prime-time White House ceremony on July 9 while describing Kavanaugh as a judge who would "set aside [his] views to do what the law and the Constitution require." Kavanaugh responded by describing his judicial philosophy in similar terms. "A judge must be independent and must interpret the law, not make the law," he said.
The Senate Judiciary Committee opened hearings on the nomination on September 4 with strong supporting statements for Kavanaugh from the committee's eleven Republicans and opposition or doubts from the ten Democrats. Kavanaugh used his twenty-minute opening statement to try to dispel the partisan rancor. "The Supreme Court must never, never be viewed as a partisan institution," he said.
Over the next three days, Republicans praised Kavanaugh's record, while Democrats pressed him on a number of issues, including reproductive rights and presidential power. Democratic senators noted Kavanaugh's previous criticism of Roe v. Wade and his criticism in a law journal article of civil or criminal investigations of the president while in office. On Roe v. Wade , Kavanaugh repeatedly described the decision as an "important precedent" that had been "reaffirmed several times," but withheld any specific commitment. On presidential immunity, Kavanaugh declined under persistent questioning to promise to recuse himself if the Court was asked to rule on issues arising from the then-ongoing special counsel's investigation of Trump.
The hearing was reopened after the committee's ranking Democrat, California's Dianne Feinstein, disclosed a letter from a research psychologist in California that accused Kavanaugh of sexually assaulting her at a house party while they were both high school students in Bethesda. Christine Blasey Ford detailed the accusation in a dramatic hearing on September 27; Kavanaugh followed with an indignant denial that described the accusation as an "orchestrated" political hit. He also denied a second reported accusation that he exposed himself to a female classmate at a party while an undergraduate at Yale.
The committee reconvened on September 28 to vote on the nomination, but one Republican senator, Arizona's Jeff Flake, said he would vote to advance the nomination only with an agreement that the FBI conduct a new investigation of Kavanaugh, limited in time and scope. The FBI report, submitted confidentially to the Senate on October 3, failed to find corroboration for either allegation. Republicans said that the report proved Kavanaugh's innocence, while Democrats criticized the investigation as a "sham."
The Senate voted 51–49 on October 5 to proceed to a vote on the nomination with a 30-hour limit on debate. One Republican voted against the motion to proceed, one Democrat voted for the motion. The Senate concluded debate the next day, on October 6, by voting 50–48 in favor of Kavanaugh's confirmation; one Democrat voted yes and two Republicans did not vote. Alaska's Republican senator, Lisa Murkowski, had announced that she would vote against confirmation, but she withheld her vote as a courtesy to Montana's Steve Daines, who missed the vote to attend his daughter's wedding in his home state. The two-vote margin was the second closest successful confirmation vote in Supreme Court history; the Senate approved President James Garfield's nomination of Stanley Matthews in 1881 by a vote of 24–23.
Kavanaugh took the two oaths of office in a private ceremony at the Supreme Court within hours of the Senate vote; Chief Justice John G. Roberts Jr. administered the constitutional oath and Kennedy administered the judicial oath. Trump presided over an additional ceremonial swearing-in at the White House on the evening of October 8. Trump used the occasion to apologize to Kavanaugh and his family "for the terrible pain and suffering" they endured in the confirmation process. Kavanaugh answered by saying that he was assuming office "with gratitude and no bitterness." Kavanaugh took his seat on the bench for oral arguments the next day, on Tuesday, October 9, after the three-day Columbus Day weekend.