With Four Female Justices, Conservatives Still Hold Sway
Document Outline
Women in a Man's World
How the Four Female Justices' Backgrounds Play a Role in the Court
Important Cases in this Term

At the start of the 2022–2023 Term, the Supreme Court included four female justices—the most the Court has ever seen in its long history. In this Court Report, court expert Kenneth Jost examines Sandra Day O'Connor's momentous appointment to the current diverse group of women on the Court today, and explores how these women will likely vote on future cases.
The Supreme Court opened its 2022 term on the traditional first Monday in October, with a record number of four female justices. Three of the four were appointed by Democratic presidents: Sonia Sotomayor, Elena Kagan, and, most recently, Ketanji Brown Jackson. Amy Coney Barrett, the fourth female justice, was appointed and confirmed by President Donald J. Trump in October 2020 as he approached his bid for reelection.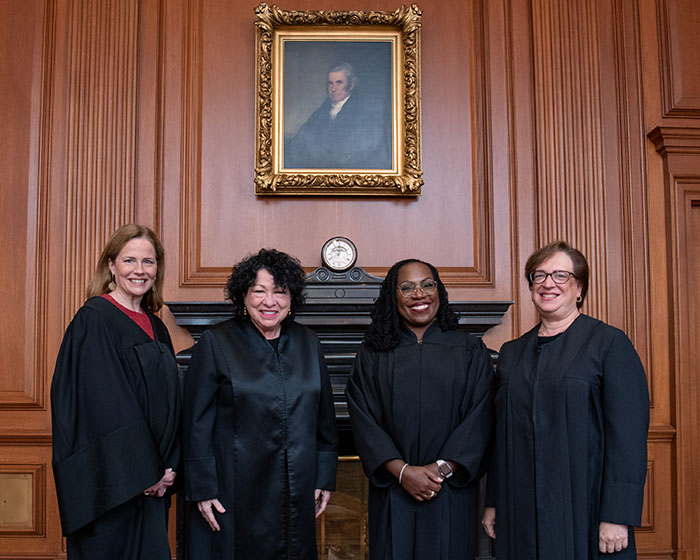 Associate Justices Amy Coney Barrett, Sonia Sotomayor, Ketanji Brown Jackson, and Elena Kagan in the Justices' Conference Room prior to the investiture ceremony. Source: Collection of the Supreme Court of the United States.
Jackson's appointment as the fourth female justice on the 2022 Court does not change the prevailing ideological balance of power held by six conservatives. Jackson simply steps into the place that her predecessor, Justice Stephen Breyer, held as part of a bloc of three liberal justices, along with Sotomayor and Kagan. With Jackson all but certain to line up with the liberal wing, the three Democratic-appointed female justices will likely end up in frequent dissent in the new term as the Court's conservative supermajority flex their jurisprudential muscles.
In fact, the cases teed up for the 2022 term give the conservative justices several opportunities to shift the Court's jurisprudence further to the right, just as they did in the 2021-2022 Term. In two cases challenging race-conscious admissions policies at Harvard University and the University of North Carolina, plaintiffs are asking the Court to overrule a 2003 precedent, Grutter v. Bollinger , that allows colleges and universities to consider an applicant's race or ethnicity as part of an overall assessment of the applicant's qualifications for admission. Those two cases are set for argument on October 31. Jackson is recused because of her past affiliations with Harvard.
Even with a record number of four women on the Court, the number is short of what Justice Ruth Bader Ginsburg envisioned as the "right" number. Ginsburg addressed the question in remarks at Georgetown University on February 5, 2015: "People ask me sometimes, when-when do you think it will it be enough? When will there be enough women on the court? And my answer is when there are nine."
Women in a Man's World
Until 1981, all of the Supreme Court justices through history had been men. President Ronald Reagan fulfilled a campaign pledge in 1981 by appointing Sandra Day O'Connor as the Court's first female justice. O'Connor served for twelve years as the only woman on the Court until President Bill Clinton nominated Ginsburg for the Court in 1993. By then, Ginsburg had already made her place in legal history by masterminding a series of cases in the 1980s that led the Court to recognize gender discrimination as violating the Constitution's equal protection principles.
O'Connor and Ginsburg served together on the Court for twelve years until O'Connor's retirement in 2005. They did not vote in tandem: Ginsburg was part of the Court's liberal bloc; O'Connor often cast a decisive vote when the conservative and liberal blocs were equally divided.
Ginsburg was the lone woman on the Court after O'Connor's retirement. But she gained two female colleagues with President Barack Obama's appointments of Sotomayor in 2009 and Kagan in 2010. When interviewed by Emily Bazelon after Sotomayor's appointment for an article published in The New York Times Magazine on July 7, 2009, Ginsburg remarked, "I feel great that I don't have to be the lone woman around this place."
Barrett's appointment in 2020 gave the Court's conservative bloc a solid six-vote supermajority. Most significantly, Barrett provided the critical fifth vote that the conservatives needed to overrule Roe v. Wade (1973), the landmark abortion rights decision. Barrett did not write a separate opinion in the case to explain her vote or to reconcile her vote with her confirmation hearing testimony that she had "no agenda to overrule Casey," referring to the 1993 decision that reaffirmed Roe v. Wade.
As a junior justice in the 2021 term, Barrett had a low profile; she wrote fewer majority decisions than most of her colleagues, and none of them were particularly significant. But she voted consistently with the conservative bloc in a number of precedent-shifting decisions, including the ruling in the Mississippi abortion case Dobbs v. Jackson Women's Health Organization .
How the Four Female Justices' Backgrounds Play a Role in the Court
Just as O'Connor and Ginsburg came from completely different backgrounds, the four current justices all came from different backgrounds and were appointed because of particular political circumstances. Obama nominated Sotomayor, daughter of Puerto Rican parents, to be the Court's first Hispanic justice after having served as federal judge on lower courts for seventeen years.
Obama chose Kagan for the next vacancy, based in part on her success as dean of Harvard Law School in easing ideological tensions among the school's diverse faculty. Kagan had previously served in the Clinton White House as domestic policy adviser and as U.S. solicitor general for two years in the Obama administration. Alone on the 2022 Court, Kagan is the only justice with no prior judicial experience. The other eight were all elevated from federal circuit courts.
Jackson's appointment and her participation on the bench in the Court's first week of oral arguments marked the first time that two Black justices had served together. Justice Clarence Thomas was appointed in 1991 as successor to the first Black justice, Thurgood Marshall. Jackson, who grew up in Florida as the daughter of parents who were both graduates of historically Black universities, made her mark in the first week of oral arguments by stoutly defending the use of the federal Voting Rights Act to require two southern states, Alabama and Louisiana, to consider race in drawing majority-Black congressional districts. Jackson's position put her somewhat at odds with Thomas's idiosyncratic views on racial justice issues.
The states in those two cases, Merrill v. Milligan (Alabama) and Ardoin v. Louisiana , are asking the Court in effect to narrow a line of decisions that require creation of majority-Black districts if needed to give Black voters an equal opportunity to elect candidates of their choice and to avoid so-called "vote dilution."
Like Sotomayor and Kagan, Jackson is a graduate of an Ivy League law school. Sotomayor graduated from Yale Law School after getting an undergraduate degree from Princeton. Kagan also earned her undergraduate degree from Princeton and later graduated from Harvard Law School in 1986. Barrett, a graduate of Notre Dame's law school and later a professor at the school for fifteen years, is the only justice on the current Court who does not have an Ivy League degree.
Among the six female justices who have served on the Court, four were married at the time of their appointments. Kagan has never married; Sotomayor married a former high school classmate in 1976, though they divorced in 1983 and had no children. Ginsburg and O'Connor both had children when appointed to the Court. Barrett and her husband Jesse Barrett have seven children, including two who were adopted from Haiti after the island nation's earthquake in 2010. Thus, Barrett is the first female justice to be raising school-age children while serving on the Court.
Important Cases in this Term
In addition to the affirmative action and Voting Rights Act cases, the Court has agreed to consider a number of cases brought by conservative advocacy groups, including a property rights challenge, Sackett v. EPA , heard on the opening day of the term that seeks to narrow the use of the Clean Water Act to protect wetlands from environmental damage.
The Court has also agreed to hear an appeal from North Carolina, under the name Moore v. Harper, which seeks to limit the power of state courts to override state legislatures on the drawing congressional district lines or the voting and election procedures in state or federal elections.
Conservative justices are likely to be sympathetic to those challenges.