Byrnes, James Francis
Byrnes, James Francis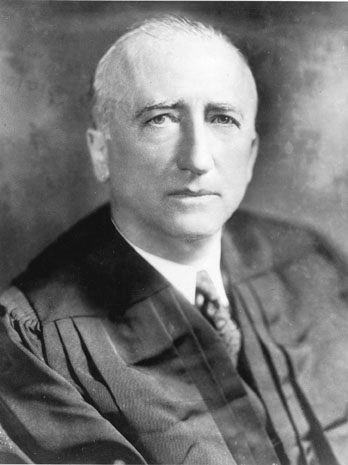 Birth: May 2, 1879, Charleston, South Carolina.
Education: St. Patrick's Parochial School (never graduated); studied law privately; admitted to the bar in 1903.
Official Positions: Court reporter, second judicial circuit of South Carolina, 1900–1908; solicitor, second judicial circuit of South Carolina, 1908–1910; U.S. representative, 1911–1925; U.S. senator, 1931–1941; director, Office of Economic Stabilization, 1942–1943; director, Office of War Mobilization, 1943–1945; secretary of state, 1945–1947; governor of South Carolina, 1951–1955.
Supreme Court Service: Nominated associate justice by President Franklin D. Roosevelt, June 12, 1941, to replace James McReynolds, who had retired; confirmed by the Senate, June 12, 1941, by a voice vote; took judicial oath July 8, 1941; resigned October 3, 1942; replaced by Wiley B. Rutledge, appointed by President Roosevelt.
Death: April 9, 1972, Columbia, South Carolina.
Participation in Key Cases
Opinions Written
Learn more about Supreme Court Justices
Learn More About This Supreme Court Justice
FURTHER READING
Document Outline
James Francis Byrnes
Bibliography
Noteworthy Opinions

James Francis Byrnes
Justice Byrnes's memoirs devote but eleven pages to his experience on the Supreme Court, and with good reason: he served only one term. His tenure on the Court was sandwiched between service as a senator from South Carolina and a post bearing the unofficial title of "assistant president," in which he assisted his close friend Franklin D. Roosevelt with domestic and foreign policy during World War II. Byrnes contributed to the Court mainly by enlivening its social life; he regularly gathered the justices for dinner at his home and led them in postprandial songs. Byrnes's short service on the Court and impressive political career combined to truncate his judicial legacy. He was impatient with the Court's slow pace while the world was at war: "I don't think I can stand the abstractions of jurisprudence at a time like this."
By today's standards, his legal training, like his formal education, was incomplete. His father died before his birth, and to help his mother support the family, Byrnes quit school at the age of fourteen and began working as a clerk for Charleston lawyers. In a sense, he was a throwback to the early nineteenth century; he read law as an apprentice in the office of a local judge, who eventually sponsored his admission to the bar. His political ambitions surfaced early, and his career in public service began with his election to Congress in 1910.
His most memorable Supreme Court opinion came in Edwards v. California (1942). The case involved a California statute that penalized any resident who brought into the state a person known to be indigent—a law obviously aimed at reducing the number of "Okies" emigrating to California during the Great Depression. Byrnes, influenced by Felix Frankfurter, struck down the law on the grounds that the commerce clause protected the right of citizens to interstate travel. Employing an unfortunate analogy, Byrnes concluded that people, like healthy cattle, ought to be free to cross state lines. His reasoning infuriated the civil libertarians on the Court, particularly William O. Douglas, who believed the statute violated the privileges and immunities clause of the Fourteenth Amendment.
In other decisions, Byrnes exhibited an unremarkable disposition to construe strictly the intent of Congress in interpreting federal statutes. In general, he was a judicial conservative who disdained legislating from the bench. In view of his active participation in the New Deal, however, one suspects that a case involving the powers of the executive would have put Byrnes's convictions to the test. He maintained an ideological distance from the more nationalistic New Dealers Roosevelt appointed to the Court and cleaved instead to centrists such as Frankfurter and Chief Justice Harlan F. Stone. In all, he wrote sixteen majority opinions for the Court, but no concurrences or dissents, a record that leaves his jurisprudence essentially uncharted.
Byrnes eventually revealed his true colors on the major social issue of his day: civil rights. From 1951 to 1955 he served as governor of South Carolina, which furnished one of the cases collectively decided as Brown v. Board of Education (1954). As governor, he urged the Eisenhower administration to up-hold segregation on the grounds that education was a matter for local authorities to handle and that forced integration would lead to race riots.
Bibliography
The only biographical sketch that deals primarily with his Court career is in Friedman and Israel, Justices, vol. 4, 2517. His memoirs, All in One Lifetime (1958), do not shed much light on the Court. There are several biographies of Byrnes, but understandably none give much emphasis to his judicial career or his legal philosophy.
Noteworthy Opinions
Edwards v. California, 314 U.S. 160 (1942)