Burton, Harold Hitz
Burton, Harold Hitz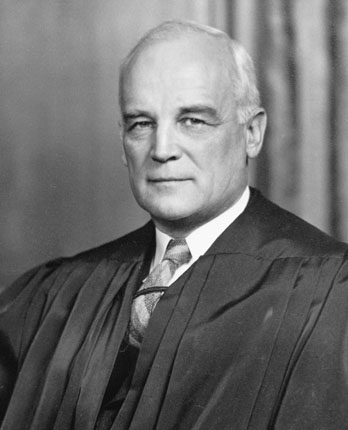 Birth: June 22, 1888, Jamaica Plain, Massachusetts.
Education: Bowdoin College, A.B., 1909; Harvard University, LL.B., 1912.
Official Positions: Member, Ohio House of Representatives, 1929; director of law, Cleveland, 1929–1932; acting mayor of Cleveland, November 9, 1931-February 20, 1932; mayor of Cleveland, 1935–1940; U.S. senator, 1941–1945.
Supreme Court Service: Nominated associate justice by President Harry S. Truman, September 18, 1945, to replace Owen J. Roberts, who had resigned; confirmed by the Senate, September 19, 1945, by a voice vote; took judicial oath October 1, 1945; retired October 13, 1958; replaced by Potter Stewart, appointed by President Dwight D. Eisenhower.
Death: October 28, 1964, Washington, D.C.
Participation in Key Cases
Opinions Written
Learn more about Supreme Court Justices
Learn More About This Supreme Court Justice
FURTHER READING
Document Outline
Harold Hitz Burton
Bibliography
Noteworthy Opinions

Harold Hitz Burton
Harold Burton was the first of President Harry Truman's four appointments to the Supreme Court. A career politician with no prior judicial experience, Burton brought a pragmatic style of decision making to a Court characterized by ideological conflict. Burton never earned great distinction, but his moderating influence helped to ease the Court through one of its more divisive periods.
Born in a suburb of Boston and educated in eastern schools, Burton decided after graduating from Harvard Law School in 1912 that leaving the East would bring him greater opportunities for a satisfying legal career. He ultimately settled in Cleveland, where he established a successful law practice, taught corporate law at Western Reserve University, and served for four years as the city's law director.
Burton's first love was politics, however, and he wasted no time cultivating his ties to the local Republican Party organization. From 1935 to 1940 he served as Cleveland's mayor, during which time he lowered the city's crime rate, reduced its deficit, and broke the patronage network. In 1940 Ohio voters easily elected the popular mayor to the U.S. Senate, where he assumed a moderate stance on domestic issues and vigorously supported President Franklin Roosevelt's interventionist foreign policy.
On September 18, 1945, President Truman nominated Burton to replace Justice Owen Roberts, who had resigned at the end of the 1944 term. Burton and Truman had worked closely together in the Senate, and many observers attributed Burton's appointment to the cronyism that characterized Truman's administration, especially as Burton had no prior judicial experience. In fact, Burton's nomination satisfied several mandates. The retirement of Roberts left Chief Justice Harlan Fiske Stone as the Court's only Republican member. Burton's appointment met the demands of Republican leaders in Congress that Truman restore some political balance to the Court. At the same time, Burton's moderate and pragmatic politics convinced Truman that his nominee would be neither intensely partisan nor fiercely ideological on the Court. Finally, Burton's status as a sitting member of the Senate promised easy confirmation. Truman's calculations proved accurate, for the Senate approved Burton unanimously the day after he was nominated.
Burton's tenure at the Supreme Court was characterized by heated disagreements between judicial activists, who favored expansive powers of judicial review, and advocates of judicial restraint, who encouraged deference to legislative judgments. Burton gravitated toward restraint, writing opinions that generally upheld legislative enactments and decided cases on narrow procedural grounds.
His restraint was more a product of his political beliefs than a commitment to judicial ideology, however. For example, he supported national security measures because he subscribed to cold war politics; he favored desegregation because he found racial discrimination personally abhorrent; and he urged restrictions on the right to picket because he feared the effect of organized labor on corporate power. In short, he deferred to legislative judgments because he agreed with them, not necessarily because he believed the political branches had the exclusive power to formulate public policy.
Burton's political beliefs closely resembled Truman's, and the president was rarely disappointed with his selection. In several cases, Burton supported the Justice Department's efforts to regulate business through the antitrust statutes. In Lichter v. United States (1948), he upheld the government's power to renegotiate wartime contracts to curb fraud and profiteering, a subject that Burton and Truman had investigated when they served in the Senate. In fact, Burton's only significant disagreement with Truman's executive policies occurred in Youngstown Sheet & Tube Co. v. Sawyer (1952), which rejected Truman's authority to seize the nation's steel mills and avert a strike during the Korean War. Burton's concurring opinion rested on the grounds that the Taft-Hartley Act of 1947 prescribed other methods for resolving labor disputes and specifically reserved to Congress the power to authorize seizure. Although he was generally sympathetic to the exercise of executive power, Burton's congressional experience had instilled in him a respect for the separation of powers, leading him to limit the president's authority when Congress had specifically prohibited certain actions.
Burton's pragmatic approach to adjudication appeared in his decisions regarding national security during the cold war. He usually upheld government regulations against espionage and subversion over claims that they violated First Amendment freedoms. By closely construing the facts of a case to limit the effects of his rulings, however, he occasionally convinced more libertarian justices to join his opinions. For example, in Beilan v. Board of Education (1958), Burton upheld the dismissal of a Philadelphia teacher who refused to tell school officials whether he was a member of a communist organization. Two years earlier, in Slochower v. Board of Higher Education of New York City (1956), Burton had dissented from a ruling that public employers could not fire workers for refusing to discuss Communist Party membership. In Beilan, however, Burton convinced two justices from the Slochower majority to modify their views. Although school boards could not legally infer disloyalty from a teacher's silence, Burton reasoned, they could use the teacher's lack of candor as evidence of professional incompetence.
Burton sometimes joined his more libertarian colleagues, but he curbed their activism by focusing on procedural rather than constitutional remedies. In Joint Anti-Fascist Refugee Committee v. McGrath (1951), Burton ordered the U.S. attorney general to remove the names of three allegedly communist organizations from a list of subversive groups. Unlike the other four members of the majority, however, who considered the very practice of listing suspected organizations unconstitutional, Burton held only that the attorney general must first offer proof of subversion in a court of law.
Burton's circumspection also dictated his concurrence in Jencks v. United States (1957), which involved a perjury conviction of a man who falsely swore that he was not a Communist. Five justices held that a defendant was entitled to examine evidence against him contained in FBI reports, but Burton preferred that the trial judge first screen the files so that information affecting national security could be withheld. Later that year, Congress enacted a statute that regulated the use of FBI records in criminal trials in a manner similar to that recommended by Burton.
Burton's eclectic jurisprudence was not limited to the national security arena. In establishment clause cases, for example, he favored a fairly strict separation of church and state, while permitting some government support of religion. He dissented from Justice Hugo Black's opinion in Everson v. Board of Education of Ewing Township (1947) because he not only agreed with Black that the First Amendment erected a wall of separation between church and state, but, unlike Black, he also believed that a New Jersey statute that authorized school boards to reimburse parents for transportation to parochial school breached that wall. He then joined Black's opinion in Illinois ex rel. McCollum v. Board of Education (1948), which struck down a program that permitted clergymen to provide weekly religious instruction in public school classrooms, but only after Black agreed not to extend his ruling to similar programs that granted students released time to receive off-campus religious training.
In cases involving criminal procedure, Burton generally granted states broad powers to maintain law and order. This pattern was consistent with the political views he had held as mayor of Cleveland, where he had been elected on a platform that promised to rid the city of organized crime. In cases alleging coerced confessions, he rarely presumed police misconduct, giving local judges and juries responsibility for determining the reliability of confessions. He also left decisions regarding the appointment of defense counsel in the hands of local jurisdictions.
Despite his support for law enforcement, some of Burton's most libertarian opinions involved criminal cases. Although he usually granted the police broad discretion to obtain evidence, he condemned the use of secret radio transmitters on private property to eavesdrop on a suspect's conversations. His dissent in Louisiana ex rel. Francis v. Resweber (1947) forcefully argued that to execute a prisoner after two earlier attempts had failed violated the double jeopardy and cruel and unusual punishment provisions of the Bill of Rights. Burton criticized only the botched attempt at electrocution; he did not challenge the authority of a state to carry out a death sentence. He also limited his dissent to the actions taken by prison officials; if state law had permitted repeated attempts, he would not have objected.
Burton's civil rights decisions aptly revealed the congruence between his jurisprudential and political beliefs. A member of the Cleveland NAACP, Burton had adopted a moderately progressive stance on race relations, supporting the abolition of poll taxes and the establishment of a fair employment practices commission. Many observers were therefore surprised when, during his first term, Burton refused to join the otherwise unanimous opinion in Morgan v. Virginia (1946), which invalidated a Virginia statute that required segregation on public transportation. Burton pointed out that ten other states had a law similar to Virginia's, and he asked, if, as the Court said, interstate passengers should be treated equally, why had Congress neglected to pass such a law. In subsequent cases involving the desegregation of graduate and professional schools, however, Burton urged the wholesale reversal of the "separate but equal doctrine," and he heartily supported Chief Justice Earl Warren's efforts to craft a unanimous opinion in Brown v. Board of Education (1954). Still, Burton hesitated to invoke constitutional guarantees of equality if narrower remedies were available. His opinion for a unanimous Court in Henderson v. United States (1950), for example, relied on the Interstate Commerce Act, rather than the equal protection clause of the Fourteenth Amendment, to void the practice of partitioning railroad dining cars to separate black and white passengers.
By the time Parkinson's disease forced Burton to retire, he had garnered a reputation as a mediocre jurist, generally conservative but never doctrinaire, who made no significant jurisprudential contributions to the Court. Scholars of the Court have concurred in that judgment, but the appraisal is somewhat unfair. Several of his opinions interpreting federal statutes such as the Fair Labor Standards Act and the Taft-Hartley Act remain valid law. His opinion in American Tobacco Co. v. United States (1946) greatly expanded the government's power under the Sherman Antitrust Act. At the same time, Chief Justice Fred Vinson routinely assigned opinions to wavering justices in order to maintain his slim coalition. This practice gave Burton, a faithful member of the Truman bloc, few opportunities to write important constitutional opinions.
Nevertheless, Burton's style of judging constrained his ability to influence his colleagues. During oral arguments he rarely asked questions. He found preparing opinions extremely difficult, yet he insisted on researching precedent exhaustively and writing his own draft opinions, thereby limiting his judicial output. His lack of a guiding jurisprudential philosophy and his tendency to decide cases on narrow grounds also hindered his ability to formulate significant constitutional doctrine.
Burton's main contribution to the Supreme Court was to bring a sense of stability to a tribunal that was undergoing a significant transformation. During his tenure, five new associate justices came to the Court, and he served under three chief justices, two of whom, Vinson and Warren, symbolized the extremes of judicial restraint and activism. His affable personality brought together colleagues who sometimes regarded one another with acrimony. His attention to the technical details of a case often provided solutions when other justices disagreed on the merits. During a period when most members of the Court wanted to avoid political controversy, Burton proved a reliable ally.
Bibliography
The standard biography of Harold Burton is Mary Frances Berry, Stability, Security, and Continuity: Mr. Justice Burton and Decision-Making in the Supreme Court, 1945–1958 (1978), which is useful primarily for its examination of the internal politics of the Court during Burton's tenure. For substantive analysis of the cases that Burton decided, see Ronald Marquardt, "The Judicial Justice: Mr. Justice Burton and the Supreme Court" (Ph.D. diss., University of Missouri, 1973). David N. Atkinson provides an intriguing discussion of Burton's work habits, based on interviews with his former law clerks, in "Justice Harold H. Burton and the Work of the Supreme Court," Cleveland State Law Review 69 (1978): 69. In "American Constitutionalism Under Stress: Mr. Justice Burton's Response to National Security Issues," Houston Law Review 9 (1971): 271, Atkinson assesses the impact of cold war politics on Burton's jurisprudence. Arthur S. Miller, Death by Installments: The Ordeal of Willie Francis (1988), examines the circumstances surrounding one of Burton's most notable dissents.
Justice Burton's papers, including his personal diary and extensive correspondence files, are located in the Library of Congress. This unusually rich collection documents his terms as mayor of Cleveland and U.S. senator, as well as his judicial career. The Occasional Papers of Mr. Justice Burton, edited by Edward C. Hudon (1969), is a compilation of Burton's extrajudicial writings, mostly on the history of the Supreme Court.
Noteworthy Opinions
American Tobacco Co. v. United States, 328 U.S. 781 (1946)
Louisiana ex rel. Francis v. Resweber, 329 U.S. 459 (1947) (Dissent)
Everson v. Board of Education of Ewing Township, 330 U.S. 1 (1947) (Dissent)
Lichter v. United States, 334 U.S. 742 (1948)
Henderson v. United States, 339 U.S. 816 (1950)
Joint Anti-Fascist Refugee Committee v. McGrath, 341 U.S. 123 (1951)
Youngstown Sheet & Tube Co. v. Sawyer, 343 U.S. 579 (1952) (Concurrence)
Slochower v. Board of Higher Education of New York City, 350 U.S. 551 (1956) (Dissent)
Beilan v. Board of Education, 357 U.S. 399 (1958)