Barbour, Philip Pendleton
Barbour, Philip Pendleton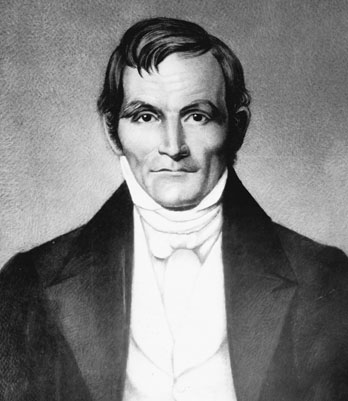 Birth: May 25, 1783, Orange County, Virginia.
Education: Read law on his own; attended one session at College of William and Mary, 1801.
Official Positions: Member, Virginia House of Delegates from Orange County, 1812–1814; U.S. representative, 1814–1825, 1827–1830; Speaker of the House, 1821–1823; state judge, General Court for the Eastern District of Virginia, 1825–1827; president, Virginia Constitutional Convention, 1829–1830; U.S. district judge, Court of Eastern Virginia, 1830–1836.
Supreme Court Service: Nominated associate justice by President Andrew Jackson, February 28, 1835, to replace Gabriel Duvall, who had resigned; confirmed by the Senate, March 15, 1836, by a 30–11 vote; took judicial oath May 12, 1836; served until February 25, 1841; replaced by Peter V. Daniel, nominated by President Martin Van Buren.
Death: February 25, 1841, Washington, D.C.
Participation in Key Cases
Opinions Written
Learn more about Supreme Court Justices
Learn More About This Supreme Court Justice
Document Outline
Philip Pendleton Barbour
Bibliography
Noteworthy Opinions

Philip Pendleton Barbour
Although he served less than five years on the Supreme Court, Philip Pendleton Barbour played a more important role in American constitutional history than is generally acknowledged. Prior to his appointment to the Court, Barbour had contributed significantly to the development of a reinvigorated states' rights interpretation of the Constitution that would increase in importance between the time of his death in 1841 and the outbreak of the Civil War two decades later.
The son of Thomas Barbour, a neighbor and an early political sponsor of James Madison who broke with Madison over the issue of Virginia's ratification of the Constitution, Barbour was educated at a local school. After attempting to practice law in Kentucky, he returned to Virginia and studied law for one term under St. George Tucker at the College of William and Mary.
Barbour was elected to the Virginia House of Delegates in 1812, and then to the U.S. House of Representatives in 1814. During his tenure in Congress, Barbour was a leader of the conservative faction of the Republican Party. Between 1821 and 1823 he served as Speaker of the House. In 1825 he declined an invitation to join the University of Virginia faculty as its first professor of law but stepped down from Congress to accept a position on the Virginia General Court.
In 1827 he returned to Congress where he remained until 1830 when President Andrew Jackson appointed him U.S. district judge for the Eastern District of Virginia. In this capacity he also served as a member of the Fifth Circuit Court of the United States with his longtime political opponent, Chief Justice John Marshall. In addition, Barbour served as president of both the Virginia Constitutional Convention of 1829–1830 and the 1831 Philadelphia Free Trade Convention.
In Congress, Barbour opposed the Bonus Bill of 1817, federally funded internal improvements, restrictions on the ability of Missouri to enter the Union as a slave state, the Second Bank of the United States, and the protective tariff. He opposed the efforts of the South Carolina nullifiers but accepted the premise that a state had the right to withdraw from the Union as a last resort.
In addition to being a principal exponent for the states' rights cause, he was also instrumental in developing its central constitutional arguments. For example, he was the first major political figure to argue that the protective tariff was not only unfair, but also unconstitutional. In this capacity, he helped define the basic tenets of states' rights constitutionalism that would later be endorsed by Supreme Court justices John Catron, Peter Daniel, John Campbell, and, to a limited extent, by Chief Justice Roger Taney. Barbour had been critical of the Marshall Court in the late 1810s, and, in his capacity as counsel for the state of Virginia, he argued unsuccessfully that the Court lacked jurisdiction in the landmark case, Cohens v. Virginia (1821). As a member of Congress, he had also sought (unsuccessfully) to require the concurrence of five of the seven justices of the Court in any case involving a constitutional question.
The possibility of Barbour's appointment to the Supreme Court had been rumored since his appointment to the lower federal bench in 1830. In February 1831, former president John Quincy Adams predicted that if John Marshall were to retire "some shallow-pated wild-cat like Philip P. Barbour fit for nothing but to tear the Union to rags and tatters, would be appointed in his place." Barbour's chances for appointment improved considerably in 1832 when he withdrew his support for a movement on the part of disgruntled southerners to place his name on the Democratic ticket as the vice presidential candidate in place of Jackson's own choice, Martin Van Buren. By withdrawing when he did, he earned Jackson's gratitude, and his gesture allowed the president to offer Barbour's appointment as a concession to his southern critics.
The resignation of Gabriel Duvall of Maryland in 1835 and the death of John Marshall later that year created two openings on the Court. Although he had been initially rebuffed in his effort to replace Duvall with Roger Taney, Jackson ultimately submitted the names of Taney and Barbour to the Senate. After much controversy, both were approved on March 15, 1836. Two efforts to delay the vote on Barbour's nomination failed by votes of 25 to 20 and 26 to 16, and he was subsequently confirmed, 30–11.
During his first term on the Court, he was part of the majority in a trio of 1837 cases—Briscoe v. Bank of Kentucky, Charles River Bridge v. Warren Bridge, and New York v. Miln—that repudiated the nationalistic jurisprudence that had been associated with the Marshall Court. Barbour wrote the majority opinion in Miln, using it as an opportunity to argue for a narrow definition of the federal commerce power and an expansive definition for the state police power, which he characterized as "unqualified and exclusive."
Otherwise, Barbour's four years on the Supreme Court were characterized by a near unanimity of opinion. During his tenure, the Court heard 155 cases, all but 30 of which were decided without a dissenting vote. Barbour sided most frequently with his fellow southerners Catron (97.8 percent of the time) and Taney (97.4 percent) and least frequently with Justices Henry Baldwin (89.6 percent) and Joseph Story (94.1 percent).
Barbour dissented only on two occasions, but evidence suggests that had he lived, his states' rights principles would have eventually put him at odds with his more nationalistic colleagues. Although only Story dissented from Barbour's opinion in Miln, Smith Thompson and Baldwin refused to endorse its particulars at the time, and subsequent evidence showed that neither John McLean nor James Wayne accepted his comments on the limits of the federal commerce power. Furthermore, in cases in which the Court was called on to interpret the scope of federal authority, Barbour consistently advocated a narrow construction of all delegations of authority to the national government. This view was apparent in his dissents in Kendall v. United States ex rel Stokes (1838) and Lessee of Pollard's Heirs v. Kibbe (1840). In cases such as Holmes v. Jennison (1840), which involved questions of implied restrictions upon state sovereignty, Barbour opposed such limitations. Given more time on the bench, Barbour almost surely would have been as strident a defender of the states' rights position as his successor and fellow Virginian, Peter Daniel.
Barbour was apparently well respected by his colleagues, including Justice Story, who eulogized him as "a very conscientious, upright, and laborious judge, whom we all respected for his talents and virtues, and his high sense of duty."
Bibliography
There is unfortunately no biography of Barbour. The best sources for information concerning his career are Charles D. Lowery's biography of his brother, James Barbour: A Jeffersonian Republican (1984); and Carl B. Swisher's The Taney Period, 1836–64, volume 5 of the Holmes Devise History (1974).
Noteworthy Opinions
New York v. Miln, 36 U.S. 102 (1837)
Kendall v. United States, 37 U.S. 524 (1838) (Dissent)
Holmes v. Jennison, 39 U.S. 540 (1840) (Dissent)