Alito, Samuel Anthony Jr.
Alito, Samuel Anthony Jr.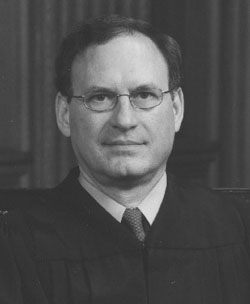 Birth: April 1, 1950, Trenton, New Jersey.
Education: Princeton University, A.B., 1972; Yale Law School, J.D., 1975.
Official Positions: Law clerk to Judge Leonard I. Garth, U.S. Court of Appeals for the Third Circuit, 1976–1977; assistant U.S. attorney, District of New Jersey, 1977–1981; assistant to the solicitor general, U.S. Department of Justice, 1981–1985; deputy assistant attorney general, Office of Legal Counsel, U.S. Department of Justice, 1985–1987; U.S. attorney for the District of New Jersey, 1987–1990; judge, U.S. Court of Appeals for the Third Circuit, 1990–2006.
Supreme Court Service: Nominated associate justice by President George W. Bush, November 10, 2005, to replace Sandra Day O'Connor, who had retired; confirmed by the Senate, January 31, 2006, by a 58–42 vote; took judicial oath January 31, 2006.
Participation in Key Cases
Opinions Written
Learn more about Supreme Court Justices
Learn More About This Supreme Court Justice
Document Outline
Samuel Anthony Alito Jr.
Bibliography
Noteworthy Opinions

Samuel Anthony Alito Jr.
In the 1972 Princeton University yearbook, the entry for Samuel A. Alito Jr. includes this whimsical sentence: "Sam intends to go to law school and eventually to warm a seat on the Supreme Court." Thirty-four years later, that prediction came true when Alito was sworn in to replace Justice Sandra Day O'Connor, the first female member of the Supreme Court.
Just months earlier, few commentators would have guessed that Alito was destined for the Supreme Court. President George W. Bush had already made two nominations to replace O'Connor, who on July 1, 2005, had announced her intention to retire as soon as her successor was confirmed. The first nominee was John Roberts Jr., whose name was withdrawn after the death of Chief Justice William Rehnquist and resubmitted to the Senate as nominee for chief justice. Bush then nominated his White House counsel, Harriet Miers, who withdrew from consideration after questions were raised about her suitability for the job and her participation in controversial Bush administration decisions.
At this point, President Bush was under pressure to come back quickly with another female or minority nominee as a replacement for O'Connor. Instead, he reached into the ranks of federal appeals court judges to select Alito, a white male who had quietly served on the U.S. Court of Appeals for the Third Circuit for fifteen years. The president was quick to point out that Alito had "more prior judicial experience than any Supreme Court nominee in more than seventy years."
Because Alito was replacing O'Connor, a swing vote on a range of issues, his experience and reputation were not enough to fend off intense scrutiny and criticism from Senate Democrats and liberal groups. His nomination received more negative Senate votes than any justice since Clarence Thomas, who was confirmed by a 52–48 vote in 1991.
Alito was born in Trenton, New Jersey, in 1950. His father, an Italian immigrant, had grown up in poverty but was able to obtain a college education and become a teacher, as did Sam's mother. The elder Alito eventually obtained a position as a senior civil servant in a nonpartisan research position for the New Jersey legislature. His son Sam also had scholarly inclinations and was a star debater in high school. According to family members, the young Alito never was part of the rebellious antiestablishment climate of the times, preferring instead a sense of order and tradition.
Princeton University was a short distance from where Alito grew up, but when he began his college years there, it was as if he had entered "another world," as he told the Senate in his opening testimony, January 9, 2006. Alito was a rare conservative at a campus where students rallied against the Vietnam War and questioned authority on many fronts. In his senior year, the Washington Post reported, while Washington, D.C., was filled with antiwar protesters, Alito and several other Princeton students visited the chambers of Justice John Marshall Harlan, a conservative member of the Supreme Court. Alito's interest in the law was evident in the topic he picked for his thesis: the history of Italy's constitutional court. He graduated Phi Beta Kappa and was a selected scholar of the Woodrow Wilson School of Public and International Affairs.
Alito went on to Yale Law School, where he also excelled, winning awards for his moot court arguments and his contribution to the Yale Law Journal. Alito applied for a Supreme Court clerkship but wound up instead clerking for Leonard Garth, a conservative Third Circuit judge with whom he would later serve.
Alito enjoyed the intellectual world of appellate courts and in 1977 became an assistant U.S. attorney in New Jersey, in its appellate division. There, he met Martha-Ann Bomgardner, an office librarian who later became his wife.
With the election of Ronald Reagan as president in 1980, a brilliant appellate lawyer like Alito became a prized commodity in a Justice Department intent on changing the direction of the courts and the law. Attorney General Edwin Meese III and other top lawyers in the administration wanted to move away from what they saw as the "judicial activism" of the 1960s and 1970s toward a more modest role for judges limited to interpreting the words of statutes and the Constitution rather than imposing their own social policy preferences.
In 1981 Alito accepted an offer to serve as an assistant to the solicitor general, where he took on some of the conservative causes—including ending affirmative action—that some career lawyers were reluctant to pursue. Drawing on his lifelong love for baseball, Alito coined a phrase that resonated well with administration opponents of affirmative action. Alito wrote in a brief that homerun champion Hank Aaron, an African American, would not be regarded as highly "if the fences had been moved in whenever he came to the plate." On abortion, he advised that a frontal assault on the 1973 decision in Roe v. Wade would be unproductive, favoring instead a more incremental approach with a goal of "mitigating its effects." Alito also argued a dozen cases before the Supreme Court.
In 1985 Alito applied for a promotion to the position of deputy assistant attorney general in the Office of Legal Counsel, headed by Charles Cooper. His application letter, which would later trigger much of the concern about his nomination among liberals, declared, "I am and always have been a conservative." He went on to disparage liberal Warren Court precedents and to say he was "particularly proud" that he has been able to work toward convincing the Supreme Court that "the Constitution does not protect a right to abortion." Alito got the job and soon was helping devise legal strategy in a number of politically tinged issues, including the Iran-contra scandal. But Alito continued to be viewed as a fair-minded lawyer who stayed above the political fray.
He did not stay in the Office of Legal Counsel for long. In late 1986 he sought appointment as the U.S. attorney in New Jersey, a high-profile prosecutorial position. He was motivated in part by the desire to return to New Jersey, where he hoped to raise his family near his parents and in-laws. But friends say Alito had already decided he wanted to become a federal judge, and serving as a U.S. attorney is usually a good stepping-stone toward achieving that goal.
For their part, Alito's superiors also wanted conservative lawyers such as Alito and Roberts, who also had served in the Reagan Justice Department, to position themselves for eventual judgeships and thereby have a long-lasting impact on the law. Cooper, who helped Alito at several stages during his Reagan years, said, "Nobody sat down and said back then that we are going to choreograph the rise of John Roberts and Sam Alito to become members of the Supreme Court." But the fact that both Alito and Roberts eventually became appeals court and then Supreme Court justices is a tribute to the deep impact the Reagan years had on the judiciary.
Alito served as U.S. attorney based in Newark from 1987 to 1990, prosecuting a range of organized crime, corruption, and even terrorism defendants. Again, he had a reputation for nonpartisanship. When a Third Circuit appeals judge retired in 1990, Alito set his sights on the next step in his career and was soon confirmed to fill that seat. The Third Circuit sits in Philadelphia, but Alito's chambers were in Newark, in his native New Jersey.
On the Third Circuit, Alito became known as one of its most conservative members, if not the most conservative. A study by University of Chicago Law School professor Cass Sunstein found that when Alito dissented, his position was almost always to the right of the judges in the majority, even judges appointed by Republican presidents. Alito became known by the nickname "Scalito," in part because he, like Justice Antonin Scalia, was a conservative Italian American jurist from Trenton, New Jersey.
In one dissent that received attention after he was nominated to the Supreme Court, Alito argued that Congress had acted outside its authority under the commerce clause when it outlawed possession of machine guns. In United States v. Rybar (1996), Alito said he was applying the 1995 Supreme Court precedent in United States v. Lopez, which used the same rationale to strike down a law banning possession of firearms near schools. But the majority on Alito's court distinguished between Lopez and Rybar, ruling that Congress could have reasonably found a connection between machine gun possession and interstate commerce, whereas the link between commerce and having guns near schools was more attenuated.
Another Alito dissent highlighted the contrast between Alito and O'Connor, the justice he was appointed to replace. In 1992, when the Supreme Court upheld the right to abortion in Planned Parenthood v. Casey, it was ruling on a 1991 case from Alito's Third Circuit. Alito had written a partial concurrence and partial dissent in the case that interpreted and applied O'Connor's prior abortion rulings to uphold a Pennsylvania law requiring women to notify their husbands of their plan to have an abortion. Alito reasoned that under O'Connor's test, the law did not severely burden enough women to be unconstitutional. When the case got to the Supreme Court, the joint opinion written by Justices David Souter, Anthony Kennedy, and O'Connor specifically rejected that argument, finding that the spousal notice provision did in fact impose an undue burden on women.
These rulings and others in the area of Fourth Amendment search and seizure and civil rights formed the basis for the strong belief among liberals that once Alito was nominated to the Supreme Court he would be a significantly more reliable conservative than O'Connor and should be opposed.
By the same token, conservatives were heartened that their long campaign to steer the Supreme Court to the right was bearing fruit. In particular, a series of establishment clause rulings by Alito gave the Christian Right confidence that he would be more accommodating than O'Connor was toward religious expression in the public square. One 1999 ruling, American Civil Liberties Union of New Jersey v. Schundler, upheld a holiday display on public property in Jersey City that included a crche and a menorah as well as plastic figures of Santa Claus and Frosty the Snowman.
This background made the quiet judge from Newark an attractive candidate when the Miers nomination crumbled. "He has a deep understanding of the proper role of judges in our society," Bush said on October 31, 2005, announcing his intention to nominate Alito. "He understands that judges are to interpret the laws, not to impose their preferences or priorities on the people."
Liberal groups lined up to state their concerns, in hopes of mobilizing widespread opposition to Alito. Unlike other recent nominees whose views on many issues were unknown, Alito had more than 300 opinions and dissents, as well as other writings, to scrutinize and attack. "While his words are carefully chosen and his demeanor is measured, Judge Alito's ultraconservative judicial philosophy is nothing short of radical," said the liberal group People for the American Way. But conservative groups were quick to answer every charge and praise Alito's qualifications. "The portrait that is drawn of him by those who know him and know his writings is of a man of great intelligence, integrity, fairness, humility and justice," said Wendy Wright of the conservative Concerned Women for America.
As the date of Alito's hearing approached, he became unwittingly enmeshed in a seemingly unrelated Washington controversy. Revelations in the press about a secret domestic surveillance program approved by President Bush in the aftermath of the terrorist attacks of September 11, 2001, raised widespread concern about the extent of executive power, especially in wartime. In a 2000 speech before the Federalist Society, Alito made it clear that he was a proponent of the "unitary executive" theory, which seemed to fit into Bush's muscular view of presidential power. Under this theory, Alito argued that the framers of the Constitution vested all executive power in the president, and that the growth of independent agencies detracted from the effectiveness and accountability of the "vigorous executive" that the framers had in mind.
With the controversial Bush program in mind, Democrats tried repeatedly to determine if, because he espoused this theory, Alito would be too deferential to executive power and less respectful of legislative power. Alito said his views had been misunderstood and did not represent an endorsement of broad presidential power beyond the powers enumerated in the Constitution. But Democrats were not satisfied. "We cannot count on Judge Alito to blow the whistle when the president is out of bounds," said Sen. Edward Kennedy, D-Mass., a member of the Judiciary Committee, when he announced his opposition to Alito. When the nomination reached the Senate floor, he and John Kerry, D-Mass., mounted an unsuccessful filibuster against Alito.
The grilling of Alito on questions about executive power almost overshadowed Democrats' earlier concerns about his views on abortion. In light of his statements about Roe v. Wade as a Reagan administration attorney, Democrats persisted in asking him how much weight he would give Roe as a precedent in deciding future abortion cases. Alito was noncommittal in response. He said, "When a precedent is reaffirmed, each time it's reaffirmed that is a factor that should be taken into account in making the judgment about stare decisis." But he also said the doctrine of stare decisis—respect for precedent—was "not an inexorable command." Because he was willing to describe other precedents as settled doctrine that were unlikely to be disturbed, Alito's reluctance to say the same thing about Roe only increased concern among liberals that he was open to the idea of reversing Roe.
Two other issues provoked concern about the Alito nomination. Alito held mutual fund investments in the Vanguard Group, and when he was confirmed for his appeals court seat, he pledged not to vote in cases in which Vanguard was a party. Yet in 2002 he did vote in just such a case: a widow sued Vanguard to obtain her late husband's investments that Vanguard had frozen because of a business dispute. When the litigant learned of Alito's investments, she complained, prompting Alito to recuse himself after the fact and ask that the case be decided by a new panel of judges. The American Bar Association, in giving Alito its highest "well qualified" rating, said his failure to recuse himself was an oversight, but several Democrats remained upset.
Alito also came under attack for his membership in Concerned Alumni of Princeton, a group that was unhappy with the admission of women and allegedly unqualified minorities to the elite institution. Alito cited his membership in his infamous 1985 job application, but at his confirmation hearings said he could not recall having any connection to the organization. He speculated that he might have joined because he supported the return of ROTC to Princeton, but he found the organization's other tenets "repugnant." Democratic senators criticized Alito for joining the group in the first place.
One of the more unusual features of Alito's confirmation hearing was the testimony of seven of his Third Circuit colleagues, both current and retired. It is rare, although not unprecedented, for fellow judges to act as character witnesses for nominees. These judges, appointed by both Republicans and Democrats, sang Alito's praises as a careful, fair-minded, and modest judge. Several made comments aimed at rebutting concerns that Alito might be an agenda-driven jurist.
Judge Garth, who had hired Alito as a law clerk and then served with him on the bench, offered these comments: "Make no mistake, he is no revolutionary. He is a sound jurist, always respectful of the institutions and the precepts that led to the decisions in the cases under review." Garth added, "His fairness, his judicial demeanor and actions, and his commitment to the law—all of those qualities which my colleagues and I agree he has—do not permit him to be influenced by individual preferences or any personal predilection."
Witnesses like Garth helped Alito defuse the criticisms leveled by Democrats. In contrast to Robert Bork in 1987, Alito's demeanor was modest and unflappable; he displayed no sharp edges, arrogance, or combativeness. He took the criticism in stride, although it took a toll on his wife seated behind him. One of the enduring televised images from the hearing was of Alito's wife in tears near the end of a long day of contentious questioning. She left the room while her husband, unaware of her distress, continued to testify until a recess was called.
In the end, Alito's hearing seemed to produce widespread dissatisfaction with the process. Adhering to a practice among recent nominees, Alito declined to state his personal views on a range of issues so as not to prejudge future cases. Democrats were frustrated at their inability to extract substantive answers from Alito, and Republicans attacked Democrats for shrill and unsubstantiated attacks on the nominee. After it was all over, Sen. Joseph Biden, D-Del., who had been criticized for long-winded statements that left little time for questioning Alito, suggested that the hearings were a waste of time and that nominees' qualifications should be debated on the floor of the Senate without testimony from the nominees themselves.
Bibliography
There is no biography of Alito, but these articles by Alito illuminate his views on legal issues: "Presidential Oversight and the Administrative State," Engage 2 (2001): 11; "The Role of the Lawyer in the Criminal Justice System," Federalist Society Criminal Law News 2 (1998): 3; Change in Continuity at the Office of Legal Counsel, Cardozo Law Review 15 (1993): 507; "The First Amendment: Information, Publication and the Media," Seton Hall Constitutional Law Journal (1991): 327; "The Next Page in Federal Sentencing," Legal Times, August 28/September 4, 1989, 19; "Introduction to After the Independent Counsel Decision: Is Separation of Powers Dead?" American Criminal Law Review 26 (1989): 1667; "The Year Wasn't So Bad," National Law Journal, September 26, 1998, 12; "Documents and the Privilege Against Self-Incrimination," University of Pittsburgh Law Review 48 (1986): 27; "The 'Released Time' Cases Revisited: A Study of Group Decisionmaking by the Supreme Court," Yale Law Journal (1974): 1202.
Noteworthy Opinions
United States v. Rybar, 103 F.3d 273 (3d Cir. 1996)
Planned Parenthood v. Casey, 947 F.2d 683 (3d Cir. 1991); 505 U.S. 833.
American Civil Liberties Union of New Jersey v. Schundler, 168 F.3d 92 (3d Cir. 1999)