Wayne, James Moore
Wayne, James Moore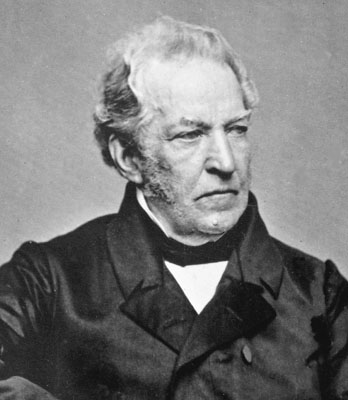 Birth: 1790, Savannah, Georgia.
Education: College of New Jersey (Princeton University), 1808, honorary LL.B., 1849; read law privately; admitted to the bar January 1811.
Official Positions: Member, Georgia House of Representatives, 1815–1816; mayor, Savannah, 1817–1819; judge, Savannah Court of Common Pleas, 1820–1822; judge, Georgia Superior Court, 1822–1828; U.S. representative, 1829–1835; chairman, Committee on Foreign Relations.
Supreme Court Service: Nominated associate justice by President Andrew Jackson, January 7, 1835, to replace William Johnson, who had died; confirmed by the Senate, January 9, 1835 by a voice vote; took judicial oath January 14, 1835; served until July 5, 1867; replaced by Joseph Bradley, nominated by President Ulysses S. Grant.
Death: July 5, 1867, Washington, D.C.
Participation in Key Cases
Opinions Written
Learn more about Supreme Court Justices
Learn More About This Supreme Court Justice
Document Outline
James Moore Wayne
Bibliography
Noteworthy Opinions

James Moore Wayne
James Moore Wayne was born about 1790 in Savannah, Georgia, the twelfth of thirteen children of Richard Wayne and Elizabeth Clifford. Raised on his family's rice plantation, Wayne enrolled at the College of New Jersey (now Princeton University) in 1804 at age fourteen and received his degree in 1808. He then studied law under the tutelage of several lawyers in Georgia and Connecticut, including Judge Charles Chauncey of New Haven. Admitted to the bar in 1811, Wayne entered law practice in Savannah.
During the next two decades, Wayne gradually gained national prominence through his work in Georgia state politics and in the judiciary. He served in the Georgia legislature and as a member of the Savannah Board of Aldermen. He was the mayor of Savannah for two years. Starting in 1819 he served first as judge on the Savannah Court of Common Pleas and then as judge on the local superior court. In 1828 Wayne was elected to the U.S. House of Representatives, where he served for three terms and garnered recognition as a leading Democrat and supporter of President Andrew Jackson, who nominated him to fill the U.S. Supreme Court seat vacated by the death of William Johnson.
As associate justice, Wayne developed a particular interest and expertise in admiralty cases, and many of his most distinctive opinions in his first two decades on the Court propounded his view of the expansive power enjoyed by Congress in its regulation of waterways. For example, in Waring v. Clarke (1847), Wayne wrote on behalf of the Court to accord broad federal admiralty jurisdiction in a case involving a ship collision nearly 100 miles up the Mississippi River, reasoning that such power should extend to sea waters flowing by tide or otherwise into rivers and ports. In the Passenger Cases (1849), the Court struck down two state laws levying taxes on ship captains for each immigrant carried. The Court said that the laws constituted improper incursions into congressional power over foreign commerce; and, in a separate concurring opinion, Wayne asserted that the laws were invalid because the commerce power was vested exclusively in Congress. He dissented in Cooley v. Board of Wardens of the Port of Philadelphia (1852), in which the Court announced the so-called "Cooley doctrine" of "selective exclusiveness" in balancing federal and state powers with regard to foreign and interstate commerce. Wayne said that the commerce clause demanded exclusive federal regulation of foreign and interstate commerce.
Wayne's tenure was also marked by personal conflict and ambivalence. He was a southerner and a slave owner, but he supported the Union cause during the Civil War. He regularly favored slave interests in his rulings on the Court, but voted with the majority in the momentous decision of Dred Scott v. Sandford (1857). Wayne agreed with Chief Justice Roger Taney's opinion, which held that Congress had the authority neither to prohibit the introduction of slavery into the territories nor to recognize as free a slave who had been brought into the territories. Nevertheless, Wayne refused to join the Confederacy or to leave the Court during the war. As a result, the Confederacy labeled him a traitor, charged him in a Confederate court with being an enemy alien, and confiscated his property in Georgia. In the Prize Cases (1863), Wayne joined the Court in upholding the constitutionality of President Abraham Lincoln's proclamation of a Union naval blockade of Confederate ports; yet, by the war's end, he voted to strike down Reconstruction measures such as the test oath laws in Cummings v. Missouri (1867) and Ex parte Garland (1867), and he refused to sit as circuit court judge in states under military Reconstruction rule.
Wayne died of typhoid on July 5, 1867, in Washington, D.C. Despite his repudiation of the Confederacy during the Civil War, he was buried in Savannah.
Bibliography
The most comprehensive study to date of Wayne's life and work is Alexander A. Lawrence's James Moore Wayne, Southern Unionist (1943). Also of note are the following brief sketches: Alexander A. Lawrence, "Justice Wayne and the Dred Scott Case," Proceedings of the Fifty-Seventh Annual Session of the Georgia Bar Association (1940): 196; George G. Battle, "James Moore Wayne: Southern Unionist," Fordham Urban Law Journal 14 (1964): 42; and Warren Grice, "James M. Wayne," Georgia Bar Association Proceedings (1938): 179.
Noteworthy Opinions
Waring v. Clarke, 46 U.S. 441 (1847)
Passenger Cases, 48 U.S. 283 (1849)
Cooley v. Board of Wardens of the Port of Philadelphia, 53 U.S. 299 (1851) (Dissent)