Van Devanter, Willis
Van Devanter, Willis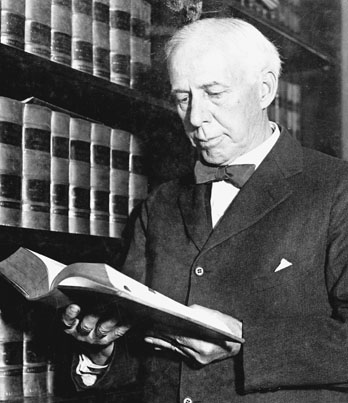 Birth: April 17, 1859, Marion, Indiana.
Education: Indiana Asbury University (DePauw), A.B., 1878; University of Cincinnati Law School, LL.B., 1881.
Official Positions: City attorney, Cheyenne, 1887–1888; member, Wyoming territorial legislature, 1888; chief justice, Wyoming Territory, 1889–1890; assistant attorney general, Department of the Interior, 1897–1903; judge, U.S. Court of Appeals for the Eighth Circuit, 1903–1910.
Supreme Court Service: Nominated associate justice by President William Howard Taft, December 12, 1910, to replace Edward D. White, who became chief justice; confirmed by the Senate, December 15, 1910, by a voice vote; took judicial oath January 3, 1911; retired June 2, 1937; replaced by Hugo L. Black, nominated by President Franklin D. Roosevelt.
Death: February 8, 1941, in Washington, D.C.
Participation in Key Cases
Opinions Written
Learn more about Supreme Court Justices
Learn More About This Supreme Court Justice
FURTHER READING
Document Outline
Willis Van Devanter
Bibliography
Noteworthy Opinions

Willis Van Devanter
Willis Van Devanter was born in Marion, Indiana, but migrated to the Wyoming Territory as a young man after completing his education at the University of Cincinnati Law School. He became involved in Wyoming politics as a member of a political machine run by Francis F. Warren, who was elected to the U.S. Senate shortly after Wyoming was admitted to the Union. Van Devanter's law practice represented a number of railroads, including the Burlington and the Union Pacific, experience that later contributed to his being labeled a tool of railroad interests. Through service as chief justice of the Wyoming Territory and as assistant attorney general in the Department of the Interior, Van Devanter became familiar with Indian rights and land claims that he also put to use during his tenure on the U.S. Supreme Court. He preceded his service on the Court with seven years on the U.S. Court of Appeals for the Eighth Circuit, to which he was appointed in 1903 by President Theodore Roosevelt. Van Devanter was selected for the Supreme Court in 1910 as a result of heavy-handed lobbying by Senator Warren. Progressive politician William Jennings Bryan criticized Van Devanter's links with railroad interests and opposed the appointment.
As a member of the Court, Van Devanter lived a quiet existence, seldom making public appearances and writing few controversial opinions. His colleagues were glad to hand over to him cases in his areas of expertise, the unglamorous fields of public land law, admiralty, water rights, Indian claims, and corporation law. Van Devanter was regarded as skilled in handling procedural and jurisdictional disputes. Nevertheless, he was one of the least productive of the justices on the Court during his twenty-six years of service, writing only 346 opinions, 1 concurrence, and 4 dissents. His lack of output is generally attributed to a severe writer's block, but others point out that Van Devanter, while apparently skilled in discussing cases in conference, lacked any strong judicial philosophy that might have prompted him to take a leading role in writing opinions.
Van Devanter's knowledge of Indian life and customs was reflected in his opinion in United States v. Sandoval (1913), which some commentators have found suggestive of Justice Louis Brandeis, despite its patronizing tone. The case concerned the prohibition against bringing alcoholic beverages into an Indian community, in this case two pueblos held in fee simple. Van Devanter upheld the prohibition, citing studies of primitive Indian culture that ascribed to them an inferior intellect.
In his best-known opinion, Second Employers' Liability Cases (1912), Van Devanter reflected the progressive attitude that the exercise of broad government power was justified when the interests of the working public benefited. Congress had passed a law in 1906 making railroads liable for employees injured on the job. The Court overturned this law in 1908, and Congress responded with the Federal Employers' Liability Act, designed to correct the provisions of the first law that the Court found unconstitutional. Railroads responded to this second effort with more than 600 test cases, and Van Devanter's opinion was the result. He had first upheld the law in Kieran v. Portland (1912), which applied to injured railroad workers employed in interstate commerce.
The 1912 opinion concerned congressional power to make a railroad liable for an employee injured in interstate commerce through the actions of a fellow employee not working in interstate commerce. Van Devanter upheld the law, arguing that Congress could do whatever was necessary "to save the act of interstate commerce from prevention or intervention, or to make that act more secure, more reliable, or more efficient." He wrote that the purpose of the statute was to prevent negligence on the part of the railroad by imposing greater liability, and that was well within the powers of Congress in regulating interstate commerce. The result of the opinion was to assign greater responsibility to the railroads, do away with the "fellow servant" rule, and limit the use of the doctrines of contributory negligence, all goals of various groups within the Progressive movement.
Despite this opinion, Van Devanter remained loyal to the railroads, as was evidenced by numerous other rulings. For example, in St. Louis, Iron Mountain and Southern Railway v. Wynne (1912), he rejected an Arkansas law designed to impose heavy penalties on railroads when their trains killed wandering livestock. Van Devanter wrote that instead of providing an incentive for settling just claims, the statute antagonized the railroads by depriving them of recourse in cases of excessive fines. In Burke v. Southern Pacific Railroad (1914), Van Devanter's opinion strictly limited the power of the U.S. Land Office to divest railroads of land grants that had subsequently been found to have valuable mineral deposits. And despite some assessments of his ruling in the Second Employers' Liability Cases as liberal, Van Devanter showed that his support for liability legislation was not unqualified. In New York Central v. Winfield (1917), he rejected the application of state liability statutes to railroads, arguing that the federal law was designed to be uniform, consistent, and to supersede state laws.
Under the leadership of William Howard Taft, who had appointed him and who joined the Court as chief justice in 1921, Van Devanter continued to be largely unproductive as a writer of opinions, but he served the Court in other ways. He became Taft's good friend and confidante, and one writer has suggested that perhaps the chief justice was content to have Van Devanter remain mute, so long as he voted with the conservative side and supported Justice George Sutherland's more scholarly opinions. Van Devanter is remembered during this period for his strong support of Taft's conservative leanings and for his contributions to Court reform in 1925.
One of Taft's goals for the Court was to streamline its operations and give it more control over its own jurisdiction. Several pieces of legislation to that end were introduced in Congress, culminating with the Jurisdictional Act of 1925. This law reduced the number of cases heard by the Court on appeal by broadening the justices' discretion in granting writs of certiorari. The statute also made judgments in the courts of claims and certain decisions in the courts of appeals final and allowed constitutional questions to continue to rise from state courts on writs of error. Van Devanter was the chief author of this portion of the reform legislation, and he put his reputed political expertise to use as the Court's representative before congressional committees holding hearings on the bill.
Van Devanter is also remembered for his authorship of one significant opinion, McGrain v. Daugherty (1927), which is considered the strongest among the small number of opinions he wrote in the 1920s. This ruling, reflecting Van Devanter's expertise in procedural matters, upheld the right of the Senate to arrest a person who had refused to honor a subpoena commanding his testimony in an investigation of the Justice Department. Van Devanter concluded that the Senate had acted properly because the investigation served a legitimate legislative purpose.
By the beginning of the 1930s, any judicial philosophy that Van Devanter had formulated could be described as strongly conservative, if not reactionary. His colleague Harlan Fiske Stone labeled him the "Commander in Chief of Judicial Reaction." He was not a supporter of civil liberties, and he opposed New Deal economic programs almost without exception. Although he wrote none of the important opinions, he could be counted among the majority in every ruling overturning President Franklin Roosevelt's recovery programs until his retirement in 1937. It has been suggested that Van Devanter delayed his retirement simply to remain on the Court as an opponent of Roosevelt.
Van Devanter's concern about infringements on economic liberties did not carry over to protection of individual rights. For example, in Near v. Minnesota (1931), a case testing the reach of freedom of the press, Van Devanter agreed with the minority's contention that a state "press gag" law should be upheld. A year later, he dissented from the Court's invalidation of the Texas white primary law in Nixon v. Condon (1932). He did, however, vote to extend the Sixth Amendment right to counsel in the infamous "Scottsboro Boys" case, Powell v. Alabama (1932).
Van Devanter achieved his greatest fame on the Court as one of the "Four Horsemen" who consistently opposed FDR's economic programs. He supported Sutherland's dissent in Home Building & Loan Assn. v. Blaisdell (1934), a mortgage moratorium case in which Chief Justice Charles Evans Hughes tentatively indicated that the Court might show some sympathy for emergency legislation designed to cope with the Depression. Van Devanter voted against the National Recovery Act, the Agricultural Adjustment Act, the Wagner Act, the first Frazier-Lemke Act, the Bituminous Coal Conservation Act (the Guffey law), and the gold clauses. In the spring of 1937 he worked with Hughes to thwart Roosevelt's proposed "Court-packing" plan, advising the chief justice to respond in writing, rather than send the justices to testify to, and to be questioned by, a congressional investigating committee.
Van Devanter retired in May 1937, soon after the Court issued its first opinions in support of the New Deal philosophy. He became the first justice to take advantage of a new law permitting members of the Court to retire at full pay. Some said he also timed his retirement to create the maximum embarrassment for the president, as it demonstrated that a little patience would have enabled Roosevelt to avoid the political fiasco engendered by his Court-packing proposal. After resigning from the Supreme Court, Van Devanter moved to New York where he presided in the U.S. district court until his death in 1941.
Historians have billed Van Devanter as an "unimaginative conservative" with strengths largely in negotiation and knowledge of judicial procedure. Brandeis, however, considered Van Devanter one of the most skillful members of the conference and compared him (favorably) to a Jesuit cardinal in his abilities. One study lists him as one of the eight "failures" in Court history because of the small number of opinions he produced and because he was not an identifiable leader among his colleagues. Others have suggested that Van Devanter has fared poorly with evaluators because he is best known as a reactionary conservative in a period dominated by liberal writers.
Bibliography
There is no published biography of Willis Van Devanter. The best primary source for his judicial career are his professional papers, located in the Library of Congress. Most of the detailed studies of Van Devanter's career are unpublished dissertations. They include Lewis H. Gould, "Willis Van Devanter in Wyoming Politics, 1884–1897" (Yale, 1966); James O'Brien Howard, "Constitutional Doctrines of Mr. Justice Van Devanter" (University of Iowa, 1937); and Ronald F. Howell, "Conservative Influence on Constitutional Development, 1932–37: The Judicial Theory of Justices Van Devanter, McReynolds, Sutherland, and Butler" (Johns Hopkins, 1952).
Paul M. Hollinger has published two brief articles on aspects of Van Devanter's career: "The Appointment of Supreme Court Justice Van Devanter: A Study in Political Preferment," American Journal of Legal History 12 (1968): 324; and "Mr. Justice Van Devanter and the New Deal: A Note," History 31 (1968): 57. See also Barry Cushman, "The Secret Lives of the Four Horsemen," Virginia Law Review 83 (1997): 559; and W.H. Johnson, "Willis Van Devanter—A 'Re-examination,'" Wyoming Law Review 1 (2001): 403.
Noteworthy Opinions
Second Employers' Liability Cases, 223 U.S. 1 (1912)
United States v. Sandoval, 231 U.S. 28 (1913)
New York Central Railroad v. Winfield, 244 U.S. 147 (1917)
McGrain v. Daugherty, 273 U.S. 135 (1927)