Trimble, Robert
Trimble, Robert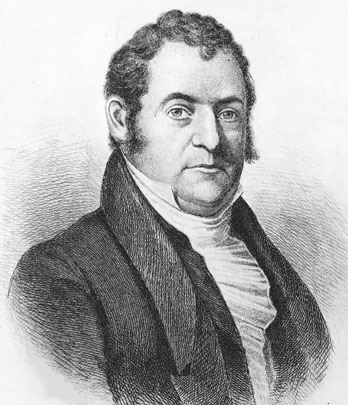 Birth: November 17, 1776, Berkeley County, Virginia.
Education: Bourbon Academy; Kentucky Academy; studied law under George Nicholas and James Brown; admitted to the bar in 1803.
Official Positions: Kentucky state representative, 1802; judge, Kentucky Court of Appeals, 1807–1809; U.S. district attorney for Kentucky, 1813–1817; U.S. district judge, 1817–1826.
Supreme Court Service: Nominated associate justice by President John Quincy Adams, April 12, 1826, to replace Thomas Todd, who had died; confirmed by the Senate, May 9, 1826, by a 27–5 vote; took judicial oath June 16, 1826; served until August 25, 1828; replaced by John McLean, nominated by President Andrew Jackson.
Death: August 25, 1828, Paris, Kentucky.
Participation in Key Cases
Opinions Written
Learn more about Supreme Court Justices
Learn More About This Supreme Court Justice
Document Outline
Robert Trimble
Bibliography
Noteworthy Opinions

Robert Trimble
Robert Trimble had a tragically brief tenure on the U.S. Supreme Court. His sudden illness and death cut short what many of his contemporaries thought would be a very distinguished judicial career.
Trimble was born in Berkeley County, Virginia, in 1777. His father's Protestant ancestors had emigrated from Ireland to America for religious freedom. When Robert was two years old, the family moved to Kentucky, where they prospered at farming on Howard's Creek in Clark County. Robert was taught at home by his grandfather, but he also attended organized schools on the Kentucky frontier. He entered Bourbon Academy in 1795, but illness forced him to leave in less than a year. He then studied law in a class of nineteen students organized by Transylvania University. Kentucky's first attorney general, George Nicholas, taught the class and was succeeded after his death by James Brown. Trimble was admitted to the bar in 1803, the same year he married Nancy Timberlake.
Appointment to the U.S. Supreme Court capped Trimble's successful career as a Kentucky lawyer and jurist. Like many other judges, he repeatedly left the state bench to earn a higher income as a practicing attorney. Nevertheless, a flourishing and lucrative practice did not deter Trimble from accepting appointment by President James Madison as the federal district judge for Kentucky in 1817. Amid bitter battles over state-federal jurisdictional questions, Trimble supported the supremacy of the federal government, which led President John Quincy Adams to nominate Trimble to the Supreme Court on the death of Kentuckian Thomas Todd. Five senators voted against the nomination because of Trimble's belief in federal supremacy. On confirmation, he became Adams's first and only appointment to the Court.
During his brief two terms, Trimble agreed with Chief Justice John Marshall in the vast majority of cases. Of the 103 opinions delivered during those two sessions, he spoke for the Court sixteen times. Most of Trimble's cases dealt with technical litigation and procedural matters. His most important opinion came in Ogden v. Saunders (1827), when he departed from his faith in federal supremacy. For the Marshall Court, this was an unusual case in that the four justices in the majority could not agree on a single rationale and instead issued seriatim opinions. Trimble's opinion upheld the constitutionality of a New York bankruptcy law against claims that by authorizing the discharge of the person of the debtor and the debtor's future property, the act violated the contract clause of the Constitution. Marshall, along with Joseph Story and Gabriel Duvall, dissented, claiming the act impaired the obligation of contract.
Trimble's other major decision came in connection with The Antelope (1827), in which the Court had also issued opinions in 1825 and 1826. In this case, the Court confronted the legality of the slave trade under international law. At stake was the fate of a cargo of slaves on a foreign ship seized by an American revenue cutter. Two years earlier the Court had ruled in the same case that no matter how reprehensible, the slave trade had not been outlawed and slave ships could not be seized. Trimble reinforced this decision by upholding the return of the slaves to their owners.
In his first opinion for the Court, Montgomery v. Hernandez (1827), Trimble spelled out a procedure that the modern Court still follows. He said that to obtain a hearing in the Supreme Court, for a violation of federal rights, one must first have raised that issue in the state court.
Trimble caught a "malignant bilious fever" and died shortly after his second term on the Court. Eulogies spoke of the great promise he had shown as a justice, and his colleagues mourned what had been the start of an illustrious career on the bench. Marshall wrote to Sen. Henry Clay of Kentucky, "I need not say how deeply I regret the loss of Judge Trimble. He was distinguished for sound sense, uprightness of intention, and legal knowledge. His superior cannot be found. I wish we may find his equal."
Bibliography
The only biographical sketch of Trimble is by Fred L. Israel, in Friedman and Israel, Justices, vol. 1, 511.
Noteworthy Opinions
The Antelope, 25 U.S. 546 (1827)
Montgomery v. Hernandez, 25 U.S. 129 (1827)
Ogden v. Saunders, 25 U.S. 213 (1827)