Thompson, Smith
Thompson, Smith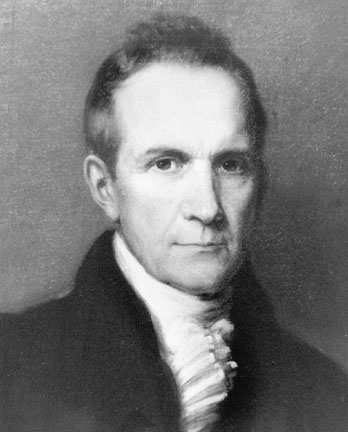 Birth: January 17, 1768, Dutchess County, New York.
Education: Graduated Princeton, 1788; read law under James Kent; admitted to the bar, 1792; honorary law doctorates from Yale, 1824; Princeton, 1824; and Harvard, 1835.
Official Positions: Member, New York state legislature, 1800; member, New York Constitutional Convention, 1801; associate justice, New York Supreme Court, 1802–1814; member, New York State Board of Regents, 1813; chief justice, New York Supreme Court, 1814–1818; secretary of the navy, 1819–1823.
Supreme Court Service: Recess appointment as associate justice by President James Monroe, September 1, 1823, to replace Henry Brockholst Livingston, who had died; nominated associate justice by Monroe, December 8, 1823; confirmed by the Senate, December 9, 1823, by a voice vote; took judicial oath February 10, 1823; served until December 18, 1843; replaced by Samuel Nelson, nominated by President John Tyler.
Death: December 18, 1843, Poughkeepsie, New York.
Participation in Key Cases
Opinions Written
Learn more about Supreme Court Justices
Learn More About This Supreme Court Justice
Document Outline
Smith Thompson
Bibliography
Noteworthy Opinions

Smith Thompson
Smith Thompson served on the U.S. Supreme Court for twenty years. During that long tenure, he wrote more than eighty-five opinions, and states' rights served as the most significant theme of his judicial writing. Thompson consistently opposed the centralizing federalism of Chief Justice John Marshall.
Thompson came to the Court as a successful New York politician. After practicing law for several years, he became part of the Livingston faction. A string of political offices culminated in his appointment as state chief justice, replacing James Kent. His states' rights beliefs became clear in a decision upholding a state monopoly grant to steamboat promoter Robert Livingston that Marshall later overturned in Gibbons v. Ogden (1824), which held the monopoly violated federal commerce powers. President James Monroe appointed Thompson secretary of the navy in 1818, and while Thompson maneuvered for a possible presidential campaign, Monroe named him to the Supreme Court to fill the seat vacated by the death of his fellow New Yorker, Henry Brockholst Livingston. Thompson continued to be an active politician on the bench and even launched an unsuccessful campaign for governor of New York against Martin Van Buren in 1828.
Thompson's devotion to states' rights played a role in his appointment, and once on the bench, he opposed Marshall's centralizing tendencies. For example, Thompson joined the majority in Ogden v. Saunders (1827), in which the Court upheld the constitutionality of state insolvency statutes limiting debt liability contracted prior to the passage of the acts. This decision overruled Marshall's holding in Sturges v. Crowninshield (1819). Thompson defended the acts as legitimate exercises of state bankruptcy authority held concurrently with federal bankruptcy power.
These commitments are also evident in his two most important decisions. In 1831 he dissented from Marshall's opinion in Cherokee Nation v. Georgia, which denied jurisdiction to hear the tribe's complaints against their forced removal. Along with Justice Joseph Story, Thompson disagreed with Marshall's assertion of federal control over the tribe and argued that the Cherokee should be considered a foreign nation with a right to be heard in the Supreme Court. Seven years later, in Kendall v. United States (1838), Thompson wrote the majority opinion upholding the power of the District of Columbia Circuit Court to order an officer of the executive branch to perform a ministerial duty. The case involved a suit for payment against the postmaster, and Thompson's opinion served to limit the autonomous authority of the president.
Thompson served on the Court and continued to dabble in politics until his death in 1843.
Bibliography
Little has been written of Thompson, but see Gerald T. Dunne's sketch in Friedman and Israel, Justices, vol.1, 473.
Noteworthy Opinions
Cherokee Nation v. Georgia, 30 U.S. 1 (1831) (Dissent)
Kendall v. United States ex. rel. Stokes, 37 U.S. 528 (1838)