Shiras, George Jr.
Shiras, George Jr.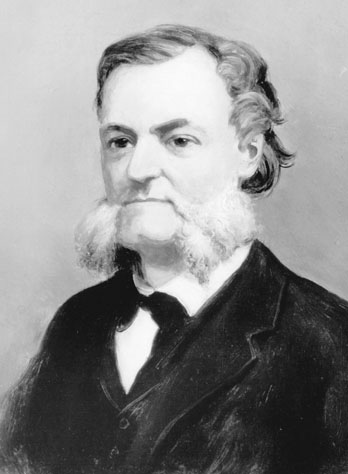 Birth: January 26, 1832, Pittsburgh, Pennsylvania.
Education: Ohio University, 1849–1851; Yale University, B.A., 1853, honorary LL.D., 1883; studied law at Yale and privately; admitted to the bar in 1855.
Official Positions: None.
Supreme Court Service: Nominated associate justice by President Benjamin Harrison, July 19, 1892, to replace Joseph P. Bradley, who had died; confirmed by the Senate, July 26, 1892, by a voice vote; took judicial oath October 10, 1892; retired February 23, 1903; replaced by William R. Day, nominated by President Theodore Roosevelt.
Death: August 2, 1924, Pittsburgh, Pennsylvania.
Participation in Key Cases
Opinions Written
Learn more about Supreme Court Justices
Learn More About This Supreme Court Justice
FURTHER READING
Document Outline
George Shiras Jr.
Bibliography
Noteworthy Opinions

George Shiras Jr.
His position on the U.S. Supreme Court was the only public office George Shiras Jr. ever held. Son of a prosperous Pennsylvania brewer, Shiras received his bachelor's degree from Yale University in 1853. After studying briefly at Yale Law School, he read law privately and won admittance to the bar in 1855. Quickly building up a lucrative practice, Shiras represented illustrious corporate clients such as Carnegie Steel and the Baltimore and Ohio Railroad. His aloofness from factional politics and his support by powerful men, including Andrew Carnegie, helped win his 1892 appointment and confirmation as associate justice.
Shiras joined the Court at a time of economic upheaval in the United States. Reform-minded Republicans and Democrats, as well as Populists, Socialists, and Progressives, all pushed for regulation of big business by both the state and national governments. Powerful corporate interests, supported by many lawyers and politicians, fought the new wave of business regulation. On the Court, Shiras tended to steer a middle course, often slow to approve of regulation, but not blindly supporting big business, either.
In the years just before Shiras joined the Court, justices had been using the due process clause of the Fourteenth Amendment to insist that states' regulation of business must be "reasonable" and that the courts could determine what was reasonable, striking down statutes that did not meet the test. Shiras, however, was slower than a number of his colleagues to strike down state statutes. One of his first important decisions was the majority opinion in Brass v. North Dakota ex rel. Stoeser (1894), dealing with state regulation of grain elevators. Previously, the Court had upheld such regulation if aimed at monopolistic situations. In Brass, however, North Dakota was regulating a system of elevators in which healthy competition was present. Shiras held that because the Court had earlier ruled that states had the right to regulate grain elevators, it was not for the judicial branch to examine myriad individual cases. The legislatures should weigh the different situations in each state, Shiras concluded. Four justices dissented angrily.
In other cases of state regulation of business, Shiras voted with the majority to uphold Utah's requirement of an eight-hour workday for miners in Holden v. Hardy (1898). He also wrote the majority opinion in Knoxville Iron Co. v. Harbison (1901), sustaining a Tennessee law that companies paying workers in scrip must be willing to redeem the scrip in cash.
Shiras was less friendly toward federal economic legislation, such as the Sherman Antitrust Act, the Interstate Commerce Act, and the federal income tax. The income tax case provided Shiras with his one moment of notoriety on the Court. In Pollock v. Farmers' Loan & Trust (1895), the Court divided 4–4 on some of the most important issues, and the justices decided to rehear the case when all nine members were present. Shiras was widely accused of changing his vote, from upholding the income tax at the first hearing to opposing it at the rehearing. Later evidence seemed to suggest that another justice, not Shiras, changed his vote. At any rate, Shiras did vote with the majority in the second Pollock case to strike down the tax. Recent historians regard that decision as contrary to well-established precedent, revealing a conservative Court fighting the new economic trends.
In the civil liberties arena, Shiras was one of the more liberal justices of his time. It is true that he voted to uphold state laws separating the races or denying rights to blacks in cases such as Plessy v. Ferguson (1896) and Williams v. Mississippi (1898). But in his majority opinion in Swearingen v. United States (1896), Shiras and four other justices refused to uphold the conviction of a populist editor accused of violating a federal obscenity law in one of his political editorials.
Arguably, Shiras's most important opinion was Wong Wing v. United States (1896). Congress had passed a series of laws limiting Chinese immigration and calling for the deportation of Chinese who were illegally in the country. Congress added a provision that U.S. commissioners (the federal equivalent of justices of the peace) could sentence Chinese aliens to hard labor prior to their deportation. Speaking for a unanimous court, Shiras held that the Fifth Amendment promise of trial by jury applied to aliens as well as to citizens. Wong Wing had not received a jury trial, and the Court overturned his sentence of a year at hard labor.
When Shiras retired in 1903, he was seventy-one years old and still in good health. In his eleven years on the Court, he had avoided extremism; he was a team player who generally sided with the majority, writing only fourteen dissenting opinions during his tenure. He died in 1924 at the age of ninety-two.
Bibliography
The fullest documentation of Shiras's life is contained in a book by his son and grandson: George Shiras III and Winfield Shiras, Justice George Shiras, Jr., of Pittsburgh (1953). An excellent treatment of the legal culture of Shiras's day is Arnold M. Paul, Conservative Crisis and the Rule of Law: Attitudes of Bar and Bench, 1887–1895 (1960). See also Paul's solid treatment of Shiras in Friedman and Israel, Justices, vol. 2, 1577.
Noteworthy Opinions
Brass v. North Dakota ex rel. Stoeser, 153 U.S. 391 (1894)
Swearingen v. United States, 161 U.S. 446 (1896)
Wong Wing v. United States, 163 U.S. 228 (1896)
Knoxville Iron Co. v. Harbison, 183 U.S. 13 (1901)