Roberts, John Glover Jr.
Roberts, John Glover Jr.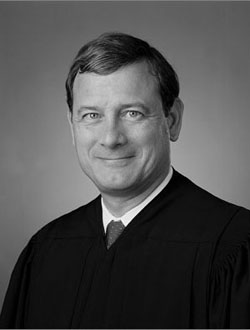 Birth: January 27, 1955, Buffalo, New York.
Education: Harvard University, B.A., summa cum laude, 1976; Harvard Law School, LL.B., magna cum laude 1979.
Official Positions: Law clerk to Justice William Rehnquist, 1980–1981; special assistant to attorney general, 1981–1982; associate White House counsel, 1982–1986; principal deputy U.S. solicitor general, 1989–1993; judge, U.S. Court of Appeals for the District of Columbia Circuit, 2003–2005.
Supreme Court Service: Nominated associate justice by President George W. Bush, July 28, 2005, to replace Sandra Day O'Connor, who announced her retirement on July 1, 2005; nomination withdrawn, September 6, 2005; nominated chief justice by President Bush, September 6, 2005, to replace Chief Justice William H. Rehnquist, who had died; confirmed by the Senate, September 29, 2005, by a 78–22 vote; took judicial oath September 29, 2005.
Participation in Key Cases
Opinions Written
Learn more about Supreme Court Justices
Learn More About This Supreme Court Justice
Document Outline
John Glover Roberts Jr.
Bibliography
Noteworthy Opinions

John Glover Roberts Jr.
When John G. Roberts Jr. presided over his first session of the Supreme Court as chief justice on October 3, 2005, he looked as if he had been in the job for years. He was comfortable and confident and quickly joined in questioning the advocates before him in oral argument.
For Roberts, more than for almost every justice who served before him, the Supreme Court was familiar territory. Not only had he served as a law clerk to his predecessor, William Rehnquist, twenty-five years earlier, but also he had stood before the Supreme Court thirty-nine times as an oral advocate, answering instead of asking the questions. His entire life, some said, was preparation for becoming chief justice.
The seventeenth chief justice of the United States was born in New York State. His family moved to Long Beach, Indiana, when he was in fourth grade, and Roberts still considers himself a Hoosier. His father, an executive at Bethlehem Steel, sent young John to private schools, including La Lumiere, a Catholic boarding school for boys. He was captain of the football team and quickly outpaced fellow students in academics. And as President George W. Bush pointed out when he nominated him, Roberts worked during the summers at his father's steel plant—not just in the white-collar offices.
Roberts entered Harvard College in 1973 with sophomore status and graduated summa cum laude in 1976. It was at Harvard, friends said, that he grew more conservative as he became disenchanted with protests against the Vietnam War. Roberts went on to Harvard Law School, where he became known as one of the school's hardest-working and most brilliant students. He served as managing editor of the Harvard Law Review. But fellow students also said Roberts was modest and soft-spoken, not overly impressed with himself. More conservative than most of his fellow Harvard law students, Roberts was not politically active. After graduating magna cum laude in 1979, Roberts eschewed private law practice, serving instead as a law clerk to Henry Friendly, a respected conservative judge on the U.S. Court of Appeals for the Second Circuit in New York City. Friendly was known for writing his own opinions and asking his clerks to test his positions in give-and-take discussions in his chambers.
From July 1980 to June 1981 Roberts clerked for Associate Justice William Rehnquist. Copies of memorandums Roberts wrote while a clerk, contained in Justice Harry Blackmun's papers, were unremarkable, betraying no political slant but solid legal analysis.
Few blockbuster cases were decided that term, except for Dames & Moore v. Regan (1981), when the Court was asked to ratify actions taken by former president Jimmy Carter as part of the agreement that ended the Iran hostage crisis. Carter had agreed to terminate suits against Iran and attachments of Iranian property, and several U.S. companies and banks challenged his power to do so. The case was handled on an expedited basis.
Rehnquist wrote the unanimous decision, and some Court law clerks from that term say Roberts was instrumental in its drafting. The decision upheld the president's actions and gave broad deference to executive power based on several federal laws and on congressional acquiescence. "Where, as here, the settlement of claims has been determined to be a necessary incident to the resolution of a major foreign policy dispute between our country and another, and where, as here, we can conclude that Congress acquiesced in the President's action, we are not prepared to say that the President lacks the power to settle such claims," Rehnquist's opinion states. The ruling has been criticized as being far too deferential to presidential power in the absence of laws that authorize the president's actions.
Following his year with Rehnquist, Roberts worked from 1981 to 1986 for President Ronald Reagan's administration, first in the Justice Department and then in the White House, as the conservative legal revolution was getting under way. In the weeks before his September 2005 confirmation hearing, numerous writings by Roberts that were archived at the Reagan Presidential Library were made public. They showed him to be a confident young government attorney with conservative views. In one 1981 memo, for example, he referred to the "so-called" right to privacy.
While serving as a special assistant to Attorney General William French Smith, Roberts was part of the team advising then-Supreme Court nominee Sandra Day O'Connor as she prepared for her confirmation hearing. In a 1981 memorandum that was revealed during Roberts's confirmation hearing, he advised O'Connor not to respond to questions asking her views on hypothetical cases or real, nonpending cases. "The proposition that the only way senators can ascertain a nominee's views is through questions on specific cases should be rejected."
In 1986 Roberts left government service to become an associate, then a partner at Hogan and Hartson, a large and respected Washington, D.C., firm. Three years later he argued his first case before the Supreme Court, a double jeopardy case titled United States v. Halper (1989). He was appointed by the Court to argue in support of the lower court ruling. The Court ruled unanimously in his favor.
Roberts returned to government service in October 1989 as the principal deputy solicitor general under Solicitor General Kenneth Starr. That position is often described as the "political deputy," meaning that the person filling the position is a political appointee who comes and goes with administrations, unlike the other three or four deputies in the office who are career civil servants. It also means that the person is generally in tune with the views of the administration that hires him. Some former holders of the job say they had to fight the impression that they were White House moles who enforced political or ideological orthodoxy in an office that has a long-standing tradition of independence.
Those who worked with Roberts for the three years he had the position say that he was not a political enforcer. In fact, as others have argued, Roberts insisted that his presence as the political appointee served to insulate the civil servants in the office from political pressure. Roberts went on to explain that he, rather than the career deputies, would take the angry calls from others in the administration questioning the solicitor general's position in a given case. At a 2002 Brigham Young University conference on the role of the solicitor general, Roberts said, "It was my job, I thought, to explain to this person that although this particular position …. may be causing you some political heartburn, here is why we have to do it: It is compelled by our obligation to represent long-standing institutional interests of the United States."
Roberts did affix his name to controversial positions during his tenure in the solicitor general's office. In the 1991 case Rust v. Sullivan, which involved the abortion-related advice that could be given at federally funded clinics, Roberts's brief in passing said, "We continue to believe that Roe v. Wade was wrongly decided and should be overruled.… The Court's conclusion in Roe that there is a fundamental right to an abortion …. finds no support in the text, structure, or history of the Constitution."
It was in his position at the solicitor general's office that Roberts honed his advocacy skills, arguing fifteen cases before the Supreme Court. He became well-known for his straightforward manner and thorough knowledge of the cases he argued. He would prepare for argument by writing on index cards hundreds of questions he thought he might be asked, and then shuffling the cards so he could develop smooth transitions between subjects. Roberts has a calming tone of voice that seemed to reassure cautious justices that whatever position he was asking them to take was a small step, not a major departure from precedent.
That style suited Roberts's unassuming, soft-spoken nature, but he once confessed that he would change his style in an instant if it would win cases. "Impassioned rhetoric doesn't work with the Supreme Court," Roberts said in a 2000 interview. "If it did, I'd become impassioned."
As unassuming as Roberts was at that time, he also had a keen sense of humor, friends say. When Roberts was deputy solicitor general in 1990, he and a former Hogan and Hartson colleague, E. Barrett Prettyman Jr., were adversaries in Lujan v. National Wildlife Federation, a case that became a landmark decision narrowing the doctrine of standing. Prettyman's federation clients claimed they had standing to challenge Interior Department land management decisions because they used nearby land for recreational purposes. Roberts argued that was not an injury sufficient to achieve standing.
To research the case, Prettyman says, Roberts went out West to look over the public lands at issue. "He sent me a postcard from out there," Prettyman recalls. "He wrote that he had looked and looked for my client, but couldn't find her." Neither could the Supreme Court, it appears. The Court ruled, 5–4, that Prettyman's clients had no standing to sue.
Roberts returned to Hogan and Hartson in 1993, where he became one of the most sought-after advocates among the elite group of lawyers who specialize in arguing before the Supreme Court. He represented corporate clients and a wide range of others, including the states of Alaska and Hawaii and the Tahoe Regional Planning Agency. As highly regarded as he was, Roberts did not always win his cases. But he retained a sense of humor about his losses. Asked to explain why he lost Digital Equipment Corp. v. Desktop Direct, Inc. (1994) by a 9–0 vote, he replied, "Because there were only nine justices."
Solicitor General R. Ted Cruz of Texas, who clerked for Chief Justice Rehnquist in the mid-1990s, recalls that when he and his fellow clerks asked Rehnquist who he thought was the best lawyer currently practicing before the Court, John Roberts was Rehnquist's unhesitating reply. "For three young clerks that makes an impression," Cruz said. Later, during the 2000 presidential election dispute over voting in Florida, Cruz, who was working for the Bush campaign, recruited Roberts to work briefly on the legal issues involved.
In 1996 Roberts married Jane Sullivan, also a D.C. lawyer. They have two adopted children, Josephine and Jack.
Given Roberts's lucrative practice, he could have easily decided not to return to public service. But soon after George W. Bush became president in 2001, he included Roberts on his list of preferred appeals court nominees. Nomination politics were contentious early in Bush's first term, however, and it was not until January 2003 that Roberts was formally nominated to the U.S. Court of Appeals for the District of Columbia Circuit. During his Senate confirmation hearing, Roberts seemed to reject the notion that he would be a predictable judge, conservative or otherwise. He criticized the press for identifying judges according to whether they were appointed by Democratic or Republican presidents. "That gives so little credit to the work that they put into the case," he said. "They work very hard, and all of a sudden the report is, well, they just decided that way because of politics. That is a disservice to them."
Some Bush nominees were blocked or filibustered, but Roberts won broad support and was confirmed unanimously by voice vote in May 2003. He settled into the D.C. Circuit and began producing well-written and largely noncontroversial opinions. His votes fell mainly on the conservative side, but that was not always the case. University of Chicago law professor Cass Sunstein called Roberts a judicial minimalist in his two years on the D.C. Circuit: "Judge Roberts's opinions thus far are careful, lawyerly and narrow. They avoid broad pronouncements. They do not try to reorient the law."
In a 2004 case, Barbour v. Washington Metropolitan Area Transit Authority (WMATA), Roberts joined Merrick Garland—a Clinton appointee—in deciding that sovereign immunity did not bar a D.C. employee with bipolar disorder from suing the transit agency under federal laws barring discrimination against the disabled. But then came another WMATA case—which became known as the french fry case—that critics attacked as a sign of a certain hard-heartedness in Roberts's rulings. In Hedgepeth v. WMATA (2004), Roberts upheld the arrest, handcuffing, and detention of a twelve-year-old girl for eating a single french fry inside a D.C. Metro station. "No one is very happy about the events that led to this litigation," Roberts acknowledged in his written opinion, but he ruled that nothing the police did violated the girl's Fourth Amendment or Fifth Amendment rights.
Roberts also angered environmentalists in a 2003 case, Rancho Viejo v. Norton. Roberts wanted the full District of Columbia Circuit to reconsider a panel's decision that upheld a Fish and Wildlife Service regulation protecting arroyo toads under the Endangered Species Act. Roberts said there could be no interstate commerce rationale for protecting the hapless toad, which, he said, "for reasons of its own lives its entire life in California."
In another decision in June 2005, Roberts went even further than his colleagues in supporting the Bush administration in a case that pitted the government against veterans of the first Gulf War. In this case, Acree v. Republic of Iraq, American soldiers captured and tortured by the Iraqi government during the first Gulf War sued the Iraqi government in U.S. court and won nearly $1 billion in damages at the district court level. But once Saddam Hussein was toppled in 2003, the Bush administration wanted to protect the new Iraqi government from liability and intervened to block the award. Roberts, alone among the circuit judges who ruled with the government, said the federal courts did not even have jurisdiction to consider the victims' claim. He said Congress had plainly given the president authority to oust the courts' jurisdiction in these circumstances. "Give me English words over Latin maxims," Roberts wrote.
Justice Sandra Day O'Connor on July 1, 2005, announced plans to retire once her replacement was confirmed. Roberts soon found himself on the short list of potential replacements, although most pundits expected a woman to be appointed to replace the Court's first female justice. Bush did in fact nominate Roberts to replace O'Connor, and a summer of searching scrutiny of his record ensued. Thousands of documents from his years in government service were released, although the Bush administration, citing the need for confidentiality, resisted making public the memos Roberts wrote as deputy solicitor general. Liberal groups announced opposition to Roberts, but given his unimpeachable credentials, they faced an uphill battle.
Then, just a short time before Roberts's confirmation hearing was to begin, a startling development changed the dynamics overnight. Chief Justice William Rehnquist, who had been battling thyroid cancer, died on September 3. Suddenly, a Supreme Court that had been stable for eleven years would be dealing with one definite and one prospective vacancy. Within days, President Bush decided to withdraw Roberts's nomination as associate justice and resubmit it as a nomination for chief justice.
Even though the position of chief justice has more symbolic and historic importance, the switch may actually have eased Roberts's path toward confirmation. Now, instead of replacing O'Connor, who was considered the swing justice, Roberts would be replacing a like-minded conservative—his mentor, Rehnquist. As a result, it did not appear that he would change the balance on the Court appreciably. For her part, O'Connor agreed to stay on, as she had promised.
During four days of hearings, Roberts gave typically cautious answers. He declined to offer his views on specific issues or controversies that might come before him, at the same time insisting that his personal views on those issues would be irrelevant. In general terms, Roberts embraced the principle of stare decisis—respect for precedent—stating at one point that overturning a Court precedent is a "jolt to the system." But Roberts stopped short of saying whether that view would govern how he would vote on abortion rights or other issues. "I do not have an overarching judicial philosophy that I bring to each case," Roberts said. Roberts also seemed to express an expansive view of concepts such as "liberty," stating that they were meant to be given a broad meaning—a view at odds with at least one future colleague, Antonin Scalia.
With the Democrats divided on Roberts, on September 22, the Senate Judiciary Committee endorsed his nomination by a 13–5 vote. A week later, the full Senate confirmed his nomination, 78–22, a larger pro-Roberts margin than expected. "The Senate has confirmed a man with an astute mind and a kind heart," President Bush said later that day when Roberts was sworn in at a White House ceremony. John Paul Stevens, the senior associate justice, administered the judicial oath, symbolizing what appeared to be great enthusiasm among the sitting justices about their new chief.
As Roberts began his tenure as the youngest chief justice since John Marshall 200 years earlier, it appeared he might bring some changes to the Court, but not abruptly. He said during his confirmation hearings that he thought the Court could produce more decisions than it now does—around eighty—and that would be a popular move among lawyers who argue before the Court. Roberts was noncommittal about whether he favored allowing broadcast coverage of the Supreme Court, but it seemed possible that he might take that or other actions making the Court more accessible to the public. In his first months as chief justice, Roberts seemed to achieve a new level of harmony on the Court, as the justices issued opinions with fewer separate concurrences and dissents than in prior years. A relatively young and energetic man, with the prospect of serving for thirty years or more, had taken the helm of the Supreme Court.
In his first two opinions, Roberts spoke for unanimous Courts. In Gonzales v. O Centro Espirita Beneficiente Uniao Do Vegetal (2006), he ruled that the government had failed to show a compelling interest in preventing the Uniao Do Vegetal sect, a group with its origins in the Amazon rain forest, from importing hoasca, a hallucinogenic tea that it used in its rites. The case was fairly straightforward, involving a section of the 1993 Religious Freedom Restoration Act that had never been tested in the courts.
In the other case, Rumsfeld v. Forum for Academic and Institutional Rights, Inc., the Court rejected a suit by a coalition of law schools protesting the Solomon Amendment, which required that any colleges or universities accepting federal monies had to allow recruiters from the armed services onto their campuses. The law schools claimed that the military's antigay policies violated their policies, which were in turn protected by the First Amendment. This argument convinced no judge, and Roberts, in the tone of a schoolmaster lecturing students on what the First Amendment covers and does not cover, dismissed the claim on the grounds that Congress has the power to require access to military recruiters on campuses that received federal funds under its power to raise and support armies as exercised through its spending powers.
Bibliography
There is no biography of Roberts, but he has written several articles that illuminate some of his views. Among them are: "In Memory of Rex E. Lee," Brigham Young University Law Review 1 (2003); "Forfeitures: Does Innocence Matter?" Legal Times, October 2, 1995; "The 1992–93 Supreme Court," Public Interest Law Review 107 (1994); "Riding the Coattails of the Solicitor General," Legal Times, March 29, 1993; "Oral Advocacy and the Re-emergence of a Supreme Court Bar," Journal of Supreme Court History 30 (2005): 68; "New Rules and Old Pose Stumbling Blocks in High Court Cases," Legal Times, February 26, 1990.
Noteworthy Opinions
Gonzales v. O Centro Espírita Beneficiente União Do Vegetal, No. 04-1084 (2006)
Rumsfeld v. Forum for Academic and Institutional Rights, Inc., No. 04-1152 (2006)