Pitney, Mahlon
Pitney, Mahlon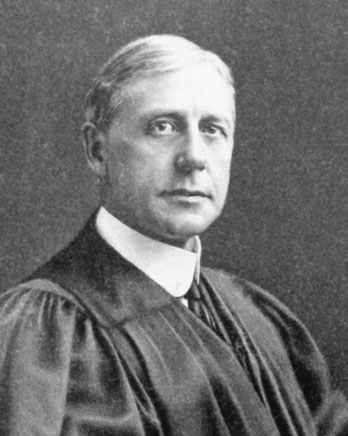 Birth: February 5, 1858, Morristown, New Jersey.
Education: College of New Jersey (Princeton), A.B., 1879; A.M., 1882.
Official Positions: U.S. representative, 1895–1899; New Jersey state senator, 1899–1901; president, New Jersey Senate, 1901; associate justice, New Jersey Supreme Court, 1901–1908; chancellor of New Jersey, 1908–1912.
Supreme Court Service: Nominated associate justice by President William Howard Taft, February 19, 1912, to replace John Marshall Harlan, who had died; confirmed by the Senate, March 13, 1912, by a 50–26 vote; took judicial oath March 18, 1912; retired December 31, 1922; replaced by Edward T. Sanford, nominated by President Warren G. Harding.
Death: December 9, 1924, Washington, D.C.
Participation in Key Cases
Opinions Written
Learn more about Supreme Court Justices
Learn More About This Supreme Court Justice
Document Outline
Mahlon Pitney
Bibliography
Noteworthy Opinions

Mahlon Pitney
Scion of a distinguished New Jersey legal family, Mahlon Pitney brought a wealth of political and judicial experience to the Court, having served in Congress, his state legislature, and the state supreme court. One of Pitney's principal specialties on the U.S. Supreme Court was tax law. His most famous tax opinion, still taught in law schools today, was Eisner v. Macomber (1920), in which the Court held that stock dividends were not taxable income within the meaning of the Sixteenth Amendment.
Yet it is for his decisions in labor cases that Pitney is best remembered. Pitney's opinions in a few high-profile cases earned him a reputation in some quarters as an antilabor reactionary. He wrote the majority opinion in Coppage v. Kansas (1915), declaring that a Kansas statute prohibiting an employer from requiring his employees to contract not to join a union impaired the employer's liberty of contract. His majority opinion in Hitchman Coal & Coke Co. v. Mitchell (1917) held that an employer was entitled to an injunction prohibiting union organizers from recruiting employees working under such a contract. Pitney dissented in Wilson v. New (1917), which upheld a federal statute regulating the wages and hours of railroad workers, and he voted to strike down an Oregon law prescribing minimum wages for women in Stettler v. O'Hara (1917).
Yet for Pitney, the rights of property and contract frequently yielded to the police power of the state. For example, Pitney voted in Bunting v. Oregon (1917) and other cases to uphold maximum hour laws for both men and women; he voted to uphold statutes prohibiting payment of employees in company scrip and requiring at least semimonthly payment of employees in Keokee Consolidated Coke Co. v. Taylor (1914) and Erie R. Co. v. Williams (1914), respectively; and he dissented from the majority opinion in Truax v. Corrigan (1921), which struck down an Arizona statute prohibiting the issuance of injunctions against labor's peaceful picketing of an employer. Most notably, Pitney wrote a trilogy of opinions in 1917 upholding various state workmen's compensation statutes. In addition, he generally displayed a sympathetic attitude toward injured workers in cases arising under the Federal Employers Liability Act and the Safety Appliance Act.
Pitney's reputation as an antilabor judge was, however, enhanced by his opinions in Paine Lumber Co. v. Neal (1917) and Duplex Printing Press Co. v. Deering (1921). Dissenting in Paine Lumber and writing for the majority in Duplex, Pitney said that an employer whose product was being boycotted by a labor union was entitled to an injunction against the union under the antitrust laws. At the same time, however, he joined the Court's opinion in Coronado Coal Co. v. United Mine Workers (1922), refusing to invoke the Sherman Antitrust Act against the strike of a coal miners' local union. Moreover, throughout his tenure on the Court, Pitney applied the antitrust laws against business with equal zeal. Like many other justices of his period, Pitney brought to the Court the atomistic, competitive world view of nineteenth-century liberalism, which distrusted economic combinations of any kind.
Such liberalism did not yet fully embrace a solicitude for noneconomic civil liberties. Pitney consistently joined in the Court's opinions upholding convictions of wartime dissenters under the Espionage Act, and he wrote the majority opinion in Pierce v. United States (1920), upholding the conviction of a clergyman for distributing an antiwar pamphlet. His opinion in Frank v. Magnum (1915) upheld against a due process challenge the conviction of a man whose trial had been dominated by a mob. Yet here again Pitney defies easy categorization. He joined the opinion creating the exclusionary rule for federal criminal cases in Weeks v. United States (1914); he voted to strike down a city ordinance mandating segregated housing in Buchanan v. Warley (1917); he joined the opinion in Guinn v. United States (1915), striking down Oklahoma's racially discriminatory scheme of eligibility; and his concurring opinion in Newberry v. United States (1921), contending for broad federal power to regulate primary elections for federal officials, anticipated the Court's invalidation of the racially discriminatory primary in the 1940s. Indeed, the complexity of Pitney's record exposes the folly of using vulgar political taxonomy as a means of explaining the judicial behavior of his era.
Bibliography
The standard biographical source on Pitney is Alan Ryder Breed, "Mahlon Pitney: His Life and Career—Political and Judicial" (unpublished senior thesis, Princeton University, 1932). David Levitan, "Mahlon Pitney—Labor Judge," Virginia Law Review 40 (1954): 733; and Michal R. Belknap, "Mr. Justice Pitney and Progressivism," Seton Hall Law Review 16 (1986): 381, offer valuable insights into Pitney's judicial career.
Noteworthy Opinions
Coppage v. Kansas, 236 U.S. 1 (1915)
Frank v. Magnum, 237 U.S. 309 (1915)
Paine Lumber Co. v. Neal, 244 U.S. 459 (1917) (Dissent)
Hitchman Coal & Coke Co. v. Mitchell, 245 U.S. 229 (1917)
Eisner v. Macomber, 252 U.S. 189 (1920)
Pierce v. United States, 252 U.S. 239 (1920)
Duplex Printing Press Co. v. Deering, 254 U.S. 443 (1921)
Newberry v. United States, 256 U.S. 232 (1921) (Concurrence)