Nelson, Samuel
Nelson, Samuel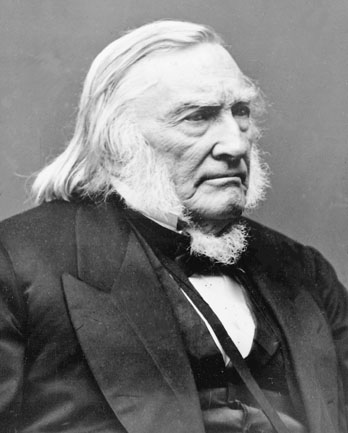 Birth: November 11, 1792, Hebron, New York.
Education: Graduated, Middlebury College, 1813; studied law privately; admitted to the bar, 1817.
Official Positions: Postmaster, Cortland, New York, 1820–1823; presidential elector, 1820; judge, Sixth Circuit of New York, 1823–1831; associate justice, New York Supreme Court, 1831–1837; chief justice, New York Supreme Court, 1837–1845; member, Alabama Claims Commission, 1871.
Supreme Court Service: Nominated associate justice by President John Tyler, February 6, 1845, to replace Justice Smith Thompson, who had died; confirmed by the Senate, February 14, 1845, by a voice vote; took judicial oath February 27, 1845; retired November 28, 1872; replaced by Ward Hunt, nominated by President Ulysses S. Grant.
Death: December 13, 1873, Cooperstown, New York.
Participation in Key Cases
Opinions Written
Learn more about Supreme Court Justices
Learn More About This Supreme Court Justice
Document Outline
Samuel Nelson
Bibliography
Noteworthy Opinions

Samuel Nelson
Samuel Nelson attended Middlebury College in Vermont, apprenticed in a law office in Salem, New York, and was admitted to the New York bar in 1817. He built a successful litigation and commercial law practice and served as postmaster in Cortland, New York, from 1820 to 1823. He then served for eight years on the state's sixth circuit, presiding over the suits in equity brought in the nine counties of the jurisdiction. From 1831 to 1837, he was an associate judge on the New York Supreme Court, becoming chief judge in 1836, a position he held until 1845 when he was sworn in as an associate justice of the U.S. Supreme Court.
Although he was President John Tyler's fourth nominee to fill the Court vacancy, Nelson proved a wise choice. In his twenty-seven years on the Court, Nelson was a prolific justice, producing 347 opinions (323 majority opinions, 19 dissents, and 5 concurrences). He wrote on a broad range of legal topics in these opinions, but his most noteworthy contribution was the influence he brought to bear in resolving the difficult legal issues arising before and during the Civil War.
Originally, Nelson was to be the author of the majority opinion in Dred Scott v. Sandford (1857), but his proposed proslavery opinion held only that Missouri's slavery laws determined Scott's status after he returned from Illinois, a free jurisdiction in which he had resided with his master. Chief Justice Roger Brooke Taney believed that a stronger statement was needed to counter the antislavery dissents, and he took on the writing of the majority opinion. Taney went further than Nelson's more temperate views, holding the Missouri Compromise void and saying that neither people imported into the United States as slaves nor their descendants could ever be citizens of the United States. Nelson filed a separate concurrence.
Two years later Taney wrote for a unanimous Court in Ableman v. Booth (1859). Wisconsin's Supreme Court had released Sherman Booth, who had allegedly assisted a fugitive slave to escape from his pursuing master, after a hearing on a writ of habeas corpus. Taney's opinion characterized the state court's action as a great abuse of power. Yet Taney had joined a Nelson dissent in an earlier decision, In re Thomas Kaine (1852), in which Nelson had extolled the liberal use of the writ of habeas corpus, stating a preference "to follow the free and enlarged interpretation always given, when dealing with it by the courts of England." Indeed, "so liberally do the courts of England deal with this writ …. that the decision of one court or magistrate upon the return to it, refusing to discharge the prisoner, is no bar to the issuing of a second, or third, or more, by any other court or magistrate having jurisdiction of the case."
Taking these opinions together, the views of Nelson and Taney seem to be far more lenient in the case of a fugitive from justice (Kaine had been arrested in the United States on a charge of murder committed in Ireland and examined before a U.S. commissioner) than in the case of an American citizen (Booth had been accused of assisting a fugitive slave to escape to freedom). Although numerous motives for the difference in perspective on the two kinds of fugitives might be defended, the cases' proximity to the Civil War undoubtedly bore some influence.
Nelson wrote a number of opinions regarding the capture of ships and their cargos as war prize. In the Prize Cases (1863), the majority held legitimate the July 1861 taking of four ships attempting to run a Union blockade that President Abraham Lincoln had declared the previous April. In a powerful dissent concurred in by Taney, John Catron, and Nathan Clifford, Nelson declared that only Congress, not the president, could declare war. Congress had not declared war in July 1861, and Nelson believed the seizures invalid.
In The Circassian (1864), a Union ship had captured a British merchant steamer close to Havana, Cuba, on May 4, 1862, on evidence that its ultimate destination was New Orleans, then under blockade. The majority opinion upheld the ship's capture as prize even though New Orleans had been taken by federal troops on May 2, 1862. Nelson dissented, claiming "the defect in the case, on the part of the captors is that no blockade existed at the port of New Orleans at the time the seizure was made."
The facts in The Siren (1868) were more complicated, involving a steamer captured by Union forces. While being taken to Boston, The Siren collided with a sloop, which sank with its cargo of iron. After The Siren was sold as lawful prize, the sloop's owners filed a claim against the proceeds for damages. The majority decided this claim should be honored, but Nelson dissented, stating that, under the principle of sovereign immunity, the sloop's owners could not sue the U.S. government. With its capture, The Siren had become government property, and the fact that it was later sold changed nothing.
Nelson joined with the majority in two other noteworthy Civil War cases, both concerning the jurisdiction and powers of military commissions during the war. In Ex parte Vallandigham (1863), a commission had imprisoned a civilian in Ohio for public speech disloyal to the Union. The Court held this decision was not reviewable and denied the writ of certiorari. But in Ex parte Milligan (1866), the Court reversed a military commission decision to hang an Indiana civilian convicted of various treasonous acts during "the late wicked Rebellion" and held that Lambdin Milligan deserved a jury trial in either state or federal court.
Samuel Nelson was a true craftsman in his work, with an "elevated conception of justice and of right" as stated in a letter from members of the Supreme Court bar after his retirement. In several respects he could be considered a precursor of his twentieth-century brethren on the Court: his opinions were lucid and logical; he frequently cited authority for specific points (Chancellor James Kent being one of his favorites); and his opinions were quite succinct by comparison with many other nineteenth-century judicial pronouncements. He was also a gentleman and would have been horrified by some of the personal attacks engaged in by late twentieth-century members of the Court toward each other.
Nelson's combined years of service on state and federal courts covered a half century of unprecedented change in America. Old age and failing health forced his retirement from the Court in November 1872, and he died a year later. Far less has been written about this quietly competent jurist than his more flamboyant and controversial judicial brethren. This omission probably says more about Supreme Court observers than it does about Justice Nelson.
Bibliography
There is no full-length authoritative biography on Samuel Nelson and no single collection of his papers in existence. The following round out what little there is in print on the man. Edwin Countryman, "Samuel Nelson," The Green Bag 19 (1907): 329, which is probably the single best biographical source on Nelson to date; Richard Leach, "The Rediscovery of Samuel Nelson," New York History 34 (1953): 64, which includes excerpts from Justice Nelson's correspondence; Jenni Parrish, "Justice Samuel Nelson," New York Notes (1987), which is useful for discussion of cases during his tenure on the New York State Supreme Court. Numerous biographical directories include basic descriptions of Justice Samuel Nelson, including Dictionary of American Biography, vol. 13 (1928), 422.
Noteworthy Opinions
In re Thomas Kaine, 55 U.S. 103 (1852) (Dissent)
Dred Scott v. Sandford, 60 U.S. 393 (1857) (Concurrence)
Prize Cases, 67 U.S. 635 (1863) (Dissent)
The Circassian, 69 U.S. 135 (1864) (Dissent)
The Siren, 74 U.S. 152 (1868) (Dissent)