Moody, William
Moody, William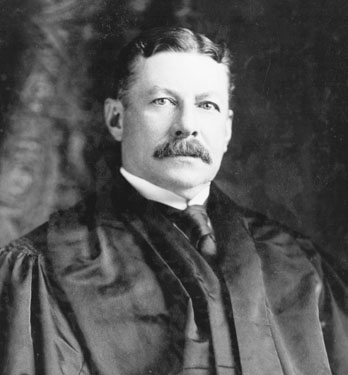 Birth: December 23, 1853, Newbury, Massachusetts.
Education: Harvard College, A.B., cum laude, 1876; Harvard Law School, 1876–1877; read law with Richard Henry Dana.
Official Positions: City solicitor, Haverhill, 1888–1890; district attorney, Eastern District of Massachusetts, 1890–1895; U.S. representative, 1895–1902; secretary of the navy, 1902–1904; U.S. attorney general, 1904–1906.
Supreme Court Service: Nominated associate justice by President Theodore Roosevelt, December 3, 1906, to replace Henry B. Brown, who had retired; confirmed by the Senate, December 12, 1906, by a voice vote; took judicial oath December 17, 1906; retired November 20, 1910; replaced by Joseph R. Lamar, nominated by President William Howard Taft.
Death: July 2, 1917, Haverhill, Massachusetts.
Participation in Key Cases
Opinions Written
Learn more about Supreme Court Justices
Learn More About This Supreme Court Justice
Document Outline
William Moody
Bibliography
Noteworthy Opinions

William Moody
Born and raised in Massachusetts's Merrimac valley, Moody excelled at physical, not mental, activity until his third year at Harvard. Although he never lost his love of sports—especially baseball—and the outdoor life, Moody became a man of some learning and an aggressive, able lawyer. In 1878 he began practicing corporate law in Haverhill. He soon entered local politics and became a typical Yankee Republican reformer. He was a protŽgŽ of Henry Cabot Lodge and, through Lodge, met Theodore Roosevelt. With their backing, he rose quickly, serving as a state district attorney (he was one of the prosecutors of Lizzie Borden), U.S. representative, secretary of the navy, and attorney general. In the latter office, Moody vigorously carried out Roosevelt's policies of punishing "bad" trusts under the Sherman Antitrust Act and rebating railroads under the Elkins Act of 1903. Roosevelt selected him for the Supreme Court in the hopes of making that body more receptive to the progressives' use of government power.
A key to Moody's jurisprudence is found in his dissent in the First Employers' Liability Case (1908). In a 5–4 decision, the Court struck down the 1906 Employers' Liability Act, which made all common carriers engaged in interstate commerce liable for injuries sustained at work by their employees. The majority—committed to the theory of dual sovereignty of state and nation—said the law was too broad and as such an interference with the states' right to control intrastate commerce through their police powers. Speaking of the Constitution's commerce clause, Moody wrote, "Its unchanging provisions are adaptable to the infinite variety of the changing conditions of our National life." Therefore, because "the forces of steam and electricity" had "so wonderfully aided" the development of interstate commerce, it was natural to Moody that the federal commerce power should also modernize to keep pace.
But, like many progressives, Moody did not intend to allow the central government to ride outside of all constitutional limits and obliterate the states. He supported the states' police power to regulate the economy and daily life. In Tilt v. Kelsey (1907), for example, Moody wrote the opinion that declared the states had the sovereign authority to determine rules for the succession of property upon death. Further, in Twining v. New Jersey (1908), Moody wrote the Court's opinion stating that the Fourteenth Amendment did not extend the Bill of Rights to the states. Moody assumed that state action would be enough to protect liberties; if people thought they did not, they should seek redress at the ballot box and not in the federal courts.
In his brief career on the bench, Moody showed himself a true Roosevelt Progressive. Illness, however, kept Moody from fulfilling the president's ambition for him. Almost as soon as he took his seat, Moody became seriously ill from infectious arthritis, and he participated in only two judicial terms. After 1909, his failing health kept him from attending the sessions. Following Congress's conferring upon him special retirement benefits, he resigned from the Court.
Bibliography
The Moody papers, dealing mostly with his pre-Court career, are housed at the Library of Congress. James F. Watts Jr., "William Moody," in Friedman and Israel, Justices, vol. 3, 1801, is a short but sensitive treatment of Moody's life and Court career.
Noteworthy Opinions
Tilt v. Kelsey, 207 U.S. 43 (1907)
First Employers' Liability Case, 207 U.S. 463 (1908) (Dissent)
Twining v. New Jersey, 211 U.S. 78 (1908)