Lamar, Lucius Quintus Cincinnatus
Lamar, Lucius Quintus Cincinnatus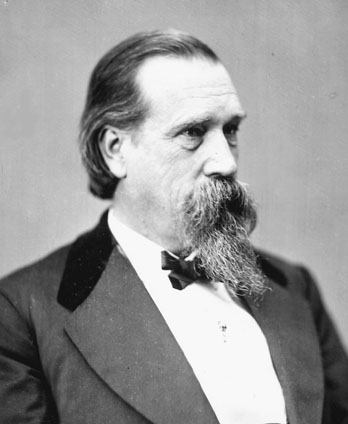 Birth: September 17, 1825, Eatonton, Georgia.
Education: Emory College, A.B., 1845.
Official Positions: Member, Georgia House of Representatives, 1853; U.S. representative, 1857–1860, 1873–1877; U.S. senator, 1877–1885; secretary of the interior, 1885–1888.
Supreme Court Service: Nominated associate justice by President Grover Cleveland, December 12, 1887, to replace William Woods, who had died; confirmed by the Senate, January 16, 1888, by a 32–28 vote; took judicial oath January 18, 1888; served until January 23, 1893; replaced by Howell E. Jackson, nominated by President Benjamin Harrison.
Death: January 23, 1893, Macon, Georgia.
Participation in Key Cases
Opinions Written
Learn more about Supreme Court Justices
Learn More About This Supreme Court Justice
Document Outline
Lucius Quintus Cincinnatus Lamar
Bibliography
Noteworthy Opinions

Lucius Quintus Cincinnatus Lamar
In Profiles in Courage, John F. Kennedy analyzed well-known political leaders such as John Quincy Adams and Daniel Webster, but he also looked at Lucius Q.C. Lamar. As a symbol of his age, Lamar served his state, his region, and his country in a long political and legal career culminating with service on the U.S. Supreme Court. Although best known as a politician, Lamar affected the Supreme Court through his devotion to the separation of powers, his interest in interstate commerce, and his suspicion of executive power.
Lamar attended Emory College and apprenticed law in Macon, Georgia. As a young man, he lived in Mississippi and Georgia and dabbled in politics, winning a congressional seat from Mississippi in 1857. In Congress, he worked with the secessionist wing of the Democratic Party, becoming friends with Jefferson Davis. Lamar left Congress upon secession and aided in the establishment of the Confederacy. His support for secession may have influenced his cousin, Justice John A. Campbell, to resign from the Court. Lamar served briefly in the Confederate army before becoming Confederate commissioner to Russia. He traveled as far as London, but never reached Russia. Lamar returned in 1863 and completed the war as a colonel and judge advocate.
After the war, Lamar became a professor of law at the University of Mississippi while pursuing a private practice. Once again elected to Congress in 1872, Lamar became a symbol of those southerners willing to accept the results of the war while opposing Reconstruction. Calling for national reconciliation, Lamar's short but impassioned 1874 eulogy for Sen. Charles Sumner of Massachusetts was "one of the great speeches in the history of the House," and it made him an overnight sensation.
Elected to the Senate in 1876, Lamar participated in the major policy debates regarding the end of Reconstruction and the tariff question. When Democrat Grover Cleveland became president in 1884, Lamar became interior secretary. With the death of Justice William B. Woods in May 1887, Cleveland nominated Lamar to the Supreme Court.
The nomination was not without controversy. Because Lamar was the first southerner nominated to the Court since the Civil War and because of his age (sixty-two when nominated, the second-oldest appointment made), the Republican-dominated Senate Judiciary Committee reported his nomination to the full Senate with a negative vote. The Senate confirmed Lamar, 32–28, but his nomination emphasized just how sensitive sectional feelings remained in Gilded Age America.
Although he started slowly, Lamar came to be a force on the bench, particularly in 1890 and 1891. He handled routine cases against the federal government for recovery of monies, such as United States ex rel Redfield v. Windom (1891), but most of Lamar's decisions dealt with land boundaries, tort issues, and contracts. He wrote for the Court in Southern Development Corp. v. Silva (1888), Hannibal & St. Joseph Railroad Company v. Missouri River Packet Company (1888), and Clement v. Packer (1888), among others.
Legal historian Arnold Paul defined Lamar's judicial style as "constitutional formalism." In cases of important public policy, Lamar construed statutes narrowly, and especially so in matters of separation of powers. Lamar believed that the Court should enforce the separation of powers between the branches of the federal government in order to avoid tyranny by any particular branch.
His commitment to the separation of powers can be discerned in his dissent in In re Neagle (1890), joined by Chief Justice Melville Fuller. The Court's majority in Neagle read executive branch powers broadly. The case arose from a complex situation that resulted in a death in California. The U.S. attorney general's office had appointed a bodyguard to defend Justice Stephen J. Field from personal attack, but Congress had not authorized the bodyguard, David Neagle, who killed Field's attacker. The attorney general's office defended its action as inherent in the president's constitutional duty "to take care that the laws be faithfully executed." Lamar was not convinced. Because Congress had not authorized the appointment of the bodyguard, he argued, the executive department could not read into a constitutional phase executive powers that Congress had not approved. Lamar's dissent demonstrates both his attachment to the separation of powers and his suspicion of executive power.
Lamar also strengthened federal regulation of interstate commerce relative to regulations by the states. In Chicago, Milwaukee, and St. Paul Railway Co. v. Minnesota (1890), Justice Samuel Blatchford, for a six-person majority, struck down as unconstitutional the powerful railroad commission of Minnesota on the grounds that the statute did not provide adequate judicial review of the "reasonableness" of the maximum railroad rates set by the commission. Justices Joseph P. Bradley, Horace Gray, and Lamar dissented, arguing that reasonableness was not a judicial issue but a legislative one and therefore the statute should be upheld. Although written by Bradley, the dissent had Lamar's concurrence because of implied judicial restraint—courts ought not interfere with the formation of public policy.
Lamar's position regarding interstate commerce is best seen in McCall v. California (1890). Although three justices dissented from Lamar's majority opinion, McCall elaborated the rule that a state tax on an agency of an interstate corporation was an unconstitutional burden on interstate commerce. This position parallels his strict separation position because the states and the federal government possess clearly defined powers in the regulation of commerce, and the courts ought to enforce the separation of those powers.
Lamar died while visiting Georgia in the winter of 1893. His life can be read as an accommodation to the changing needs of the South, which he served first, and the nation, which he served well and with honor later.
Bibliography
Lamar's life received full treatment in James B. Murphy, L. Q. C. Lamar: Pragmatic Patriot (1973). Also useful are Arnold M. Paul, "Lucius Quintus Cincinnatus Lamar," in Friedman and Israel, Justices, vol. 2, 1431; John F. Kennedy, Profiles in Courage (1955); and articles to mark the centennial of his death in Mississippi Law Journal 63 (1993): 1.
Noteworthy Opinions
In re Neagle, 135 U.S. 1(1890) (Dissent)
McCall v. California, 136 U.S. 104 (1890)