Lamar, Joseph Rucker
Lamar, Joseph Rucker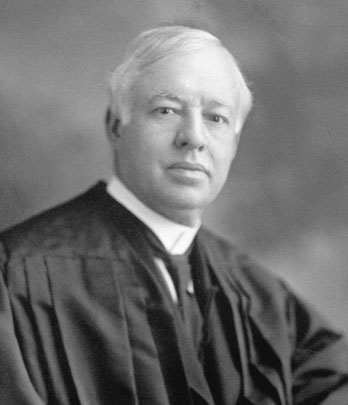 Birth: October 14, 1857, Elbert County, Georgia.
Education: University of Georgia, 1874–1875; Bethany College, A.B., 1877; Washington and Lee University, 1877.
Official Positions: Member, Georgia legislature, 1886–1889; commissioner to codify Georgia laws, 1893; associate justice, Georgia Supreme Court, 1903–1905; member, mediation conference, Niagara Falls, Canada, 1914.
Supreme Court Service: Nominated associate justice by President William Howard Taft, December 12, 1910, to replace William Henry Moody, who had retired; confirmed by the Senate, December 15, 1910, by a voice vote; took judicial oath January 3, 1911; served until January 2, 1916; replaced by Louis D. Brandeis, nominated by President Woodrow Wilson.
Death: January 2, 1916, Washington, D.C.
Participation in Key Cases
Opinions Written
Learn more about Supreme Court Justices
Learn More About This Supreme Court Justice
Document Outline
Joseph Rucker Lamar
Bibliography
Noteworthy Cases

Joseph Rucker Lamar
Descended from two distinguished Georgia families, Joseph Rucker Lamar was a product of the southern establishment. His paternal side in particular had a heritage of public service, with Mirabeau Lamar serving as president of the Republic of Texas and a cousin, Lucius Quintus Cincinnatus Lamar, as associate justice of the U.S. Supreme Court. Joseph Lamar lived up to this heritage. Educated in the South, he attended Richmond Academy, the University of Georgia, Bethany College, and Washington and Lee Law School before studying law in the office of a prominent Georgia attorney. After passing the Georgia bar, Lamar built his reputation as a corporate lawyer. He served in the state legislature from 1886 to 1889 and in 1893 was selected to a commission rewriting the Georgia civil code. While practicing law he also wrote extensively on Georgia legal history. In 1903 Lamar took a seat on the Georgia Supreme Court but returned to private practice in 1905, which he continued until President William Howard Taft nominated him to the Supreme Court.
Lamar served on the Court just five years, writing only 113 majority opinions. Generally thought of as a conservative on economic matters, his most significant opinion represented a setback for labor unions and civil liberties. Writing in Gompers v. Bucks Stove & Range (1911), Lamar ruled that an antitrust order prohibiting the American Federation of Labor from organizing a secondary boycott through the publication of "unfair" and "we don't patronize" lists did not infringe on the First Amendment freedom of expression. Other of Lamar's opinions tended to reinforce this conservative image. Taking a narrow view of the state's regulatory power in Smith v. Texas (1914), he ruled that a law requiring that train conductors have previous experience as brakemen violated liberty of contract. In Kansas City Southern Railway v. Anderson (1914), he dissented from a decision allowing double damages to be paid to a plaintiff when a railroad refused to pay for livestock killed on its tracks.
Lamar's attachment to laissez-faire economics was even more evident in German Alliance Insurance Co. v. Lewis (1914). There, in one of his few dissents, Lamar disagreed with a majority decision upholding state regulation of insurance rates. Insurance, he maintained, was not "a business affected with public interest" and therefore should not be subject to state regulation. Lamar predicted that the expansion of regulation would become all pervading. He warned that citizens would then hold their property and their individual right of contract and of labor under legislative rather than constitutional guarantee.
In contrast to the cases concerning state regulation, Lamar seemed willing to give more latitude to federal agencies than is usually associated with the conservative thinking of his time. In United States v. Grimaud (1911), for example, he wrote an opinion expanding Congress's authority to delegate rule-making authority to administrative agencies. He also joined the majority that expanded the Pure Food and Drug Act in Hipolite Egg Co. v. United States (1911) and extended the authority of the Interstate Commerce Commission in the Minnesota Rate Cases (1913).
In matters of civil rights, Justice Lamar's record was mixed. He concurred in the result of McCabe v. Atchison, Topeka & Santa Fe Railway Co. (1914), upholding an Oklahoma law that required separate coaches for black passengers. Yet he voted with the majority in invalidating a peonage law in Bailey v. Alabama (1911), wrote the opinion invalidating a special tax that discriminated against Chinese laundries in Quong Wing v. Kirkendall (1912), and protected the Choctaw and Chickasaw tribes from Oklahoma's attempt to withdraw a tax exemption on their lands in Choate v. Trapp (1912).
A forceful dissent in Diaz v. United States (1912) hinted that Lamar also had a broader view of criminal justice and civil liberties than might have been expected. There he argued that the constitutional guarantees that an accused has a right to confront witnesses and a right not to be placed in jeopardy twice for the same crime should apply to a case tried in the Philippines. Lamar appeared to have a special disdain for conspiracy laws. In 1912 he joined Justice Oliver Wendell Holmes dissenting in two cases that upheld conspiracy convictions. And in United States v. Holte (1915), he dissented from a decision that upheld a woman's conviction for "conspiring to cause her own transportation in interstate commerce for purposes of prostitution." Such a construction of the law would make every victim guilty of conspiracy, he argued. "Even that elastic offense cannot be extended to cover such a case."
When he was being considered for appointment, Joseph Rucker Lamar was described as a man with "no entanglements or extreme tendencies of thought." As moderate as it was conservative, his record as a justice of the Supreme Court appears to bear out that assessment.
Bibliography
The best available biography is Leonard Dinnerstein, "Joseph Rucker Lamar," in Friedman and Israel, Justices, vol. 3, 978–995 (1973). Clarinda Pendleton Lamar, The Life of Joseph Rucker Lamar, 1857–1916 (1926), is a biography written by Lamar's wife. A small amount of Lamar correspondence is held by the University of Georgia.
Noteworthy Cases
United States v. Grimaud, 220 U.S. 506 (1911)
Gompers v. Bucks Stove & Range, 221 U.S. 418 (1911)
Diaz v. United States, 223 U.S. 442 (1912) (Dissent)
German Alliance Insurance Co. v. Lewis, 233 U.S. 389 (1914) (Dissent)
Smith v. Texas, 233 U.S. 630 (1914)
United States v. Holte, 236 U.S. 140 (1915) (Dissent)