Jackson, Howell Edmunds
Jackson, Howell Edmunds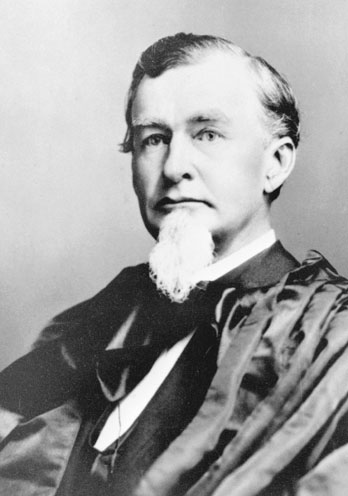 Birth: April 8, 1832, Paris, Tennessee.
Education: West Tennessee College, A.B., 1850; University of Virginia, 1851–1852; Cumberland University, 1856.
Official Positions: Custodian of sequestered property for Confederate states, 1861–1865; judge, Court of Arbitration for Western Tennessee, 1875–1879; state legislator, 1880; U.S. senator, 1881–1886; judge, Sixth Federal Circuit Court, 1886–1891, U.S. Court of Appeals for the Sixth Circuit, 1891–1893.
Supreme Court Service: Nominated associate justice by President Benjamin Harrison, February 2, 1893, to replace Lucius Q.C. Lamar, who had died; confirmed by the Senate, February 18, 1893, by a voice vote; took judicial oath March 4, 1893; served until August 8, 1895; replaced by Rufus W. Peckham, nominated by President Grover Cleveland.
Death: August 8, 1895, Nashville, Tennessee.
Participation in Key Cases
Opinions Written
Learn more about Supreme Court Justices
Learn More About This Supreme Court Justice
Document Outline
Howell Edmunds Jackson
Bibliography
Noteworthy Opinions

Howell Edmunds Jackson
History considers the central event in the public life of Howell Jackson to be the ironic irrelevance of a judicial vote that he had overcome serious illness and great distance to cast. A deeper irony, however, may be that history has misunderstood both iterations of Pollock v. Farmers' Loan & Trust Co. (1895) and Jackson's support of the small income tax that was held unconstitutional.
Howell Jackson's legal work as an eminent corporate lawyer and Democrat opposed to state debt repudiation led to his election to the U.S. Senate and important alliances with future presidents Grover Cleveland and Benjamin Harrison. It is a measure of Jackson's political skill that he was appointed to the federal appellate bench by Cleveland and to the Supreme Court by Harrison, during the period of their own presidential rivalry.
Like most of the era's judges, Jackson carved no new directions in either economic or civil rights policies. He voted with the majority in Fong Yue Ting v. United States (1893), which denied a resident alien due process protection to challenge his deportation under the Chinese Exclusion Act. In Brass v. North Dakota (1894), Jackson concurred in Justice David Brewer's dissent from a ruling upholding the constitutionality of state regulation of grain elevators. In Mobile & Ohio R.R. v. Tennessee (1894), Jackson invalidated under the contracts clause a Tennessee effort to repudiate the tax exemption provision in a state-granted charter. In 1894 Jackson contracted tuberculosis, and his illness prevented his participation in the Court's narrow interpretation of the Sherman Antitrust Act in United States v. E.C. Knight Co. (1895), and its support of the labor injunction in In re Debs that same year. The evidence, however, suggests that he would have strongly supported both rulings.
But for his role in the income tax cases, therefore, this representative of mainstream legal assumptions would have seemed to progressives a typical member of the rogues' gallery of reactionaries that populated the Court during the Gilded Age. Returning to the capital after the first Pollock ruling, which had held the tax unconstitutional as applied to income from land, Jackson appeared to be the swing vote for the tax on the remaining questions that had deadlocked the Court. Yet, after the final hearing, the Court held the entire income tax unconstitutional, with Jackson in vocal dissent, generating the view that a "vacillating jurist" must have switched his vote.
Jackson's Pollock opinion is his most celebrated, yet a careful reading integrates it with his centrist premises. His problem with the decision was not that a genuinely redistributive law had been thwarted; rather, he believed that precedent and the traditional "practice of the government" had been abandoned. The decision was less a slap at the poor than "the most disastrous blow ever struck at the constitutional power of Congress."
Progressives and legal realists who argued for a judicial approach based in social facts and policy results criticized the Court for frustrating a genuinely reformist law. From this point of view, Jackson's vote gave him a "liberal" cachet, despite his lifelong corporate associations. Other scholars have argued that lawmakers across the political spectrum sought to maintain the existing order against economic and political upheaval. This view makes Jackson's career, his brief tenure on the Court, and his most celebrated opinion more easily reconcilable.
Bibliography
The primary biographical source is Irving Schiffman, "Howell E. Jackson," in Friedman and Israel, Justices, vol. 2, 1603. For a discussion of progressive interpretive assumptions and recent departures, see Robert Stanley, Dimensions of Law in the Service of Order: Origins of the Federal Income Tax, 1861–1913 (1993).
Noteworthy Opinions
Pollock v. Farmers' Loan & Trust Co. 157 U.S. 429 (1895) (Dissent)