Harlan II, John Marshall
Harlan II, John Marshall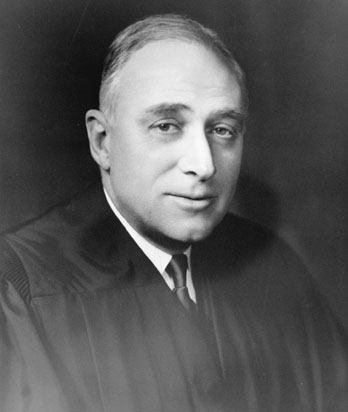 Birth: May 20, 1899, Chicago, Illinois.
Education: Princeton University, B.A., 1920; Rhodes scholar, Oxford University, Balliol College, B.A. in jurisprudence, 1923; New York Law School, LL.B., 1924.
Official Positions: Assistant U.S. attorney, Southern District of New York, 1925–1927; special assistant attorney general, New York, 1928–1930; chief counsel, New York State Crime Commission, 1951–1953; judge, U.S. Court of Appeals for the Second Circuit, 1954–1955.
Supreme Court Service: Nominated associate justice by President Dwight D. Eisenhower, November 9, 1954, to replace Robert Jackson, who had died; nomination resubmitted January, 10, 1955; confirmed by the Senate, March 16, 1955, by a 71–11 vote; took judicial oath March 28, 1955; retired September 23, 1971; replaced by William H. Rehnquist, nominated by President Richard Nixon.
Death: December 29, 1971, Washington D.C.
Participation in Key Cases
Opinions Written
Learn more about Supreme Court Justices
Document Outline
John Marshall Harlan II
Bibliography
Noteworthy Opinions

John Marshall Harlan II
John Marshall Harlan was the son of John Maynard Harlan and Elizabeth Palmer Flagg Harlan. His family was distinguished in the law. His great-grandfather was a lawyer; his grandfather, for whom he was named, was a justice of the U.S. Supreme Court for thirty-four years; his father was a lawyer; and an uncle was a member of the Interstate Commerce Commission.
Harlan studied at Princeton University and was a Rhodes scholar for three years at Balliol College, Oxford, where he began the study of law and formed lifetime attachments. He completed his legal education at New York Law School in 1924 and was admitted to practice in New York in 1925. He began his career with Root, Clark, Buckner & Howland, a large Wall Street firm. When a senior member of the firm, Emory R. Buckner, was appointed U.S. attorney for the Southern District of New York in 1925, Harlan became his assistant. During this period Harlan participated in several notable prosecutions, including that of Harry M. Daugherty, former U.S. attorney general, for official misconduct, and of Thomas W. Miller, former alien property custodian, for fraudulent conspiracy.
Harlan made partner in the Root, Clark firm in 1931 and, after Buckner's death in 1941, became its leading trial lawyer. His practice had unusual range and complexity. For example, he represented the New York City Board of Higher Education in litigation involving the appointment of free-thinking Bertrand Russell to teach at City College; he handled the will of Miss Ella Wendel, involving an extensive fortune and a host of claimants—at least one of whom was subsequently convicted of fraud; and he represented heavyweight champion Gene Tunney in a contract action.
During World War II, Harlan rendered conspicuous service in England as head of the Eighth Air Force's operational analysis section, which was composed of hand-picked civilian experts in mathematics, physics, electronics, architecture, and law, to furnish advice on bombing operations. Harlan was awarded the United States Legion of Merit and the Croix de Guerre of Belgium and France. On his return to private practice in 1945, Harlan was soon recognized as a leader of the New York bar. He argued several appeals before the U.S. Supreme Court, including one case that became a landmark in corporate law and civil procedure.
Although private practice was his professional love, Harlan was again called to public service. From 1951 to 1953 he acted as chief counsel for the New York State Crime Commission, which Republican governor Thomas Dewey had appointed to investigate the relationship between organized crime and state government. Harlan was also active in professional organizations, serving as chairman of the committee on the judiciary and vice president of the Association of the Bar of the City of New York. In January 1954 Harlan was appointed a judge of the U.S. Court of Appeals for the Second Circuit. He served less than a year before President Dwight Eisenhower appointed him to the U.S. Supreme Court.
Throughout most of his years on the Court, Justice Harlan provided a form of resistance to the dominant liberal motifs of the Warren Court. He did this in a way that was intelligent, determined, and, above all, principled. But it would be a mistake to conceive of Harlan solely in this conservative light. To a surprising degree, Harlan concurred in the liberal activism of the Court, picking his spots carefully and remaining true to his core judicial values. In all his work he exhibited outstanding professional competence, leading Judge Henry Friendly to write that "there has never been a Justice of the Supreme Court who has so consistently maintained a high quality of performance or, despite differences in views, has enjoyed such nearly uniform respect from his colleagues, the inferior bench, the bar, and the academy."
Harlan's two principal judicial values were federalism and proceduralism, both directed to keeping the "'delicate balance of federal-state relations' in good working order." On many occasions, Harlan in dissent criticized the Court's entry into political matters, as in Reynolds v. Sims (1964), or into state procedures, as in Henry v. Mississippi (1965), as inconsistent with the demands of the federal structure. His view of federalism is perhaps best summarized in a dissenting opinion by Justice Stephen Field in Baltimore & Ohio Railroad v. Baugh (1893), which Harlan quoted approvingly:
The Constitution of the United States recognizes and preserves the autonomy and independence of the States.… Supervision over either the legislative or the judicial action of the States is in no case permissible except as to matters by the Constitution specifically authorized or delegated to the United States.
Harlan applied federalism principles to restrict the so-called state action doctrine that permits expansion of federal court authority. He thought that such expansion over activities that are properly the responsibility of state government simultaneously impairs "independence in their legislative and independence in their judicial departments." For example, despite his strong commitment to racial equality, Harlan did not believe that land bequeathed in trust to a Georgia city as a "park and pleasure ground" for white people was unconstitutionally administered merely because a state court replaced public trustees with private trustees and the park was municipally maintained (Evans v. Newton, 1966). And in a nonracial context, in Amalgamated Food Employees Union 590 v. Logan Valley Plaza, Inc. (1968), Harlan dissented from a holding that a privately owned shopping mall was the equivalent of a company town and therefore could not prohibit peaceful picketing of a supermarket in the mall.
It is of special importance that Harlan saw federalism not only as part of the U.S. constitutional design, "born of the necessity of achieving union," but as "a bulwark of freedom as well." In one of his speeches he declared:
We are accustomed to speak of the Bill of Rights and the Fourteenth Amendment as the principal guarantees of personal liberty. Yet it would surely be shallow not to recognize that the structure of our political system accounts no less for the free society we have. Indeed, it was upon the structure of government that the founders primarily focused in writing the Constitution. Out of bitter experience they were suspicious of every form of all-powerful central authority and they sought to assure that such a government would never exist in this country by structuring the federal establishment so as to diffuse power between the executive, legislative, and judicial branches.
Harlan also viewed federalism as essential for preserving pluralism and local experimentation. No other political system "could have afforded so much scope to the varied interests and aspirations of a dynamic people representing such divergencies of ethnic and cultural backgrounds," and still "unify them into a nation." Addressing government power to regulate obscenity, Harlan said, "One of the great strengths of our federal system is that we have, in the forty-eight States, forty-eight experimental social laboratories."
Harlan's dedication to proceduralism was equally firm. The term refers not only to rules that govern trials and appeals, but also to issues that determine when the judicial power will be exercised. In his dissent in Reynolds v. Sims from the Court's "one person, one vote" decision, Harlan stated his basic philosophy. He rejected the view:
that every major social ill in this country can find its cure in some constitutional "principle," and that this Court should "take the lead" in promoting reform when other branches of government fail to act. The Constitution is not a panacea for every blot on the public welfare, nor should this Court, ordained as a judicial body, be thought of as a general haven for reform movements.
Harlan urged the Court to steer clear of "political thickets," lest "the vitality of our political system, on which in the last analysis all else depends, is weakened by reliance on the judiciary for political reform; in time a complacent body politic may result."
Harlan embodied his view of the limited role of the courts in a series of doctrines. First, he jealously guarded the Supreme Court's appellate authority, which he believed should be used "for the settlement of [issues] of importance to the public," and "should not be exercised simply 'for the benefit of the particular litigants.'" He repeatedly called on the Court to follow a number of practices designed to avoid unnecessary or premature judicial intervention, such as allowing administrative processes to run their course, not passing on the validity of state statutes that have neither been enforced nor interpreted by state courts, avoiding issues not considered below, and refusing to hear appeals of nonfinal orders.
Second, Harlan urged the Court to show deference to other decision-making authorities. Perhaps from his experience as a trial lawyer, Harlan believed strongly in deference to the fact-finding of trial courts, saying that "appellate courts have no facilities for the examination of witnesses; nor in the nature of things can they have that intimate knowledge of the evidence and 'feel' of the trial scene."
Finally, Harlan was committed to the stable and predictable development of the law. He protested when the Court resolved important issues by way of summary disposition. For example, in the 1971 Pentagon Papers case (New York Times Co. v. United States), Harlan in dissent recounted the "frenzied train of events" whereby, within one week from the date of lower court decisions, the Court heard argument and issued a decision. He identified several difficult issues and noted that the "time which has been available to us, to the lower courts, and to the parties has been wholly inadequate for giving these cases the kind of consideration they deserve."
In light of his commitment to federalism and proceduralism, we may now look more closely at Harlan's dissents from the principal civil liberty themes of the Warren Court. Perhaps the most central of these themes is "equality," an idea that, as Archibald Cox put it, "once loosed …. is not easily cabined." Harlan vigorously opposed egalitarian rulings of many kinds. He was most vehement in condemning the reapportionment decisions, first in Baker v. Carr (1962), in which the Court authorized federal jurisdiction to decide the issue whether state legislative districts were malapportioned, and then in Reynolds v. Sims, in which the Court established the one person, one vote rule, and in the many sequels to these rulings. Harlan never became reconciled to what he regarded as a wholly unjustified encroachment into the political realm, saying in Reynolds that "it is difficult to imagine a more intolerable and inappropriate interference by the judiciary with the independent legislatures of the States."
Closely related to the reapportionment cases are those dealing with the right to vote. Harlan dissented from the ruling that invalidated Virginia's poll tax, from a decision that opened school board elections to a man who was neither a parent nor a property holder in the district, and from the decision upholding Congress's power to extend the franchise to eighteen-year-olds.
The poll tax case illustrates an aspect of the Court's egalitarianism to which Harlan especially objected: its acceptance of the idea that government has an obligation to eliminate economic inequalities as a way to permit everyone to exercise human rights. The leading case in this regard was Griffin v. Illinois (1956), in which a sharply divided bench held that where a stenographic trial transcript is needed for appellate review, a state violates the Fourteenth Amendment by refusing to provide the transcript to an impoverished defendant who alleges reversible errors in his trial. Harlan's dissent maintained that "all that Illinois has done is to fail to alleviate the consequences of differences in economic circumstances that exist wholly apart from any state action." He later dissented in Douglas v. California (1963), in which the Court held that a state had to provide counsel to a convicted indigent seeking to appeal. Another example of this genre was Harlan's protests at efforts to transform welfare payments into an entitlement. Harlan maintained in dissent that states could deny such payments to otherwise eligible welfare applicants who had not resided in the state for a year or more (Shapiro v. Thompson, 1969).
Harlan also found himself out of step with the prevailing view on criminal procedure in state trials, where the Warren Court rewrote the book, transforming the law relating to confessions and lineups, the privilege against self-incrimination, jury trials, wiretapping and eavesdropping, and the admissibility of illegally obtained evidence. Harlan vigorously dissented from almost all of the major decisions, arguing that the assertion of national judicial power over state criminal justice was inconsistent with a healthy federalism.
Harlan also objected in the interests of federalism to extensions of congressional power. In the two most significant cases, he protested when the Court adopted broad theories in sustaining the authority of Congress to invalidate state English-language literacy tests for voting as applied to individuals who completed the sixth grade in Puerto Rican schools (Katzenbach v. Morgan, 1966) and to punish private (as distinguished from state) interference with constitutional rights (United States v. Guest, 1966).
At the same time, Harlan, contrary to the majority, deferred to congressional judgments that resulted in an impairment of civil liberties. For example, he conceded broad authority to Congress over citizenship, rejecting any constitutional right to prevent involuntary denationalization in Afroyim v. Rusk (1967); protesting a softening of the immigration law that provided for deportation of any alien who had ever been a member of the Communist Party, however nominally, in Rowoldt v. Perfetto (1957); and opposing a constitutional right to travel abroad in Kent v. Dulles (1958). In these cases he refused to overturn actions of the elected branches of government that resulted in severe and arguably unjustified harm to individuals.
In addition to filing dissents in many of the Warren Court's principal liberal decisions, Harlan was part of a majority that rejected constitutional theories supported by the liberal justices in many other important cases. For example, he wrote the prevailing opinions that rejected First Amendment claims by individuals who were held in contempt by the House Un-American Activities Committee (Barenblatt v. United States, 1959); were denied admission to the practice of law for refusing to respond to questions concerning Communist activities (Konigsberg v. State Bar, 1961); and sentenced to prison because of membership in the Communist Party (Scales v. United States, 1961). He also agreed with rulings that permitted states to question suspects of crime without regard to the privilege against self-incrimination and that denied women the right to serve on juries equally with men.
The Warren Court ended in mid-1969, but Harlan remained for two more terms, a brief period in which he was the leader of the Court. Possessing seniority and an unmatched professional reputation, he took advantage of the replacement of Earl Warren and Abe Fortas by Warren Burger and Harry Blackmun to regain the position of dominance that Felix Frankfurter and he had shared until Frankfurter retired in August 1962. As evidence of his influence, he cast only twenty-four dissenting votes in the 1969 term, and eighteen in the 1970 term. His average for the period between 1963 and 1967 was 62.6 dissenting votes per term. This new situation meant that Harlan could reassert conservative themes in his own opinions or join such expressions in the opinions of others. For example, in Dandridge v. Williams (1970), he adhered to his long-standing opposition to expansion of the constitutional right of poor people to public assistance in the leading case rejecting welfare as an entitlement.
Similarly, he prevailed in a series of criminal justice decisions including those that denied a right to jury trial in juvenile delinquency proceedings, and permitted the closing of such hearings to the public (McKeiver v. Pennsylvania, 1971) and authorized capital sentencing without guidelines (McGautha v. California, 1971). And in Wyman v. James (1971), Harlan joined the opinion sustaining the power of caseworkers to make unannounced visits to the homes of welfare recipients to check their eligibility and provide rehabilitative assistance.
In the First Amendment area Harlan also maintained long-standing positions, but here he was more often in dissent than in the majority. The most notable occasion was New York Times Co. v. United States; here, Harlan would have permitted the prior restraint of newspaper publication of the Pentagon Papers, an extensive and politically embarrassing history of the Vietnam War. He also dissented in an important libel case, Rosenbloom v. Metromedia, Inc. (1971), and in two 1971 decisions restricting the authority of bar examiners to probe into the associations of applicants, In re Stolar and Baird v. State Bar of Arizona. But he prevailed in another bar admission case the same year, LSRRC v. Wadmond, recalling issues from earlier days, that upheld questions about Communist associations. And he was part of the majority that sustained an important obscenity prosecution in United States v. Reidel (1971).
But these conservative opinions and votes are far from the whole story. Justice Potter Stewart, one of Harlan's closest colleagues, recognized this when he said at a memorial service for Harlan: "I can assure you that a very interesting law review article could someday be written on 'The Liberal Opinions of Mr. Justice Harlan.'" In virtually every area of the Court's work, there are cases in which Harlan was part of the Warren Court consensus and, indeed, in which he spoke for the Court.
Harlan joined Brown v. Board of Education II (1955) and Cooper v. Aaron (1958), decisions instrumental in protecting the principle of school desegregation. He also joined every opinion decided while he was on the Court that rejected other sorts of state-enforced segregation.
He concurred in Gideon v. Wainwright (1963), the pathbreaking case granting a right to counsel to accused felons, and he wrote the opinion of the Court in Boddie v. Connecticut (1971), which held that a state could not deny a divorce to a couple because they lacked the means to pay the judicial filing fee. Although both of these cases were decided under the due process clause, they amounted at bottom to judicially mandated equalization of economic circumstance in situations where Harlan concluded that it would be fundamentally unfair to deny poor people what others could afford.
In the criminal procedure area, Harlan opposed the rule that excluded illegally seized evidence in state prosecutions, but he consistently supported a strong version of the Fourth Amendment protection against unreasonable searches and seizures by federal authorities, as in Jones v. United States (1958) and Giordenello v. United States (1958), including application of the principle to wiretapping and eavesdropping in Katz v. United States (1967). He also supported the ruling that extended criminal due process protections to juveniles accused of delinquency (In re Gault, 1967).
One also finds major cases in which Harlan supported the right of free expression. For example, he wrote the opinion in NAACP v. Alabama ex rel. Patterson (1958), holding that freedom of association protected the right of individuals to join unpopular civil rights groups anonymously. He joined New York Times Co. v. Sullivan (1964), which first imposed limits on libel judgments against the media, and he joined some (but not all) of the sequels to that case. He joined opinions that barred states from refusing to seat an elected legislator because of his sharply critical views on the Vietnam War (Bond v. Floyd, 1966), and from convicting a leader of the Ku Klux Klan for "seditious" speech (Brandenburg v. Ohio, 1969). And he wrote for the Court to protect the right of a black man, unnerved by the shooting of a civil rights leader, to burn an American flag in protest (Street v. New York, 1969). Harlan also wrote opinions, all curbing variants of McCarthyism, that nominally were decided on nonconstitutional grounds but rested on First Amendment principles (Cole v. Young, 1956; Service v. Dulles, 1957; Yates v. United States, 1957; and Maisenberg v. United States, 1958).
Freedom of religion also showed Harlan as frequently, but not invariably, protective of constitutional guarantees. He joined decisions that prohibited organized prayer in the public schools (Engel v. Vitale, 1962) and invalidated a requirement that state officials declare a belief in God (Torcaso v. Watkins, 1961). And although he approved state loans of textbooks to church schools in Board of Education v. Allen (1968), he balked when tax-raised funds were used to reimburse parochial schools for teachers' salaries, textbooks, and instructional materials in Lemon v. Kurtzman (1971). He was unwilling to grant constitutional protection to adherents of sabbatarian faiths who objected to Sunday closing laws in Braunfield v. Brown (1961) and to unemployment compensation laws that required Saturday work in Sherbert v. Verner (1963), but during the Vietnam War he wrote a powerful opinion declaring that a statute limiting conscientious objection to those who believed in a theistic religion offended the establishment clause because it "accords a preference to the 'religious' [and] disadvantages adherents of religions that do not worship a Supreme Being" (Welsh v. United States, 1970).
In these cases, Harlan emphasized that "the attitude of government towards religion must …. be one of neutrality." He was sophisticated enough to appreciate that neutrality is "a coat of many colors." Nevertheless, as Columbia professor Kent Greenawalt, a former Harlan clerk, has observed, "No modern justice has striven harder or more successfully than Justice Harlan to perform his responsibilities in [a neutral] manner."
A final area of civil liberties, sexual privacy, is of particular importance because Harlan produced the most influential opinions on this subject written by anyone during his tenure on the Court. In the first case, Poe v. Ullman (1961), a 5–4 majority led by Frankfurter refused to adjudicate, on the ground that there was no threat of prosecution, the merits of a Connecticut law that criminalized the sale of contraceptives to married and unmarried people alike. Harlan's emotional opinion—a rarity for him—not only differed with this conclusion, but extensively defended the proposition that Connecticut's law violated the due process clause of the Fourteenth Amendment, a position that soon prevailed in Griswold v. Connecticut (1965), the case that first recognized a right to sexual privacy. It is impossible to know whether Harlan would have extended this reasoning to support the result in Eisenstadt v. Baird (1972), which held that a state could not punish the distribution of contraceptives to unmarried persons, or the recognition of abortion as a personal right in Roe v. Wade (1973), both decided soon after he retired. But I am confident that, at a minimum, he would have protected the right of a married woman to proceed with an abortion that was dictated by family considerations.
Harlan's participation in the major thrusts of the Warren Court was not confined to civil liberties and civil rights. In economic cases, too, he sometimes went along with the majority's support of government regulation of business, despite the fact that his private practice often involved the defense of antitrust and other actions involving the government.
Harlan fortified his formidable conservative record under Chief Justice Warren Burger after the Warren Court ended. But he nevertheless adhered to a balanced judicial profile by supporting some of the Court's liberal activist rulings. In the equality area, he maintained his support for desegregation, and he joined the new chief justice's opinion expanding remedies against discriminatory employment tests in Griggs v. Duke Power Co. (1971). He continued his deep concern for Fourth Amendment rights in Coolidge v. New Hampshire (1971). The opinion in Boddie also came during this period. Harlan's reliance on the due process clause to reach this result was criticized, and the doctrine has not survived, but the case stands as a rare example of Harlan's reaching out to right an economic imbalance. In the First Amendment field, he wrote a widely cited opinion that protected the display on a jacket in a state courthouse of a "scurrilous epithet" ("fuck the draft") in protest against conscription (Cohen v. California, 1971).
What should one conclude from the many decisions in which Justice Harlan, a conservative, supported constitutional rights, often in highly controversial cases in which the Court was split? That he was in step with the majority of the Warren Court? Plainly not. There are too many instances where he marched separately. That he was essentially a civil libertarian? No again. Not only can one find too many cases to the contrary, but at a basic level, that is not the way Harlan reacted to injustice. This is not to say that he was insensitive to human suffering or unmoved by evidence of arbitrariness. It is rather that something else was at the core.
That something was Harlan's deep, almost visceral, desire to keep things in balance, to resist excess in any direction. Many times during my year as one of his clerks, I heard him say how important it was "to keep things on an even keel." To me, that is the master key to Harlan and his jurisprudence. One recalls Castle, the hero of Graham Greene's novel The Human Factor, as he muses on those who are "unable to love success or power or great beauty." Castle concludes that it is not because these people feel unworthy or are "more at home with failure," but that "one wanted the right balance." In reflecting on some of his own perplexing and self-destructive actions, Castle decides that "he was there to right the balance. That was all." Harlan was not a man who avoided success or power or, if one knew Mrs. Harlan, great beauty, but nevertheless, in his own eyes, he was there to right the balance. It is significant that he entitled a major speech at the American Bar Association "Thoughts at a Dedication: Keeping the Judicial Function in Balance."
The evidence of balance is apparent not only in the decisions discussed above, but in his elaborate views on doctrines of justiciability. These views are closely related to his frequent preoccupation with judicial modesty or, put negatively, his opposition to excessive judicial activism, which in turn is linked to the central theme of his judicial universe—federalism. Several years ago, I suggested that "his pervasive concern has been over a judiciary that will arrogate power not rightfully belonging to it and impose its views of government from a remote tower, thereby enervating the initiative and independence at the grass roots that are essential to a thriving democracy."
On the other hand, reflecting his balanced approach, Harlan wrote or joined many opinions that expanded the Court's jurisdiction. One was Poe v. Ullman, in which he vigorously dissented from Frankfurter's reasoning in dismissing a challenge to Connecticut's birth control law on the ground that the statute was not being enforced. Again, in NAACP v. Alabama, the first case explicitly recognizing a freedom of association, his opinion for the Court overcame difficult procedural obstacles involving the doctrines of standing and independent and adequate state grounds. In the first school prayer case, Engel v. Vitale, and again in the ruling that ordered the House of Representatives to seat Adam Clayton Powell, Powell v. McCormack (1969), both cases of unusual sensitivity, Harlan joined majority opinions that rejected substantial procedural defenses.
Stare decisis is another area relating to legal process and the judge's role in which Harlan sometimes manifested an activist spirit. He recognized that the doctrine "provides the stability and predictability required for the ordering of human affairs over the course of time and a basis of 'public faith in the judiciary as a source of impersonal and reasoned judgments.'" And although the principle should not be "woodenly applied," and "no precedent is sacrosanct,"
surely if the principle of stare decisis means anything in the law, it means that precedent should not be jettisoned when the rule of yesterday remains viable, creates no injustice, and can reasonably be said to be no less sound than the rule sponsored by those who seek change, let alone incapable of being demonstrated wrong.
And in many cases he vigorously protested the overruling of precedent.
But many contrary instances show Harlan's flexibility. For example, he wrote separately in Gideon v. Wainwright (1963) to give Betts v. Brady (1942) "a more respectful burial than has been accorded" by the Court. In Marchetti v. United States (1968), he spoke for the Court in overruling a decision that denied the privilege against self-incrimination to gamblers prosecuted for failing to register and pay taxes. In Moragne v. States Marine Line, Inc. (1970), a celebrated opinion, he overruled a case (The Harrisburg, 1886) that "rested on a most dubious foundation when announced, has become an increasingly unjustifiable anomaly as the law over the years has left it behind, and …. has produced litigation-spawning confusion in an area that should be easily susceptible of more workable solutions."
Finally, one may point to a series of cases in which Harlan exhibited a trait familiar to all of his law clerks—his exceptional open-mindedness and willingness to listen to new arguments. In these cases he dissented from the Court's refusal to hear oral argument on constitutional claims, although in each of them he was not predisposed to endorse the merits of the appeal. He joined Justice William O. Douglas's dissent from the refusal to hear a plea that a group was improperly ordered to register as a Communist-front organization (Veterans of the Abraham Lincoln Brigade v. Subversive Activities Control Board, 1965). And in perhaps the most far-reaching action, he would have set down for oral argument a complaint challenging the legality of the Vietnam War, Massachusetts v. Laird (1970), although he ordinarily accorded great deference to the elected branches of government on matters of war and peace.
The pattern of decisions provides ample proof that Harlan was not a one-dimensional justice. What is less obvious is the source of his drive to keep things in balance, to eschew an extreme ideology. Two possibilities may be suggested.
The first is the familiar notion that, in any society, patricians such as Harlan are concerned less with results in particular controversies—and certainly less about pressing any group against the wall—than with ensuring the smooth functioning of institutions without the precipitation of volatility or deep-seated enmities. They would hold that dissent should be allowed an outlet, that minorities should be able to hope, that political power should not become centralized and therefore dangerous. This belief explains Harlan's decisions supporting desegregation, a strong federal presence, and law and order. It also explains his fears about court-dominated legislative reapportionment and about the "incorporation" of the Bill of Rights through the Fourteenth Amendment that enhanced judicial authority and represented too dramatic a break with established doctrine. But it also accounts for Harlan's willingness to take reformist steps, to overrule outdated precedent selectively and before a problem worsened, and above all to listen closely to many voices.
These traits are consistent with Harlan's warm embrace of federalism principles. It should be recalled that the idea of federalism itself is a kind of balance—a way of dividing government authority to prevent a too-easy dominance of public life by a single institution or faction. The Federalist Papers are explicit in extolling, as a "guard against dangerous encroachments," the division of power "between two distinct governments" so that the "different governments will control each." Years ago I reflected on whether the national government or states and local governments are the more secure bulwark of—or the greater threat to—civil liberty.
Local units are closer to the people but offer more opportunity for undetected discrimination and repression. The national government acts more visibly and with more formal regard for minority interests, but its vast power is a civil liberties time bomb that in this century has brought us the Palmer Raids, McCarthyism, and Watergate.
Whatever the proper resolution of this question, it is clear that Harlan believed, as much as he believed in any principle, that federalism was "a bulwark of freedom."
A second source of Harlan's overall philosophy is legal process theory, which had its heyday during almost exactly the period that he served on the Court. In the early 1950s Henry Hart produced a draft of the work that he and Albert Sacks published at Harvard Law School in a "tentative edition" in 1958 (it was also the final edition). The moderate philosophy embodied in these materials, entitled "The Legal Process: Basic Problems in the Making and Application of Law," was tailor-made to Harlan's personality. It emphasized the central role that procedure plays in ensuring judicial and legislative objectivity and argued that "just" policies will result when each branch of government works within its assigned role. In this way courts through "reasoned elaboration" of decisions, and legislatures through the public-seeking interpretation of statutes, will ensure maximum fulfillment of society's expectations.
Harlan was attracted to this theory, which enabled him to take constitutional steps as long as they were not too long or jarring. At the same time, it offered him ample institutional reasons for resisting excessive judicial authority. This approach was often enlisted in opinions that were inhospitable to civil liberties, but Harlan's reliance on legal process also led him at times to the protection of individual rights and the overruling of outmoded precedent. By 1971, when Harlan left the Supreme Court, legal process theory, buffeted by events in society at large, was beginning to lose its hold, even at Harvard, and the more extreme philosophies of law and economics and critical legal studies soon moved to the forefront. The struggle within the Court became ever more polarized as in succeeding years strong civil libertarians, which Harlan was not, waged battle with doctrinaire conservatives, which he also was not.
It fell to John Marshall Harlan, by nature a patrician traditionalist, to serve on a Supreme Court that, for most of his years, was rapidly revising and liberalizing constitutional law. In these circumstances, it is not surprising that he would protest the direction of the Court and the speed with which it was traveling. He did this in a remarkably forceful and principled manner, thereby providing balance to the institution and the law it generated. Despite this role, Harlan joined civil liberties rulings on the Court during his tenure to the degree that his overall jurisprudence can fairly be characterized as conservative primarily in the sense that it evinced caution, a fear of centralized authority, and a respect for process.
Bibliography
Justice Harlan's papers are deposited in the Seeley G. Mudd Manuscript Library at Princeton University. Tinsley H. Yarbrough, John Marshall Harlan: Great Dissenter of the Warren Court (1992), is the only comprehensive biography, and it provides considerable information on Harlan's life as well as his career on the Supreme Court. David L. Shapiro, ed., The Evolution of a Judicial Philosophy: Selected Opinions and Papers of Justice John M. Harlan (1969), is a compilation of opinions, speeches, and tributes through June 1968, carefully selected and edited by a former law clerk. More recent is "John Marshall Harlan II: Remembrances by His Law Clerks," Journal of Supreme Court History 27 (2002): 138.
Various articles and symposia worth consulting are: Henry J. Bourguignon, "The Second Mr. Justice Harlan: His Principles of Judicial Decision Making," Supreme Court Review (1979): 251; Centennial Conference in Honor of Justice John Marshall Harlan, New York Law School Law Review 36 (1991): 1, which includes contributions by judges, former law clerks, and scholars on Harlan as a judicial conservative, Harlan and the Bill of Rights, and Harlan's legal process; "Comment, The Legitimacy of Civil Law Reasoning in the Common Law: Justice Harlan's Contribution," Yale Law Journal 82 (1972): 258; Norman Dorsen, "The Second Mr. Justice Harlan: A Constitutional Conservative," New York University Law Review 44 (1969): 249; Daniel A. Farber, "Civilizing Public Discourse: An Essay on Professor Bickel, Justice Harlan, and the Enduring Significance of Cohen v. California," Duke Law Journal (1980): 283; and "Mr. Justice Harlan," Harvard Law Review 85 (1971): 369, consisting of articles on the occasion of his retirement by Earl Warren, J. Edward Lumbard, John B.F. Wood, Henry J. Friendly, and Charles Nesson.
Noteworthy Opinions
Griffin v. Illinois, 351 U.S. 12 (1956) (Dissent)
Kent v. Dulles, 357 U.S. 116 (1958)
NAACP v. Alabama ex rel. Patterson, 357 U.S. 449 (1958)
Barenblatt v. United States, 360 U.S. 109 (1959)
Poe v. Ullman, 367 U.S. 497 (1961) (Dissent)
Baker v. Carr, 369 U.S. 186 (1962) (Dissent)
Gideon v. Wainwright, 372 U.S. 335 (1963) (Concurrence)
Douglas v. California, 372 U.S. 353 (1963) (Dissent)
Reynolds v. Sims, 377 U.S. 533 (1964) (Dissent)
Katzenbach v. Morgan, 383 U.S. 301 (1966) (Dissent)
Afroyim v. Rusk, 387 U.S. 253 (1967)
Marchetti v. United States, 390 U.S. 39 (1968)
Street v. New York, 394 U.S. 576 (1969)
Welsh v. United States, 398 U.S. 333 (1970)
Boddie v. Connecticut, 401 U.S. 371 (1971)
Cohen v. California, 403 U.S. 15 (1971)
New York Times Co. v. United States, 403 U.S. 713 (1971) (Dissent)