Grier, Robert Cooper
Grier, Robert Cooper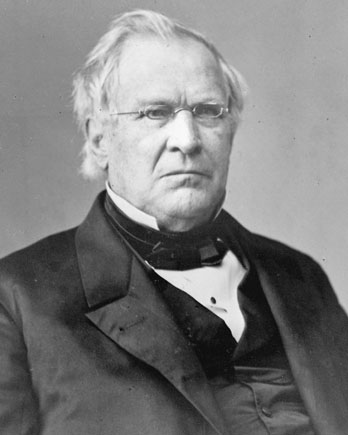 Birth: March 5, 1794, Cumberland County, Pennsylvania.
Education: Dickinson College, graduated 1812.
Official Positions: President judge, District Court of Allegheny County, Pennsylvania, 1833–1846.
Supreme Court Service: Nominated associate justice by President James K. Polk, August 3, 1846, to replace Justice Henry Baldwin, who had died; confirmed by the Senate, August 4, 1846, by a voice vote; took judicial oath August 10, 1846; retired January 31, 1870; replaced by William Strong, nominated by President Ulysses S. Grant.
Death: September 25, 1870, Philadelphia, Pennsylvania.
Participation in Key Cases
Opinions Written
Learn more about Supreme Court Justices
Learn More About This Supreme Court Justice
FURTHER READING
Document Outline
Robert Cooper Grier
Bibliography
Noteworthy Opinions

Robert Cooper Grier
Robert C. Grier entered Dickinson College in 1811 and received his degree a year later. After studying law with a local lawyer and gaining admission to the Pennsylvania bar in 1817, Grier spent the next sixteen years in legal practice. A Jacksonian Democrat, he received a patronage appointment to a state court judgeship in 1833, a position he held for thirteen years. Justice Henry Baldwin's death in 1844 created a vacancy on the U.S. Supreme Court, which took two years to fill. President John Tyler first nominated Edward King and then John M. Read to the seat, but neither gained Senate approval. Tyler's successor, James K. Polk, nominated Grier, and the Senate confirmed him August 4, 1846.
Early in his tenure on the Court, Grier assumed a pivotal and outspoken stance on the complex issue of state infringement on the federal commerce power. In the License Cases (1847), Grier concurred separately in the Court's decision to uphold three state laws regulating liquor sales as a valid exercise of state police power. He vigorously defended a state's prerogative to protect its general health and morals by excluding an article of trade such as liquor from its own commerce. Two years later, however, Grier wrote separately in the Passenger Cases (1849) to emphasize the limits of state police power. In the Passenger Cases, the Court struck down New York and Massachusetts laws that had levied head taxes on each alien passenger brought into their ports. Grier asserted that Massachusetts had exceeded its power by adopting a tax that could directly affect foreign commerce, the regulation of which belonged to Congress alone. In holding that state police power must not interfere with foreign commerce, he struck a careful balance that would continue in his alliance with the majority's reasoning in Cooley v. Board of Wardens of the Port of Philadelphia (1851), which declared that unless Congress had said otherwise, some commerce was indeed local.
On other matters pertaining to states' authority, Grier was similarly influential. In Cook v. Moffat (1847), he wrote the majority opinion rejecting a Maryland businessman's effort to use his state's insolvency laws to escape debts from another state, reasoning that a state should honor another state's otherwise valid bankruptcy laws only as it chose under comity. In Peck v. Jenness (1849), Grier spoke for a unanimous Court in upholding a New Hampshire state court's judgment under an 1841 federal bankruptcy act as the valid decision of a tribunal "equal and independent" to the courts of the United States. In 1851 Grier dissented on behalf of himself and the Court's three most vociferous states' rights advocates—John Catron, Peter Daniel, and Samuel Nelson—in Woodruff v. Trapnall (1851). The dissenters decried the majority's denial of the state of Arkansas's right to refuse acceptance of state bank notes proffered by the former state treasurer.
Grier also aggressively defended state autonomy in a number of preDCivil War cases concerning slavery, for which he was sternly criticized in abolitionist circles. In Moore v. People of Illinois (1852), Grier wrote the majority opinion sustaining an Illinois fugitive slave statute over the objection that such laws were exclusively within federal jurisdiction, on the grounds that states entertained the authority to "repel from their soil a population likely to become burdensome and injurious, either as paupers or criminals." In a peculiar turn of events, Grier played a critical—and ethically improper—part in the disposition of the Court's most infamous slavery case, Dred Scott v. Sandford (1857). Responding to an inappropriate letter of inquiry from president-elect James Buchanan about the progress of the as-yet-unreleased Dred Scott decision, Grier sent Buchanan a detailed account of the pending case and a promise to work closely with other justices in the majority to minimize the breadth of dissent in the final opinions of the Court. In Dred Scott, Grier wrote briefly to concur both with Justice Nelson's view that Missouri law should determine Scott's status and with Chief Justice Roger B. Taney's opinion that the Missouri Compromise was unconstitutional.
Despite his earlier affirmations of states' rights against abolitionist challenges, Grier's majority opinion in the Prize Cases (1863) expressed a compelling defense of wartime presidential power to quell Confederate resistance. In the Prize Cases, the Court was charged with determining the constitutionality of the Union blockade of Confederate ports instituted by President Abraham Lincoln in April 1861, several months before Congress met and approved the action. Grier upheld the president's authority to act immediately to address the Confederate insurrection, reasoning that a formal declaration of war by Congress was unnecessary for a war "which all the world acknowledges to be the greatest civil war known in the history of the human race."
Significant cases in the remaining years of Grier's Court service include Ex parte Milligan (1867), in which Grier joined the Court in rejecting the assertion of wartime government power to authorize military tribunals to try civilians in areas with functioning civil courts, and Texas v. White (1869), in which Grier joined Justices Noah Swayne and Samuel Miller in dissenting from the majority opinion upholding the status of Texas as a "state," which could not have seceded from an "indissoluble union." Grier also strongly opposed the Court's one-year postponement before passing upon the constitutionality of the Reconstruction Acts in Ex parte McCardle (1869). In a statement joined by Justice Stephen J. Field, Grier protested as a dereliction of duty the Court's decision to delay its ruling until Congress had passed a law stripping it of appellate jurisdiction.
After an extended period of declining health in the late 1860s and accompanying widespread criticism of his judicial competence, Grier retired on January 31, 1870, at the urging of his colleagues on the Court. He died on September 25 of that year in Philadelphia.
Bibliography
The body of writing on Grier's life and judicial career is relatively small. The most complete sources include: David P. Brown, "Robert Cooper Grier, LL.D," Forum 2 (1856): 91; Salmon P. Chase, "Resignation of Mr. Justice Grier," 75 U.S. vii (1870); and Frank Otto Gatell, "Robert C. Grier," in Friedman and Israel, Justices, vol. 2, 871.
Noteworthy Opinions
Cook v. Moffat, 46 U.S. 295 (1847)
License Cases, 46 U.S. 504 (1847) (Concurrence)
Passenger Cases, 48 U.S. 283 (1849) (Concurrence)
Woodruff v. Trapnall, 51 U.S. 190 (1851) (Dissent)
Prize Cases, 67 U.S. 635 (1863)