Goldberg, Arthur Joseph
Goldberg, Arthur Joseph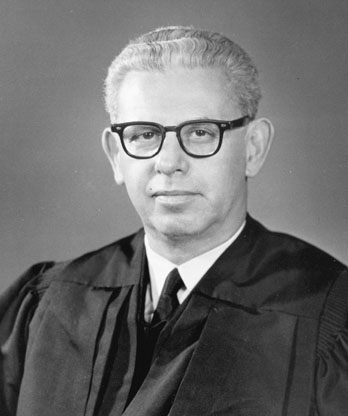 Birth: August 8, 1908, Chicago, Illinois.
Education: Northwestern University, B.S.L., 1929; J.D., summa cum laude, 1930.
Official Positions: Secretary of labor, 1961–1962; U.S. ambassador to the United Nations, 1965–1968.
Supreme Court Service: Nominated associate justice by President John F. Kennedy, August 31, 1962, to replace Felix Frankfurter, who had retired; confirmed by the Senate, September 25, 1962, by a voice vote; took judicial oath October 1, 1962; resigned July 25, 1965; replaced by Abe Fortas, nominated by President Lyndon B. Johnson.
Death: January 19, 1990, Washington, D.C.
Participation in Key Cases
Opinions Written
Learn more about Supreme Court Justices
Learn More About This Supreme Court Justice
FURTHER READING
Document Outline
Arthur Joseph Goldberg
Bibliography
Noteworthy Opinions

Arthur Joseph Goldberg
Nominated by John F. Kennedy to fill the seat of the more conservative Felix Frankfurter, Arthur J. Goldberg became the justice who completed the Warren Court. Serving on the Court for only three years, Goldberg never achieved the reputation for judicial craftsmanship of his predecessor, but he nevertheless made a significant mark on the history of the Court and of the country by joining Earl Warren, Hugo Black, William Douglas, and William Brennan to provide a majority for what became known as the Warren Court agenda: judicial reinforcement of constitutional rights and civil liberties, particularly the equality rights of minorities, the rights of those suspected or accused of crime, and the freedom to differ.
Goldberg's career began early. He galloped though college and law school and was admitted to the bar of Illinois in 1929, at the age of twenty. He practiced law in Chicago for some twenty years, representing a number of labor unions, before becoming general counsel to the Congress of Industrial Organizations (CIO) and then the United Steel Workers. After moving to a Washington law firm in the 1950s, Goldberg helped to effect the merger of the American Federation of Labor (AFL) and CIO and became special counsel to the AFL-CIO Industrial Union Department. It was in this capacity that he met and began to advise John Kennedy during the 1960 presidential campaign. From January 1961 to September 1962 Goldberg served as an outspoken secretary of labor, advocating an enhanced federal role in mediating labor disputes and also on foreign affairs.
After joining the Court in October 1962, Goldberg predictably took an active role in cases involving labor law and antitrust, often writing opinions interpreting federal legislation such as the Sherman Act and Clayton Act to permit an expansive role for the federal government in these areas. Examples are United States v. Loew's, Inc. (1962), Silver v. New York Stock Exchange (1963), and United States v. Ward Baking Co. (1964).
But Goldberg's most significant contribution to the Court was his conviction that individual rights frequently outweigh countervailing government interests and concerns about federalism. Goldberg joined and often created majorities deciding that particular Bill of Rights guarantees should be incorporated and applied in state proceedings. In Malloy v. Hogan (1964), he supported the claim that the Fifth Amendment privilege against self-incrimination applies to the states. He concurred in Pointer v. Texas (1965), which incorporated the right to confront witnesses, and he was part of the unanimous landmark decision in Gideon v. Wainwright (1963), in which the Court ruled that the Sixth Amendment right to counsel, including obligation to provide assigned counsel for indigent defendants, applies to the states. Goldberg also proved willing to expand the scope of particular rights, such as the right to counsel. For example, in Massiah v. United States (1964), Goldberg voted with the majority to hold that the Sixth Amendment right to counsel attaches at the beginning of formal judicial proceedings and prohibits the police or prosecutors from "deliberately eliciting" information from a defendant in the absence of counsel.
Goldberg's belief in the importance of the right to counsel during the accusatory stage of a criminal proceeding is clear in the opinion he wrote for the 5–4 majority in one of the Warren Court's most controversial opinions—Escobedo v. Illinois (1964). Goldberg's opinion, declaring a right to counsel during police interrogation, even before the commencement of formal proceedings, led law enforcement officials to fear that the Court's expanding view of the Sixth Amendment would severely curtail the utility of interrogation as an investigatory technique. Civil libertarians, on the other hand, forecast an end to inherently coercive police tactics. After Goldberg resigned, however, the Court found a compromise in the Fifth Amendment rule of Miranda v. Arizona (1966) instead of building on the rationales Goldberg had offered in Escobedo.
Goldberg also supported or wrote opinions designed to improve the access of indigent criminal defendants to full and fair appeals. Douglas v. California (1963) extended the right to counsel on appeal, and Lane v. Brown (1963) provided indigents free transcripts. Joined by Jus-tices Douglas and Brennan, Goldberg expressed some of the Supreme Court's first serious doubts about the constitutionality of a state's use of the death penalty, dissenting from the Court's refusal to hear Rudolph v. Alabama (1963). His prescient dissent in Swain v. Alabama (1965) argued for a right to be free from racial discrimination in jury selection and anticipated that peremptory challenges would have to be limited in the interest of equal protection, a realization that commanded a majority on the Court only two decades later.
With Goldberg's participation, the Warren Court also sought to promote civil rights by protecting demonstrators trying to secure such rights. Cox v. Louisiana (1965) reversed convictions of demonstrators on First Amendment grounds, and Heart of Atlanta Motel v. United States (1964) affirmed the power of Congress to enact powerful civil rights legislation. In one of the landmark cases of the century, the Court equalized voting power through reapportionment in Reynolds v. Sims (1964).
Goldberg's commitment to the principle of equality is documented in his book Equal Justice (1971), published after he had left the Court. But his opinions show an equally fervent commitment to other constitutional guarantees, especially the First Amendment. In a concurring opinion in New York Times Co. v. Sullivan (1964), a case limiting libel actions brought against public figures, Goldberg stated his view that the First Amendment confers "an absolute, unconditional privilege to criticize official conduct despite the harm which may flow from excesses and abuses." His generous interpretation of the First Amendment also led him to argue against restrictions created by obscenity prosecutions or ideological restrictions on the right to travel.
Goldberg's last opinion, a concurrence in Griswold v. Connecticut (1965), argued that a constitutional right of privacy, protecting decisions such as the right to use contraceptives, exists in part because of the Ninth Amendment's guarantee that the people retain rights not enumerated in the Constitution. This opinion, like many others Goldberg wrote, reflected his conviction that it is the constitutional role of the courts to vindicate equality or liberty rights of minorities who are unlikely to command the support of legislatures. It also reflected his disagreement with the usual Warren Court dissenters, John Marshall Harlan, Tom Clark, Potter Stewart, and Goldberg's fellow Kennedy appointee, Byron White, who believed that the Supreme Court should play a modest role in deference to Congress and to state legislatures.
In July 1965 President Lyndon Johnson asked Goldberg to leave the Court to replace Adlai Stevenson as ambassador to the United Nations. Anxious to pursue his interest in international relations, Goldberg agreed. Goldberg is quoted as having described the difference between his role on the Court and at the United Nations as captured in four words: "It is so ordered." After serving as ambassador until 1968, Goldberg returned to private practice, teaching, and an unsuccessful campaign to become governor of New York. Before his death on January 9, 1980, Arthur Goldberg was awarded the Presidential Medal of Freedom, capping a legal career that began when Goldberg became interested in the law while watching Clarence Darrow, another champion of equality, justice, and the underdog.
Bibliography
After leaving the Supreme Court, Arthur Goldberg wrote prolifically on the topics that had been important to him as a justice. He published several books on the constitutional issues that had dominated the Warren Court. See Equal Justice: The Warren Era of the Supreme Court (1971); The Evolving Constitution: Essays on the Bill of Rights (1989). He wrote dozens of articles in law reviews and other publications about criminal justice, the death penalty, and other constitutional issues, including the First Amendment. He wrote extensively on the Supreme Court and judicial administration, and he was a frequent contributor to symposia evaluating the work of other justices and judges. He also maintained his interest in labor law and international affairs, writing and speaking frequently on these topics. Biographies of Goldberg include Dorothy Goldberg's A Private View of a Public Life (1975); and Victor Lasky's Arthur J. Goldberg: The Old and the New (1970).
Noteworthy Opinions
Rudolph v. Alabama, 375 U.S. 889 (1963) (Dissent)
New York Times Co. v. Sullivan, 376 U.S. 254 (1964) (Concurrence)
Escobedo v. Illinois, 378 U.S. 478 (1964)
Heart of Atlanta Motel v. United States, 379 U.S. 241 (1964) (Concurrence)
Cox v. Louisiana, 379 U.S. 536 (1965)
Griswold v. Connecticut, 381 U.S. 479 (1965) (Concurrence)