Ginsburg, Ruth Bader
Ginsburg, Ruth Bader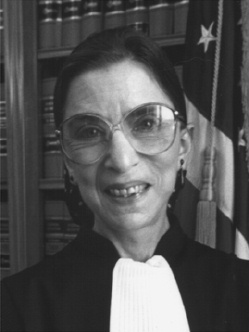 Birth: March 15, 1933, Brooklyn, New York.
Death: September 18, 2020, Washington, D.C.
Education: Cornell University, B.A., 1954; attended Harvard University Law School, 1956–1958; graduated Columbia Law School, J.D., 1959.
Official Positions: Judge, U.S. Court of Appeals for the District of Columbia Circuit, 1980–1993.
Supreme Court Service: Nominated associate justice by President Bill Clinton, June 22, 1993, to replace Byron R. White, who had retired; confirmed by the Senate, August 3, 1993, by a 96–3 vote; took judicial oath August 10, 1993.
Participation in Key Cases
Opinions Written
Learn more about Supreme Court Justices
Document Outline
Ruth Bader Ginsburg
Bibliography
Noteworthy Opinions

Ruth Bader Ginsburg
Ruth Bader Ginsburg reached the Supreme Court after directing the litigation strategy in the 1970s that established the first constitutional rules against sex discrimination. Her experience in combating the institutionalized prejudice against women that initially slowed her own advancement in the legal profession played a major part in President Bill Clinton's decision to appoint her to the Court in 1993 to succeed Justice Byron R. White.
On the Court, Ginsburg became a strong voice and consistent vote in support of efforts to combat discrimination against women, minorities, and gays. Although she resisted ideological labels in her Senate confirmation hearings, she aligned herself generally with the Court's liberal justices in most other areas as well, including criminal law, federalism, and church-state relations.
Ruth Joan Bader was born in Brooklyn's Flatbush section to Jewish parents of modest means. Her father, Nathan Bader, worked as a furrier and later as a haberdasher; her mother, Celia Amster Bader, worked in New York's garment district. Celia Bader installed in her daughter from an early age a love of learning and a spirit of independence. She was stricken with cancer while Ruth was in high school and died on the eve of her daughter's high school graduation in 1950.
More than forty years later, Ginsburg paid tribute to her mother when she spoke about women's equality in a moving conclusion to her remarks after Clinton announced her selection for the Court. "I pray that I may be all that she would have been," Ginsburg said, "had she lived in an age when women could aspire and achieve and daughters are cherished as much as sons." Clinton reportedly teared up as Ginsburg finished.
Financing her education from scholarships and her mother's savings, Ruth Bader excelled at Cornell University, where she graduated first among the women in her class in 1954. She also met her future husband, Martin Ginsburg, who became a tax lawyer and later—after she was appointed to the federal appeals court in Washington—a professor at Georgetown University Law Center. Along with Martin, Ruth enrolled in Harvard Law School, where she made law review, cared for their infant daughter, and then helped him finish his studies after he was diagnosed with cancer. He recovered, graduated, and took a job in New York. She transferred to Columbia for her final year of law school.
Although tied for first place in her graduating class in 1959, Ginsburg could not get a job with a top New York law firm or a Supreme Court clerkship. One of her professors recommended her to Justice Felix Frankfurter, but he replied that he was not ready to hire a woman as a clerk. Instead, Ginsburg got a two-year clerkship with a federal district court judge. She then studied civil procedure in Sweden as part of a comparative law project at Columbia. She also began to take an interest in feminist thought.
After her return from Sweden, Ginsburg became the second woman to join the law faculty of Rutgers University in New Jersey, where she taught from 1963 to 1972. She also helped the New Jersey chapter of the American Civil Liberties Union (ACLU) litigate sex discrimination cases, including suits on behalf of teachers who had to give up their jobs after becoming pregnant. Ginsburg herself had obscured her second pregnancy while at Rutgers for fear of losing her then-untenured position.
Ginsburg left Rutgers in 1972 for Columbia Law School, where she became the school's first tenured woman faculty member. In New York she also became director of the ACLU's Women's Rights Project. In that role, she conceived and directed the legal strategy that moved the Supreme Court in a series of cases to rule that laws treating men and women differently because of sex are subject to heightened constitutional scrutiny. Admirers, likening her work to the NAACP Legal Defense Fund's campaign against school desegregation, commonly describe her as "the Thurgood Marshall of gender equality law."
Ginsburg had first worked with the ACLU's national office on a brief challenging an Idaho law that preferred men to women as administrators of decedents' estates. Sally Reed blamed her estranged husband, Cecil, for the suicide of their son, Richard, and wanted to manage Richard's estate, but the Idaho law favored his father. The brief that Ginsburg helped write with the ACLU's chief lawyer argued that gender discrimination should be automatically suspect for constitutional purposes and in any event that the law had no rational basis. The Court in Reed v. Reed (1971) struck the law down, 9–0, but on the narrower rational-basis ground.
The success encouraged the ACLU to create the women's rights unit, and Ginsburg negotiated an arrangement with Columbia to direct the project while teaching half time. To continue the campaign, Ginsburg worked to educate the justices on the extent of the historic discrimination against women without appearing strident. She devised the strategy of finding cases in which gender stereotyping hurt men as well as women. As she explained later, she wanted to show "the disadvantage to men of being pigeonholed."
In the first case she argued before the Court, Ginsburg challenged a federal law governing benefits for the dependent spouses of married members of the military. Under the law, wives of men in the military were automatically eligible for the benefits, but the husbands of women in the military had to show that they were dependent on their wives for more than half their income. Sharon Frontiero, a lieutenant in the Air Force, asked lawyers at the Southern Poverty Law Center to help her obtain benefits for her husband after the Air Force said he was ineligible. The center filed a lawsuit challenging the provision and then asked the ACLU Women's Rights Project to assist at the Supreme Court.
In her argument, Ginsburg pointed out that the provision effectively paid men more than women and that it was premised on a gender stereotype of the sort disapproved in Reed. The Court in Frontiero v. Richardson (1973) agreed by an 8–1 vote, but the victory was muddled. Justice William J. Brennan Jr. concluded in a plurality opinion for four justices that gender discrimination was subject to "strict scrutiny"—the most demanding constitutional standard. But the other four justices simply found the discrimination improper without defining a test for future cases. Justice William H. Rehnquist was the lone dissenter.
Three years later the Court settled on a constitutional standard for sex discrimination in a case challenging an Oklahoma law that allowed young women between the ages of eighteen and twenty-one to buy low-alcohol-content "near beer," but men had to be twenty-one. The state defended the differential treatment by citing the higher incidence of drunken driving among young men than among young women. Ginsburg filed an amicus brief in support of the young man and bar owner challenging the law. The Court's decision in Craig v. Boren (1976) established what came to be known as "intermediate scrutiny" for laws discriminating between men and women. Writing for six justices, Brennan said that previous cases had established the rule that "classifications by gender must serve important governmental objectives and must be substantially related to achievement of those objectives." While acknowledging the importance of traffic safety, Brennan concluded that the Oklahoma law was a "tenuous fit" with the state's goal.
In all, Ginsburg argued six cases before the Court while heading the ACLU Women's Rights Project and won five of them. At the same time, she was working to win ratification of the Equal Rights Amendment (ERA) to establish a firm constitutional bar against sex discrimination. By 1978 supporters had fallen short of ratification by three-fourths of the states. Ginsburg helped craft the legal arguments to justify extending the time to ratify the amendment past the original deadline of 1979 and to disregard any efforts by state legislatures to rescind previous votes to ratify. Congress extended the deadline, but even with additional time the ERA failed to win a place in the Constitution.
President Jimmy Carter named Ginsburg to the U.S. Court of Appeals for the District of Columbia Circuit in 1980. Over the next thirteen years, Ginsburg earned a reputation for thorough preparation, prompt opinion-writing, careful reasoning, and cautious decision making. Her views and judicial approach often put her in the middle of a court that had been dominated by liberal, Democratic appointees but came to be ideologically fractious with the appointment of conservative jurists by Presidents Ronald Reagan and George H.W. Bush.
Among the Republican appointees was Antonin Scalia, who served on the D.C. Circuit for four years until his elevation to the Supreme Court in 1986. Despite the ideological differences, Ginsburg and her husband became close friends of Scalia and his wife. Among other things, the two justices shared a common interest in opera. After Ginsburg joined Scalia on the Supreme Court, they both appeared on stage as extras, in full costume, in a 1994 Washington Opera production of Ariadne auf Naxos.
Despite her record on women's rights, Ginsburg disquieted abortion rights advocates with a critique of the landmark Roe v. Wade (1973) decision in a speech at New York University Law School in March 1993. Invited to deliver the school's James Madison Lecture, Ginsburg contrasted the Supreme Court's step-by-step approach on gender discrimination with the broader sweep of Roe, which effectively invalidated all existing state laws on abortion. The Court's decision to "fashion a regime blanketing the subject," Ginsburg said, "invited no dialogue with legislators" and "served to fuel rather than reduce controversy." When Ginsburg was chosen for the Supreme Court, some abortion rights supporters cited the speech as cause for concern, while others called her a reliable supporter of abortion rights.
Justice White's decision to retire from the Court—announced in mid-March 1993, more than three months before the end of the term—gave President Clinton the first opportunity for a Democrat to choose a justice in twenty-six years. Clinton had promised during the campaign to appoint justices who supported abortion rights and took "an expansive view of the Constitution and the Bill of Rights." On the day of White's announcement, Clinton said he would look for a justice with experience, judgment, and "a big heart."
Clinton's search took an unusually long eighty-seven days. Initially, he considered choosing New York's governor Mario Cuomo, but Cuomo surprised the White House by saying he was not interested. Clinton also focused on Interior Secretary Bruce Babbitt, a former Arizona governor; but environmentalists urged Clinton to keep Babbitt in the cabinet instead. As a result, the list of more than forty candidates was dominated by sitting federal judges. At the top of the list was Stephen G. Breyer, a well-regarded judge on the federal appeals court in Boston, who had been a Senate aide and a Harvard Law School professor. But Breyer's interview with Clinton went poorly, and the president asked his aides to give him another candidate even while news reports were describing Breyer as the all-but-certain choice.
Ginsburg had been on the early lists of possible candidates but had dropped out of later speculation. Her judicial reputation was excellent and as a Jewish woman she would be a "two-fer" in terms of diversity. But her age—sixty—counted against her. And Clinton had initially been unimpressed with what he heard and read about her. When aides arranged a Sunday morning interview at the White House, however, Clinton was won over by Ginsburg's life story of combating discrimination against women both in her own life and in the courtroom.
Announcing his decision the next day, Clinton cited Ginsburg's "truly historic record of achievement" on women's rights. In her acceptance remarks, Ginsburg spoke of the advances she had seen for women in the law. She recalled that she had been one of fewer than ten women in a law school class of nearly 500. Now, she said, few law schools had less than 40 percent female enrollment. The number of women on federal courts had increased from only one in 1976 to "close to twenty-five." And for herself, Ginsburg noted that her daughter, Jane, had written in her high school yearbook that her ambition was to "to see her mother appointed to the Supreme Court."
Ginsburg's nomination moved smoothly and quickly through the Senate—in sharp contrast to the confirmations of Justices David H. Souter in 1990 and Clarence Thomas in 1991. In her opening statement Ginsburg depicted herself as an advocate—and a practitioner—of judicial restraint. "My approach is neither liberal or conservative," she said. "Rather, it is rooted in the place of the judiciary in our democratic society." She promised that she would not write her own convictions into the Constitution and described the judicial process as one of gradual change.
In subsequent comments, however, Ginsburg aligned herself with legal views generally described as liberal. She said courts had a role in forcing social changes when groups were "shut out of the political process." She endorsed a constitutional right to privacy and approvingly cited decisions taking expansive views of contemporary standards to evaluate new claims of individual liberties. She supported affirmative action while opposing "rigid quotas" and struck separationist notes on church-state issues.
Ginsburg also reassured women's groups by strongly endorsing abortion rights. "This is something central to a woman's life, to her dignity," Ginsburg said. "And when government controls that decision for her, she's being treated as less than a fully adult human responsible for her choices." For good measure, Ginsburg also explicitly endorsed the dormant Equal Rights Amendment. The Constitution should include "a clarion call that women and men are equal before the law," she said.
In the only major conflict during the hearings, Ginsburg resisted Republicans' attempts to pin her down on capital punishment. While promising to be "scrupulous in applying the law on the basis of legislation and precedent," Ginsburg pointedly declined to say whether she agreed with rulings holding the death penalty constitutional. "If you want me to take a pledge," Ginsburg said, "that is one thing you must not ask a judge to do." With less conflict, she also ducked questions on a range of other issues, including gun control, habeas corpus, property rights, racial gerrymandering, and school vouchers. The Judiciary Committee, 18–0, approved Ginsburg's nomination on July 29. The full Senate was nearly unanimous five days later, confirming Ginsburg, 96–3; three conservative Republicans cast the only no votes. In swearing-in ceremonies a week later, Ginsburg again returned to the theme of advancing opportunities for women. "A system of justice will be richer for a diversity of background and experience," she said.
Justice Ginsburg began making her presence felt from her first day on the bench, when she was counted as having asked seventeen questions during one hour-long argument. After receiving some critical comments, she eased up somewhat but remained one of the Court's most active questioners throughout her first term and thereafter. She also made a point of introducing gender-free terminology into arguments and opinions. During one argument, when one of the justices posed a hypothetical involving a "postman," Ginsburg changed the term in a follow-up question to "letter carrier."
More substantively, Ginsburg aligned herself generally with the justices viewed as constituting the Court's liberal wing: John Paul Stevens, David Souter, and Stephen Breyer, whom Clinton appointed in 1994 to succeed Harry A. Blackmun. For the next decade, these four justices comprised a fairly cohesive bloc that—in contrast to the five more conservative justices—took a broader view of civil rights and civil liberties and supported an expansive construction of federal powers vis-à-vis the states. Statistical compilations showed that Ginsburg voted more than 80 percent of the time with each of the three liberal justices; by comparison, she agreed with conservatives Scalia and Thomas in fewer than two-thirds of the cases.
As a junior justice, Ginsburg drew few assignments of special note in her first two years on the bench. But in the 1995–1996 term, she received an assignment that built on and carried forward her lifelong work on gender equality. The issue was the constitutionality of an all-male, state-supported military college: Virginia Military Institute. In her opinion in United States v. Virginia (1996), Ginsburg forcefully ruled the state's policy unconstitutional and in the process appeared to tighten somewhat the standard for reviewing government actions that treat men and women differently.
The case drew national attention in part because of VMI's stout defense of its all-male enrollment. Founded in 1839, the school had a prominent place in Virginia's political and business circles. VMI graduates comprised an influential network within the state, and they rallied to defend the all-male policy when it came under challenge. For its part, the school said the men-only policy was essential to the rigorous regimen imposed on first-year students as a means of instilling the importance of strictly following rules and closely bonding with their fellow cadets. But the Justice Department, acting on a complaint from a never-identified female high school student, filed suit against the school, claiming that the policy amounted to illegal sex discrimination under the Fourteenth Amendment's equal protection clause.
The case went up and down in lower federal courts. Initially, a federal district court judge upheld the all-male policy, saying that the state's interest in preserving VMI's distinctive educational methods satisfied the test set out in a 1982 decision, Mississippi University for Women v. Hogan. In that decision—written by Justice Sandra Day O'Connor—the Court held that sex classifications could be upheld only if they served "important governmental objectives" and were "substantially related to the achievement of those objectives." The U.S. Court of Appeals for the Fourth Circuit disagreed and sent the case back to the district court to craft a remedy. The state then proposed to set up a separate, all-female military program at a different campus. The district court judge and the appeals court upheld the plan, and the Justice Department brought the case to the Supreme Court.
In ruling the all-male policy unconstitutional, Ginsburg neatly turned the state's celebration of VMI's educational methods against the school. "This case concerns an incomparable military college," Ginsburg began. Women sought admission precisely because of its "unique program and unparalleled record." Under the Court's precedents, she continued, defenders of sex-based government actions must demonstrate an "exceedingly persuasive justification" and cannot rely on "overbroad generalizations …. about the way that most women (or most men) are." As for the new program for women, it was inadequate. "Women seeking and fit for a VMI-quality education cannot be offered anything else," she concluded.
Ginsburg's special concern with gender equality could be seen in other opinions, including separate concurrences or dissents. In her first opinion as a justice, for example, she wrote a concurrence in a sexual harassment case, Harris v. Forklift Systems, Inc. (1994), to say that a plaintiff needed to show only that the claimed discriminatory conduct "unreasonably interfered with plaintiff's work performance" and that it was unnecessary to show an actual loss of productivity. In a footnote, she also said that it was "an open question" whether gender-based classifications are inherently suspect for constitutional purposes.
In later years, Ginsburg voted in dissent in Gebser v. Lago Vista Independent School District (1998) to allow suits against school districts for teacher-against-student sexual misconduct and with the majority in Davis v. Monroe County Board of Education (1999) to permit suits against school districts for severe student-on-student sexual harassment. She also joined a pair of 1999 decisions that allowed sexual harassment suits for workplace conduct even if no tangible adverse consequences resulted. Despite her consistent support for strong enforcement against sexual harassment, Ginsburg also showed an awareness of the practical needs for employers or government defendants. With a dissenting opinion in Gebser and with her votes in the two workplace cases, Ginsburg suggested that defendants with effective internal policies against sexual harassment could avoid liability if plaintiffs failed to use those remedies.
Ginsburg had served for nearly seven years before the Court heard its first argument in a law challenging an abortion regulation. The issue was a Nebraska law—one of many similar state statutes—that banned a procedure properly called "dilation and evacuation" but dubbed "partial birth abortion" by antiabortion groups. Ginsburg voted with the 5–4 majority in Stenberg v. Carhart (2000) to strike down the law on the grounds that it was too broad and that it failed to include an exception to the ban when necessary to protect the woman's health. Earlier, Ginsburg had voted in dissent in two summary rulings that upheld state abortion regulations challenged by abortion providers.
As with women's rights, Ginsburg proved to be a strong supporter of efforts to eliminate discrimination against racial minorities. In only her second term, she wrote an acerbic dissent to a decision that threw out an ambitious if controversial desegregation plan ordered by a federal judge for Kansas City schools. "Given the deep, inglorious history of segregation in Missouri," Ginsburg wrote in Missouri v. Jenkins (1995), "to curtail desegregation at this time and in this manner is an action at once too swift and too soon."
The same year, Ginsburg led the four dissenters in the decision, Miller v. Johnson (1995), that made it difficult for state legislatures to deliberately create congressional or legislative districts to help elect minority candidates. The Court's conservative majority had first opened federal courts to racial redistricting suits before Ginsburg joined the Court. In Shaw v. Reno (1993), the Court held that white voters in North Carolina could challenge on equal protection grounds a congressional districting plan that created a majority-black district by combining predominantly black neighborhoods in three cities in the center of the state. O'Connor's opinion emphasized the "highly irregular" shape of the resulting district in allowing the suit to challenge what she called a "racial gerrymander." Justice White led the four dissenters in the case in his last opinion before he retired.
The next racial redistricting case to reach the Court involved a challenge to a more conventionally shaped, majority-black congressional district in Georgia. By the same vote as in Shaw, however, the Court in Miller v. Johnson ruled the redistricting plan unconstitutional, not because it was oddly shaped, but because race had been the "dominant and controlling rationale" in drawing the lines. In dissent, Ginsburg said this new standard would throw redistricting plans into uncertainty and turmoil, invite litigation, and give federal judges an "unwarranted" role in the process. She emphasized the history of excluding racial minorities from political participation as justification for "vigilant judicial inspection to protect minority voters," a consideration not needed for majority white voters. And she pointedly noted that no constitutional objection had previously been raised to drawing other ethnic districts, Irish or Italian, for example.
Eight years later, Ginsburg again cited the history of racial discrimination in the United States in voting to uphold affirmative action plans at the University of Michigan's law school and undergraduate college challenged by unsuccessful white applicants. The Court upheld the law school's plan but ruled the undergraduate system unconstitutional in Gratz v. Bollinger (2003) because of its fixed numerical bonus for minority candidates. Applying the "strict scrutiny" standard, Chief Justice Rehnquist said the plan violated equal protection principles because it was not "narrowly tailored" to attain the state's goal in achieving a diverse student body. Dissenting from that decision, Ginsburg observed, "We are not far distant from an overtly discriminatory past, and the effects of centuries of law-sanctioned inequality remain painfully evident in our communities and schools." On that basis, she argued that racial policies aimed at "inclusion" should not be subject to the strict scrutiny standard applied to policies aimed at "exclusion."
During her confirmation hearing, Ginsburg had been asked about a statement she made in 1979, before her appointment to the appeals court, opposing discrimination against homosexuals. She reaffirmed her position, but only in general terms. "I think rank discrimination against anyone is against the tradition of the United States and is to be deplored," she said. True to her word, she joined two landmark gay rights decisions. Romer v. Evans (1996) struck down a Colorado initiative barring enactment of state or local laws to prohibit discrimination on the basis of sexual orientation, and Lawrence v. Texas (2003) struck down state antisodomy laws. She joined the dissenters in Boy Scouts of America v. Dale (2000), which upheld on First Amendment grounds the Boy Scouts' policy excluding gay men as adult leaders.
Ginsburg also demonstrated sensitivity to the needs of persons with disabilities in a several cases. In the most significant, Ginsburg wrote for a narrow majority in holding that the federal Americans with Disabilities Act (ADA) gives mental patients a qualified right to be placed in a community setting instead of in an institution. "Unjustified isolation" of people with mental illnesses "is properly regarded as discrimination based on disability," Ginsburg wrote in Olmstead v. L.C. (1999). With customary caution, however, Ginsburg put conditions on patients' rights to choose community placement. The state could require institutionalization, she said, if community placement was not recommended by mental health professionals or could not be "reasonably accommodated, taking into account the resources available …. and the needs of others with mental disabilities."
Despite the qualifications, admirers described Ginsburg's opinion as the disability rights movement's Brown v. Board of Education (1954). They point to a concurring opinion in another case as further evidence of Ginsburg's sensitivity to issues affecting persons with disabilities. In Bragdon v. Abbott (1998), Ginsburg joined a decision ruling that a person with HIV had a disability for purposes of the ADA. While the majority emphasized the physical consequences of the plaintiff's condition, Ginsburg stressed in a brief concurrence that the condition satisfied the ADA's definition because society "perceived" it as a disability and that perception affected access to employment, health care, education, and other activities.
In a series of other decisions, however, Ginsburg joined in somewhat narrowing application of the ADA in private employment cases. For example, in Sutton v. United Air Lines (1999), she joined in rejecting an ADA suit challenging an airline's refusal to hire two severely myopic women as pilots. With eyeglasses, the women had 20/20 vision or better, but the airline said they did not meet its requirement of 20/100 uncorrected vision. The Court, in an opinion by O'Connor, said the women were not "disabled" under the law because their condition was correctable. Two of Ginsburg's liberal colleagues, Stevens and Breyer, called that interpretation "a crabbed vision" of the law's scope.
In civil cases, Ginsburg has generally supported easier access to courts and broader legal remedies. In the Rehnquist Court's most important decisions in the area, she dissented from rulings to use the due process clause to set federal limits on punitive damages in state cases. In Honda Motor Co. v. Oberg (1994), she disagreed with the ruling to invalidate a provision of Oregon's constitution limiting judicial review of damage awards. The state's procedures, she wrote in dissent, allowed sufficient safeguards to satisfy due process. But she also dissented from the ruling in State Farm Mutual Automobile Insurance Co. v. Campbell (2003), which suggested punitive damages should typically be no greater than compensatory damages and rarely if ever greater than ten times the compensatory amount. "The numerical controls …. seem to me boldly out of order," she wrote.
Ginsburg wrote for a majority in a somewhat unexpected ruling to uphold $4 million in damage awards won by six former railway workers in West Virginia for workplace exposure to asbestos. The railroad sought to bar any compensation for the workers' fear of developing cancer, apparently the principal basis for the award. But in Norfolk & Western Railway Co. v. Ayers (2003), Ginsburg concluded that, under established liability principles, the workers were entitled to damages for their asbestos-related diseases and for any "mental anguish" resulting from their injuries.
In several other, less noticed cases, Ginsburg has been a strong voice for ensuring access to the courts, especially for indigent litigants. She wrote for a 6–3 majority in M.L.B. v. S.L.J. (1996), ruling that states cannot prevent someone from appealing a parental termination order solely because of inability to pay for a transcript. The ruling extended an earlier decision, Griffin v. Illinois (1956), which had relied on the due process and equal protection clauses to guarantee indigent criminal defendants a trial transcript for use in appeals. Quoting that decision, Ginsburg said that the state should also not be allowed to "bolt the door to equal justice" in a parental termination case. Nine years later, Ginsburg again wrote for the Court in another extension of the Griffin decision, this time guaranteeing appointed counsel for indigent criminal defendants appealing after a guilty plea (Halbert v. Michigan, 2005). In both cases, Ginsburg brushed aside dissenters' concerns that the ruling would unduly burden the courts.
Ginsburg's concern about access to courts is evident in her dissent in Buckhannon Board & Care Home, Inc. v. West Virginia Department of Health and Human Resources (2001), which barred attorney fee awards in cases—for example, civil rights or environmental suits—in which a defendant settles the dispute out of court. She said the ruling would "impede access to court for the less well-heeled," and she emphasized her disagreement by reading portions of the opinion from the bench. A year earlier, however, she had given environmental groups a significant victory by upholding the right of citizen groups to sue alleged polluters under the Clean Water Act even if any financial penalties are to be paid to the federal government. Civil penalties "afford redress to citizen plaintiffs," Ginsburg wrote in Friends of the Earth, Inc. v. Laidlaw Environmental Services (TOC), Inc. (2000), because they "encourage defendants to discontinue current violations and deter them from committing future ones."
Ginsburg had no experience with criminal law before her appointment to the federal appeals court in 1980, and on the D.C. Circuit she did not handle cases in two of the Supreme Court's most divisive areas: capital punishment and habeas corpus. (The District of Columbia did not use the death penalty, and it is not a state for purposes of federal habeas corpus law.) But her votes and her opinions on the Court demonstrated themes similar to those in her work on civil cases: an interest in substantive justice and procedural regularity.
Her views could be seen clearly in her frequent support for challenges in death penalty cases. In her first term, for example, Ginsburg led the dissenters in a 5–4 decision that barred a death row inmate's plea for a new sentencing hearing because the jury was told he had been sentenced to death for a previous offense. The evidence created "a grave" risk that the jury could have believed the defendant's fate had already been sealed, she wrote in Romano v. Oklahoma (1994). A decade later, Ginsburg wrote a forceful opinion reversing a Texas death row inmate's conviction because prosecutors had withheld damaging information about an important government witness. "A rule …. declaring 'prosecutor may hide, defendant must seek,' is not tenable in a system constitutionally bound to accord defendants due process," she wrote in Banks v. Dretke (2004).
Ginsburg also joined the Court's two landmark decisions prohibiting execution of mentally retarded or juvenile offenders—Atkins v. Virginia (2002) and Roper v. Simmons (2005)—but she did not write separately in either. And in a number of cases, she generally sided with other liberal justices in interpreting the habeas corpus provisions of the Antiterrorism and Effective Death Penalty Act (AEDPA) in ways that softened its impact in limiting death penalty challenges, sometimes in the majority, but more often in dissent.
In one significant line of decisions, Ginsburg joined a cross-ideological, five-justice majority that limited the role of judges vis-à-vis juries in criminal sentencing, but then stopped short of extending the doctrine to totally scrap the federal guidelines system. In Apprendi v. New Jersey (2000), the Court struck down as an infringement of the right to trial by jury a state "hate crime" law allowing a judge to impose an enhanced sentence after finding the offense motivated by, for example, racial prejudice. Ginsburg wrote for the Court in Ring v. Arizona (2002) applying a similar rule to death penalty statutes, and she joined the opinion in Blakely v. Washington (2004) in extending the doctrine to invalidate a state sentencing guideline law.
When the Court heard arguments challenging the federal sentencing guidelines scheme, however, Ginsburg helped to partly save the system. In a bifurcated ruling in United States v. Booker (2005), Ginsburg followed the earlier rulings in barring mandatory use of the guidelines, but siding with the Blakely dissenters, she voted to allow federal judges to use the complex calculations as advisory guides for sentences.
In search and seizure law, Ginsburg, like the other liberal justices, reflected the shift toward a more relaxed view of Fourth Amendment restrictions, but she was as likely as any of her colleagues to find challenged law enforcement practices had gone too far. For example, she dissented in the decision in Illinois v. Caballes (2005) to allow police to use a drug-sniffing dog without probable cause for a search in an otherwise lawful traffic stop. The ruling, she warned, "clears the way for suspicionless, dog-accompanied drug sweeps on parked cars along sidewalks and in parking lots."
On similar Fourth Amendment grounds, Ginsburg opposed broad, suspicionless drug-testing in several contexts after initially joining an opinion allowing mandatory drug screening for high school athletes. Ginsburg cautioned in her concurring opinion in Vernonia School District 47J v. Acton (1995) that allowing random drug tests for high school athletes did not necessarily sanction routine drug testing of all students. She then led four dissenters when the Court extended the ruling in Board of Education of Independent School District No. 92 of Pottawatomie County v. Earls (2002) to allow drug testing for any student participating in extracurricular activities. The safety justification for testing athletes did not apply to students participating in such activities as bands or chess clubs, Ginsburg said. And the policy would have a "capricious, even perverse" effect, she said, by discouraging at-risk students from participating in activities that could palliate drug problems. Ginsburg wrote for a nearly unanimous Court in Chandler v. Miller (1997), which struck down a Georgia law requiring drug testing of candidates for state office. Four years later, she joined without separate opinion the decision in Ferguson v. Charleston (2001), which overturned a public hospital's policy of drug-testing pregnant women and turning positive results over to law enforcement authorities.
In church-state cases, Ginsburg has been a consistent vote for interpreting the establishment clause to limit government-sponsored religious expression. She also joined with dissenters in opposing Rehnquist's successful efforts to ease rules against use of government funds at religious schools. She voted with the majority in Santa Fe Independent School District v. Doe (2000) to prohibit school-sponsored prayers at high school football games and with the dissenters two years later in the ruling, Zelman v. Simmons-Harris (2002), that allowed tax-paid vouchers for students attending church-affiliated schools. In 2005 she voted once with the majority and once in dissent to bar officially sponsored displays of the Ten Commandments in or around government buildings.
Among the eight decisions on church-state cases, however, Ginsburg wrote separately only once, and that was on a procedural issue. In Agostini v. Felton (1997), Ginsburg objected to the majority's decision to allow New York City to reopen a decade-old case to challenge—and overrule—the Court's 1985 decision in Aguilar v. Felton, barring use of federal funds to pay public school teachers to provide remedial services at parochial schools. The city had invoked Rule 60(b) of the Federal Rules of Civil Procedure to reopen the case, but Ginsburg quoted the rule to show that it applied only to federal district courts. Using the rule in effect to ask the Court to reconsider a prior ruling was "unprecedented" and "aberrational," she said.
Ginsburg has also aligned herself with the liberal bloc in opposing another significant Rehnquist legacy—the use of federalism principles to limit Congress's power vis-à-vis the state—but without writing opinions herself. She dissented but did not write separately from the six decisions between 1996 and 2000 that barred private damage suits against state governments for violating federal law. Two of those cases involved major federal civil rights statutes: Kimel v. Florida Board of Regents (2000) prohibited actions under the Age Discrimination in Employment Act; and Board of Trustees of the University of Alabama v. Garrett (2001) protected states from damage suits under the employment provisions of the ADA.
Ginsburg's concern with disability rights and access to courts did prompt a brief concurring opinion when the Court allowed a suit against the state of Tennessee for violating the ADA's provisions requiring barrier-free access to public buildings, including courthouses. She noted that Congress had considered "a body of evidence" showing that persons with disabilities faced obstacles in using public facilities and services. That evidence, Ginsburg wrote, "sufficed to warrant the barrier-lowering, dignity-respecting national solution the People's representatives in Congress elected to order."
Ginsburg also dissented from a second line of cases limiting Congress's use of the commerce clause to adopt laws touching on areas traditionally left to the states. One of those rulings, United States v. Morrison (2000), struck down the Violence Against Women Act, a law strongly backed by women's groups that allowed federal court suits for victims of "gender-motivated" violence. Even though the case involved an area of Ginsburg's special concern, she chose to join Breyer's dissent without writing herself.
In September 1999, three weeks before the beginning of her seventh term, Ginsburg underwent surgery for colon cancer. Ginsburg provided detailed information about her illness and course of treatment and did not miss a single Court session during the term despite receiving "precautionary" chemotherapy from January through June. Some observers thought Ginsburg appeared weak or tired, and her written work for the term was somewhat diminished. Still, one law professor aptly credited her with "a remarkable display of will power." By the start of the 2000 term, Ginsburg appeared completely recovered. And as she reached her tenth year on the Court, the Columbia Law Review assembled a symposium to analyze her contributions to the law and pay tribute to her accomplishments.
Among the many who sang Ginsburg's praises, perhaps no one better captured the essence of her judicial philosophy than David Shapiro, a Harvard Law School professor, who noted that he had worked with Ginsburg on several law reform projects related to civil procedure and federal jurisdiction. Ginsburg's work "represents the best qualities a judge can have," Shapiro wrote. He cited first "lawyerly precision" and then her "strong sense of the importance of context and of resolving the controversy at hand without reaching well beyond that controversy to resolve disputes not yet presented." But he closed with the tacit recognition that Ginsburg was no mere legal technocrat by citing as well her "determination to interpret and apply statutes, rules, and the common law with respect for the humane and efficient administration of justice."
Bibliography
Columbia Law School marked the tenth anniversary of Justice Ginsburg's appointment to the Court with a symposium in her honor on September 12, 2003. The papers prepared for the symposium, published in Columbia Law Review 104 (January 2004), include an introductory overview by Prof. Herma Hill Kay of the University of California, Berkeley, School of Law, and five separate essays examining Ginsburg's jurisprudence in civil procedure and federal jurisdiction, opportunity and equality, constitutional interpretation, disability rights, and affirmative action.
Biographical essays in two recent books on members of the Rehnquist Court focus on Ginsburg's work on gender discrimination before and after becoming a justice. See "Ruth Bader Ginsburg's Equal Protection Clause," in Mark Tushnet, A Court Divided: The Rehnquist Court and the Future of Constitutional Law (2005); and Judith Baer's essay "Advocate on the Court: Ruth Bader Ginsburg and the Limits of Formal Equality," in Earl Maltz, ed., Rehnquist Justice: Understanding the Court Dynamic (2003).
Noteworthy Opinions
Harris v. Forklift Systems, Inc., 510 U.S. 17 (1994) (Concurrence)
Romano v. Oklahoma, 512 U.S. 1 (1994) (Dissent)
Honda Motor Co. v. Oberg, 512 U.S. 415 (1994) (Dissent)
Missouri v. Jenkins, 515 U.S. 70 (1995) (Dissent)
Miller v. Johnson, 515 U.S. 900 (1995) (Dissent)
United States v. Virginia, 518 U.S. 515 (1996)
Chandler v. Miller, 520 U.S. 305 (1997)
Agostini v. Felton, 521 U.S. 203 (1997) (Dissent)
Olmstead v. L. C., 527 U.S. 581 (1999)
Ring v. Arizona, 536 U.S. 584 (2002)
Gratz v. Bollinger, 539 U.S. 244 (2003) (Dissent)
Illinois v. Caballes, 543 U.S. 405 (2005) (Dissent)
Halbert v. Michigan, 545 U.S. ____ (2005)