Curtis, Benjamin Robbins
Curtis, Benjamin Robbins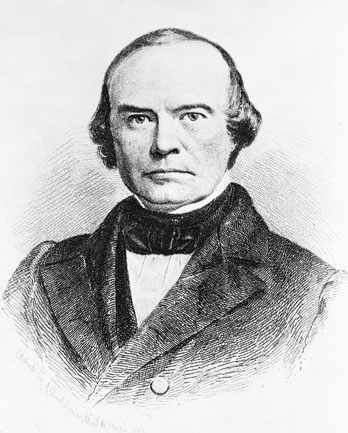 Birth: November 4, 1809, Watertown, Massachusetts.
Education: Harvard College, graduated 1829 with highest honors; Harvard Law School, graduated 1832.
Official Positions: Massachusetts state representative, 1849–1851.
Supreme Court Service: Recess appointment as associate justice by President Millard Fillmore, September 22, 1851, to replace Justice Levi Woodbury, who had died; nominated December 12, 1851, confirmed by the Senate, December 23, 1851, by a voice vote; took judicial oath October 10, 1851; resigned September 30, 1857; replaced by Nathan Clifford, nominated by President James Buchanan.
Death: September 15, 1874, Newport, Rhode Island.
Participation in Key Cases
Opinions Written
Learn more about Supreme Court Justices
Learn More About This Supreme Court Justice
Document Outline
Benjamin Robbins Curtis
Bibliography
Noteworthy Opinions

Benjamin Robbins Curtis
After receiving degrees from Harvard College in 1829 and Harvard Law School in 1832, Benjamin R. Curtis spent the next seventeen years in law practice in Massachusetts. In 1849 he was elected to the Massachusetts House of Representatives and served for two years. President Millard Fillmore, following the advice of his secretary of state, Daniel Webster, then chose Curtis to fill the "New England" seat on the U.S. Supreme Court vacated by the death of Levi Woodbury.
Justice Curtis's six-year tenure was marked by enormous transition in the Court's jurisprudence, particularly with regard to the commerce clause and the Fifth Amendment's guarantee of due process. In his first term, the junior justice forged a valuable consensus in Cooley v. Board of Wardens of the Port of Philadelphia (1851), a challenge to a Pennsylvania law that required all vessels using the port of Philadelphia to employ local pilots or pay a substantial fine. Shipmaster Cooley contended on appeal that the statute violated the federal government's "exclusive" commerce clause power to regulate pilotage. Curtis, in a majority opinion noted for its balanced approach to the thorny conflict of national and state concerns, rejected Cooley's argument and upheld the law:
Either absolutely to affirm, or deny that the nature of this power requires exclusive legislation by Congress, is to lose sight of the nature of the subjects of this power, and to assert concerning all of them, what is really applicable but to a part. Whatever subjects of this power are in their nature national, or admit only of one uniform system or plan of regulation, may justly be said to be of such a nature as to require exclusive legislation by Congress. That this cannot be affirmed of laws for the regulation of pilots and pilotage is plain.
In fact, he continued, Congress had expressly stated in the Judiciary Act of 1789 that such matters should be governed by existing state laws until further congressional enactment.
In crafting the "selective exclusiveness" standard later known as the Cooley doctrine, Curtis set forth a pragmatic method for distinguishing subjects of exclusive federal control from those that might be governed locally or concurrently between the federal government and the states. Although ultimately supplanted by a more flexible balancing approach to delineating the boundaries of the commerce power, the Cooley doctrine nevertheless provided a useful analytical transition from the rigidity of earlier commerce clause decisions.
Curtis also influenced the Court's nascent due process jurisprudence. In Murray's Lessee v. Hoboken Land & improvement Co. (1856), he wrote on behalf of a unanimous Court that the Fifth Amendment guarantee of due process applied to the actions of Congress as well as to those of the executive and judicial branches. In so doing, Curtis proffered an instrumental definition of due process as procedures that did not conflict with specific written constitutional provisions or with the "settled modes and usages" of English and early American practice. Curtis's other noteworthy opinions include: Steamboat New World v. King (1854), in which the Court broadened the scope of federal admiralty jurisdiction to include inland rivers on the basis of their navigability rather than the ebb and flow of the ocean tides, and Lafayette Insurance Company v. French (1856), in which the Court clarified the jurisdictional status of corporations as "citizens" of their state of incorporation.
Aside from Cooley, however, Curtis's most memorable opinion is his forceful dissent in Dred Scott v. Sandford (1857). In response to the majority's denial of Scott's appeal on the grounds that Congress was powerless to prohibit slavery and that blacks were not entitled to the privileges and immunities of national citizenship, Curtis methodically, thoroughly, and devastatingly dissected the flaws of the majority's reasoning. In the mistaken belief that the majority decision had already been filed, Curtis prematurely released a copy of his dissent to a Boston reporter. The story exacerbated the already tense atmosphere of disagreement over the decision. Shortly thereafter, Curtis resigned from the Court, citing the inadequate salary—he had a large family to support—and conflicting "private duties" as his motivations. It is quite likely that his loss of confidence in the Court following the Dred Scott decision was a significant contributing factor.
While on the Court, Curtis edited two significant reference works, Reports of Cases in the Circuit Courts of the United States (2 vols., 1854), and Decisions of the Supreme Court of the United States (22 vols., 1856). The latter accomplishment was one of the earliest compilations of condensed decisions in the history of the Court.
After leaving the bench, Curtis devoted the rest of his life to private law practice and argued fifty-four cases before the Court. In 1868 he successfully defended President Andrew Johnson in his Senate impeachment trial. After several years of poor health, he died on September 15, 1874, in Newport, Rhode Island.
Bibliography
Curtis's papers are available at both the Library of Congress and the American Antiquarian Society in Boston. The Life and Writings of Benjamin Robbins Curtis and A Memoir of Benjamin Robbins Curtis, LL.D., with Some of His Professional and Miscellaneous Writings, both edited by the justice's son, Benjamin R. Curtis, in 1879, are wide-ranging collections of Curtis's correspondence, speeches, judicial opinions, and other writings. The most complete study of Justice Curtis to date is an unpublished doctoral dissertation by Richard H. Leach, "Benjamin R. Curtis: Case Study of a Supreme Court Justice" (Princeton, 1951). Portions of this project have been published in three articles: "Benjamin Robbins Curtis: Judicial Misfit," New England Quarterly 25 (1952): 507; "Benjamin Robbins Curtis: A Model for a Successful Legal Career," American Bar Association Journal 41 (1955): 225; and "Justice Curtis and the Dred Scott Case," Essex Institute Historical Collection 94 (1958): 37. Recent scholarship tends to focus on his Dred Scott opinion; see Sanford Levinson, "Abraham Lincoln, Benjamin Curtis, and the Importance of Constitutional Fidelity," Green Bag 4 (n.s. 2001): 419; and Earl Maltz, "The Unlikely Hero of Dred Scott: Benjamin Robbins Curtis and the Constitutional Law of Slavery," Cardozo Law Review 17 (1996): 1995.
Noteworthy Opinions
Cooley v. Board of Wardens of the Port of Philadelphia, 53 U.S. 299 (1851)
Murray's Lessee v. Hoboken Land & Improvement Co., 59 U.S. 272 (1856)
Dred Scott v. Sandford, 60 U.S. 393 (1857) (Dissent)