Hillary Clinton: Comparing Her 2016 Showing with 2008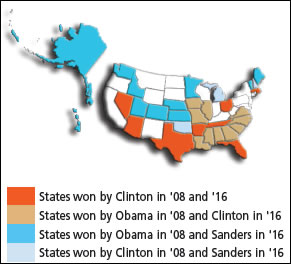 Hillary Clinton has transformed a losing campaign for the Democratic presidential nomination in 2008 to a seemingly winning one this year by flipping the vote in the South. Seven Southern primary states that Barack Obama won in 2008 voted decisively for Clinton in 2016. The region has a significant African-American population that strongly preferred Obama over Clinton in 2008 but lined up virtually en masse for Clinton over Bernie Sanders this time. Another cluster of former Obama states that switched to Clinton in 2016 is in the Midwest (Illinois, Iowa, and Missouri). Meanwhile, three states that voted for Clinton in 2008 flipped to Sanders this time - the diverse trio of Michigan, New Hampshire, and Oklahoma. Altogether, through the end of March, Clinton has won 18 primary and caucus states, compared to 14 for Sanders. As for the cumulative Democratic presidential primary vote, Clinton led Sanders through March by 2.7 million votes out of barely 15 million cast. At a similar date in 2008, Obama led Clinton by less than 200,000 votes out of nearly 30 million cast. Two major reasons for the large turnout disparity: The particularly intense interest in the 2008 Democratic race; and the fact that three populous states - California, New Jersey, and New York - that voted in February eight years ago, have yet to vote this spring. In the chart below, "(c)" indicates a caucus state.
Source: The Rhodes Cook Letter, March 2016
About a dozen year's ago, yours truly wrote a book titled The Presidential Nominating Process: A Place for Us? The thrust was that millions of voters did not have a meaningful voice in the nominating process because their states voted after the competitive stage had ended.
Since the beginning of this millennium, that has been around the ides of March. After that, the nominating process has been essentially over, as the dozen or two later primaries served only a "mop-up" role as both parties turned their attention to the fall campaign.
There have been only two exceptions to these early endings since 2000. In 2012, the Republican campaign extended to Wisconsin in early April, when Mitt Romney knocked his major challenger, Rick Santorum, out of the race.
And in 2008, Barack Obama and Hillary Clinton engaged in their "instant classic" that lasted from the Iowa caucuses in early January through the last round of primaries in early June.
This year, though, it would be no surprise if both the Democratic and Republican nominating campaigns remain alive through the end of the primary season. Arguably, it would be the first time in 40 years that this happened in both parties.
The following graph illustrates the number of Democratic primary voters by the end of March 2008 (with Hillary Clinton facing off against Barack Obama) and in 2016 (with Hillary Clinton facing off against Bernie Sanders).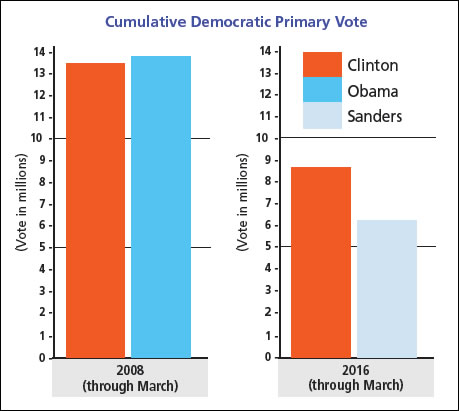 This graph below allows you to see which states Hillary Clinton has won in 2016 that she also won in 2008 and which ones she has won in 2016 that Barack Obama won in 2008. The same is also shown for Bernie Sanders.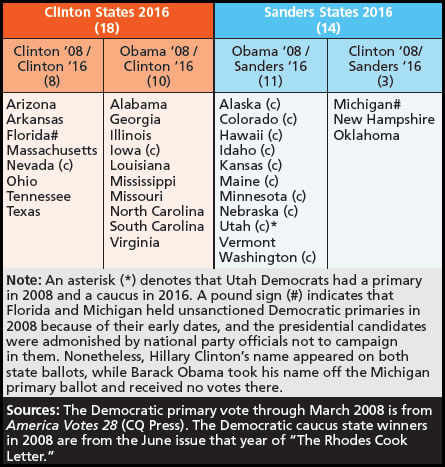 ---
Document Citation
Cook, R. (2016). Hillary Clinton: comparing her 2016 showing with 2008. http://library.cqpress.com/elections
---
Document ID: rcookltr-1527-99581-2727680
Document URL: http://library.cqpress.com/elections/rcookltr-1527-99581-2727680
---