Battle of the Ballots: Democrats Win in '08, GOP Ahead So Far in '16 (Comparing Presidential Primary Turnouts)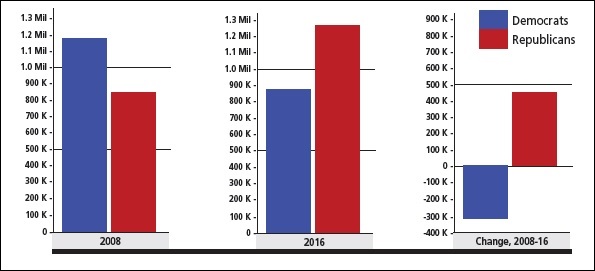 In 2008, Democrats set presidential primary and caucus turnout records in state after state. It was a show of voter interest in the party and its eventual standard-bearer, Barack Obama, that extended through his decisive victory that fall. During February this year, it has been the Republicans that have been drawing the greater number of voters, although it is too soon yet to determine whether the GOP upswing represents a positive or a negative for the party's chances in November. Put another way: Is Donald Trump significantly expanding the Republican electorate or is he badly polarizing it?
Source: The Rhodes Cook Letter, February 2016
The following table breaks down voter turnout in early primaries and caucuses by party, offering total turnout by party and comparisons between 2008 and 2016.

---
Document Citation
Cook, R. (2016). Battle of the ballots: democrats win in '08, GOP ahead so far in '16 (comparing presidential primary turnouts). http://library.cqpress.com/elections
---
Document ID: rcookltr-1527-98496-2720721
Document URL: http://library.cqpress.com/elections/rcookltr-1527-98496-2720721
---