Election 2014: Voter Turnout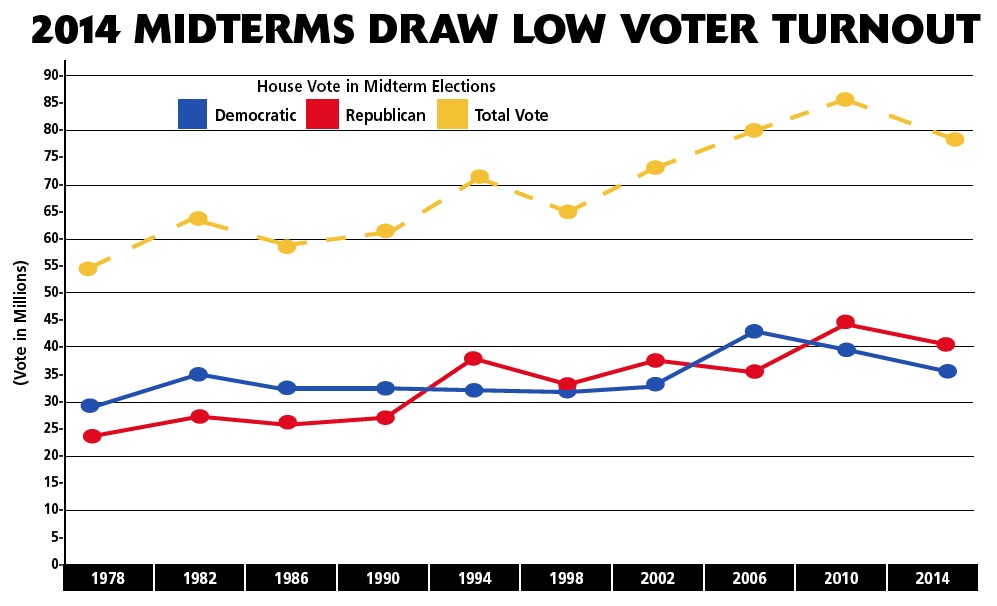 The Republicans' midterm victory in 2014 was accomplished against a backdrop of low turnout, as the GOP received nearly 5 million fewer congressional votes than in 2010. In addition, the number of ballots cast for Democratic House candidates was down nearly 3.5 million from four years earlier, producing an overall falloff of 8.5 million votes from 2010 to 2014. Put another way, one out of every 10 voters in 2010 did not cast a ballot in 2014. The aggregate vote for the House of Representatives is the closest thing to a nationwide popular vote in a midterm election. It is the only office contested in all 50 states (although to be sure, in a few districts one candidate runs unopposed and no vote is taken). Altogether, the 78 million congressional votes cast in 2014 was the lowest midterm total since 2002, and marked the first time since 1998 that the number of ballots cast for the House was lower than in the previous midterm election four years earlier.
Document Outline
An Historical Look at Voter Turnout in House Races

An Historical Look at Voter Turnout in House Races
In midterm election years, the only office on the ballot in every state is the House of Representatives. In 2014, Republicans won the aggregate nationwide House vote with 51% of the total cast to 46% for the Democrats. It was nearly a mirror image of the nationwide popular vote for president two years earlier, which Barack Obama won over Republican Mitt Romney, 51% to 47%. The GOP's vote performance in 2014 was strong enough to win 247 House seats, the party's most since the 1920s. However, it was not as strong as their showing in 2010 when Republicans took 52% of the aggregate House vote. The GOP margin over the Democrats then was nearly 6 million votes. Last fall, the Republican advantage fell just short of 4.5 million.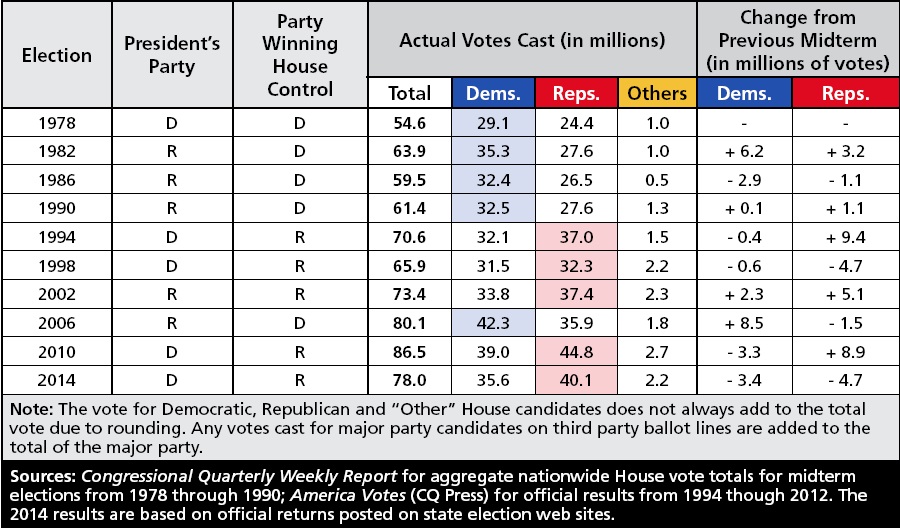 Document Outline
An Historical Look at Voter Turnout in House Races

---
Document Citation
Cook, R. (2015). Election 2014: Voter turnout. http://library.cqpress.com/elections
---
Document ID: rcookltr-1527-95473-2665880
Document URL: http://library.cqpress.com/elections/rcookltr-1527-95473-2665880
---