Building a GOP Senate Majority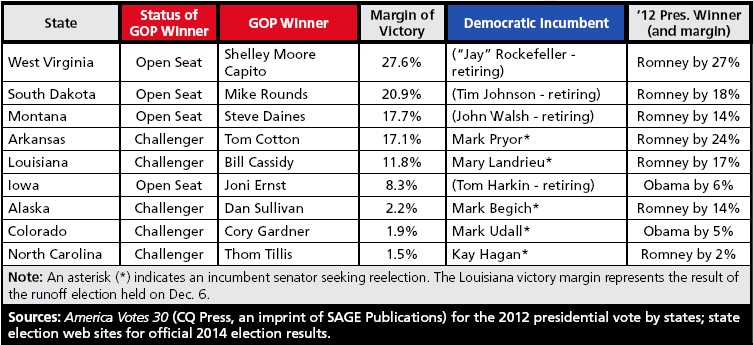 Republicans needed a net gain of six seats in 2014 to capture control of the Senate. They won nine, and came within 1 percentage point in Virginia of taking a tenth. Five of the Senate seats Republicans gained were with double-digit margins percentagewise. A pivotal sixth victory was posted in Iowa by a margin of 8 percentage points. The three other Republican Senate pickups in 2014 came by margins of 2 points or less. States that voted decisively in 2012 for GOP presidential standard-bearer, Mitt Romney, were particularly fertile ground for Republican Senate gains this year. All of the nine are listed below in rank order from the largest to the smallest margin of victory.
Document Outline
Republican Senate Victories

Republican Senate Victories
Republicans succeeded grandly in 2014 by dominating their home turf, a large sector of the country that has long been referred to here as the Republican "L." The cornerstone of the "L" is the South (the 11 states of the old Confederacy plus Kentucky and Oklahoma). It also includes the Plains states (Kansas, Nebraska, North and South Dakota), and the Mountain West (which in this corner, includes Alaska). Altogether, 26 states comprise the "L."
The new Republican Senate was crafted in this swath of the country. Of the nine Senate seats that the GOP gained in 2014, three were in the Mountain West (Alaska, Colorado and Montana), three more were in the South (Arkansas, Louisiana and North Carolina), and one was in the Plains (South Dakota). The two other GOP Senate pickups were in Iowa, a battleground state in the agricultural Midwest, and West Virginia, geographically joined to the Democratic Northeast but more similar to the Republican South in its recent voting habits.
Of the 23 Senate races conducted last fall within the "L," Democrats won only two – reelecting Tom Udall in New Mexico and Mark Warner in Virginia. The latter won a second term by less than 20,000 votes out of nearly 2.2 million cast. Warner ultimately prevailed by rolling up the vote in the populous suburbs of Northern Virginia, a region of the state more akin to the Democratic Northeast than the Republican South.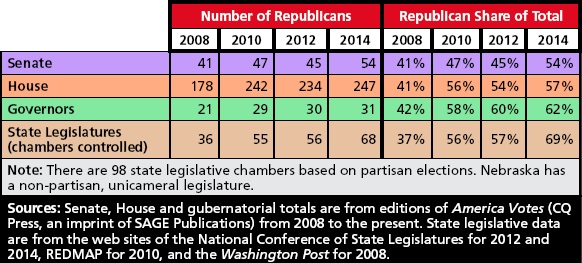 Document Outline
Republican Senate Victories

---
Document Citation
Cook, R. (2014). Building a GOP Senate majority. http://library.cqpress.com/elections
---
Document ID: rcookltr-1527-95470-2665865
Document URL: http://library.cqpress.com/elections/rcookltr-1527-95470-2665865
---