Changes in Party Control on Capitol Hill since World War II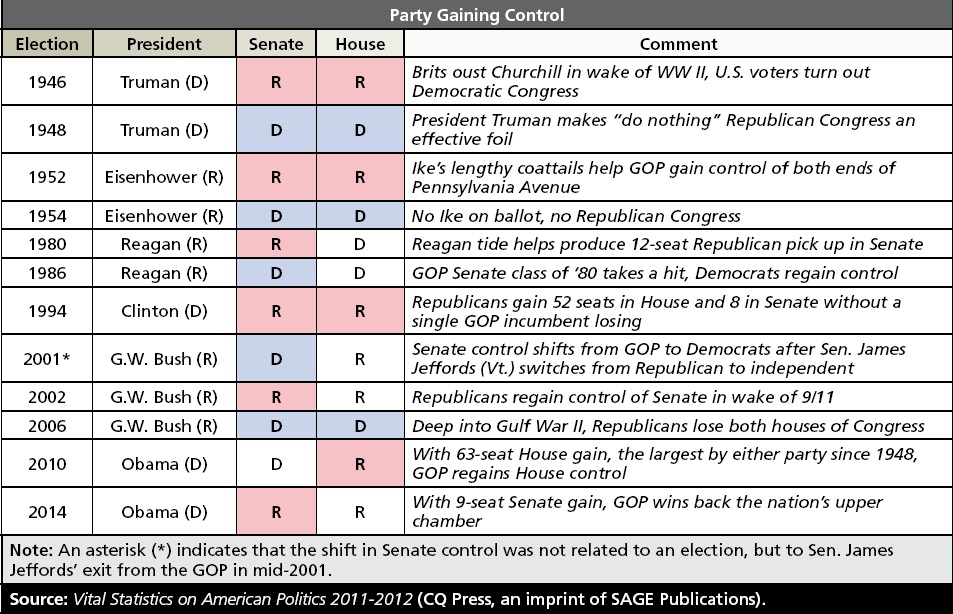 Since the end of World War II, the ebb and flow in the control of Congress has basically been confined to two time periods: 1) the first decade after World War II; and 2) the last two decades since 1994 (when Republicans won both houses of Congress for the first time since 1952). The only other changes in congressional control in the post-World War II era came in the 1980s, when the Senate went Democratic to Republican and back again. Partisan switches in Senate or House control are indicated with a background of blue (a switch to the Democrats) or red (a switch to the Republicans).
Document Outline
The Democrats' Prospects in 2016

The Democrats' Prospects in 2016
Many Democrats these days do not appear to view their situation as dire, instead appearing confident that the 2016 election will act as a major corrective. Their "type of crowd" should be voting in larger numbers than in a midterm. And if Hillary Rodham Clinton leads the national ticket, the Democrats will have a universally known candidate who should be able to run a highly competitive race.
If she does not run, however, the Democrats could be in the proverbial "deep doo-doo," with what appears to be the weakest bench of presidential contenders that the party has seen in years.
And that is not the only challenge that the Democrats would face next year. History will not be a friend. Since the end of the Democrats' 20-year White House run in early 1953, only once has a party won more than two consecutive presidential terms. That came when Republican George H.W. Bush secured what was widely considered to be Ronald Reagan's "third term" in 1988.
When Democrats last had a chance to win the presidency for the third straight time in 2000, Democrat Al Gore lost the all-important electoral vote, in spite of an economy that was humming, and a president in Bill Clinton who was leaving office with an approval rating well above 50%.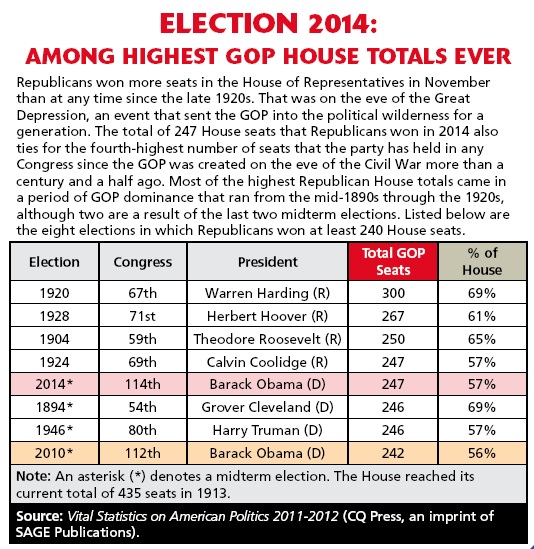 Document Outline
The Democrats' Prospects in 2016

---
Document Citation
Cook, R. (2014). Changes in party control on Capitol Hill since World War II. http://library.cqpress.com/elections
---
Document ID: rcookltr-1527-95469-2665860
Document URL: http://library.cqpress.com/elections/rcookltr-1527-95469-2665860
---