Governors and Senators Up for Reelection in 2016
March primaries decided fall Senate pairings in two states, Illinois and Ohio, that very well could be key to control of the nation's upper chamber in 2017. Democratic primary voters in Illinois picked Rep. Tammy Duckworth to oppose Republican Sen. Mark Kirk, while in Ohio the Democrats chose former Gov. Ted Strickland to challenge GOP incumbent Rob Portman. The next big day for Senate primaries is April 26, when Democratic and Republican voters in Maryland and Pennsylvania will decide their nominees. The race in Maryland is for the seat being vacated by Democratic Sen. Barbara Mikulski; in Pennsylvania, for the seat that is currently held by Republican Sen. Pat Toomey.
Source: The Rhodes Cook Letter, March 2016
There was some thought that the large presidential primary turnouts thus far this year and the significant voter support for "outsider" candidates might pose problems for congressional and gubernatorial incumbents seeking renomination in 2016. But so far, that has not been the case. Senate incumbents were not threatened at the ballot box in March primaries. Nor was the one governor that faced his party's voters, Pat McCrory of North Carolina. At the House level, it was a similar story. No representatives were defeated in March. Senate and gubernatorial candidates are listed in the chart below who received at least 10% of their party's primary ballots. Incumbents, all Republicans, are listed with a red background.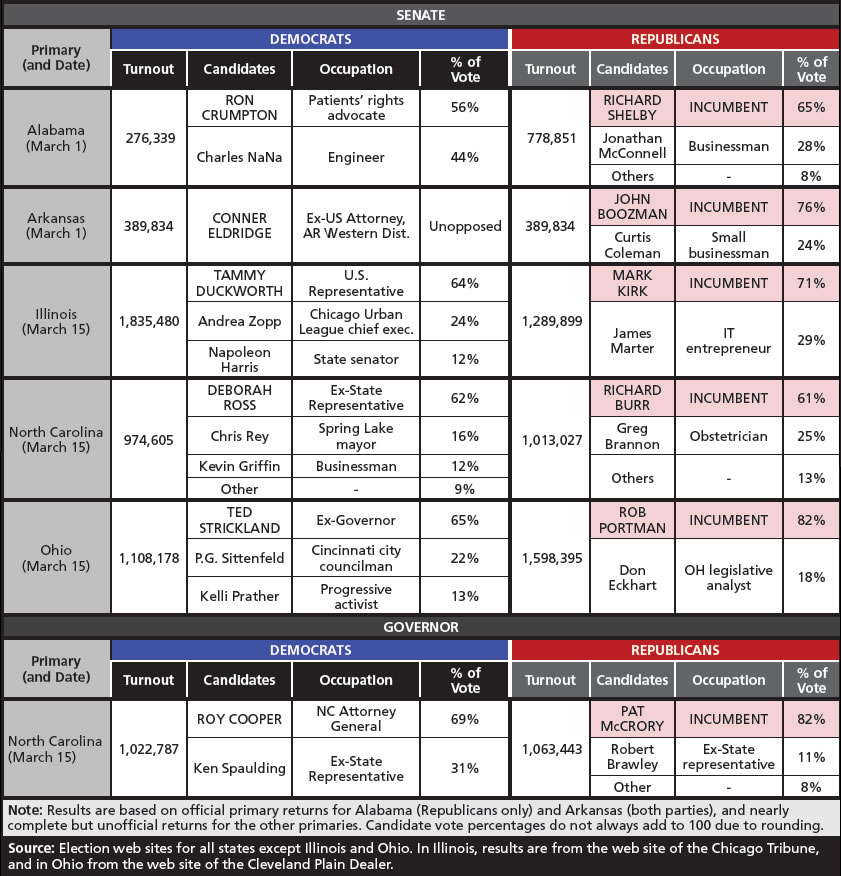 ---
Document Citation
Cook, R. (2016). Governors and senators up for reelection in 2016. Retrieved from http://library.cqpress.com/
---
Document ID: rcookltr-1527-99582-2727686
Document URL: http://library.cqpress.com/elections/rcookltr-1527-99582-2727686
---