Leading Presidential Primary Vote-Getters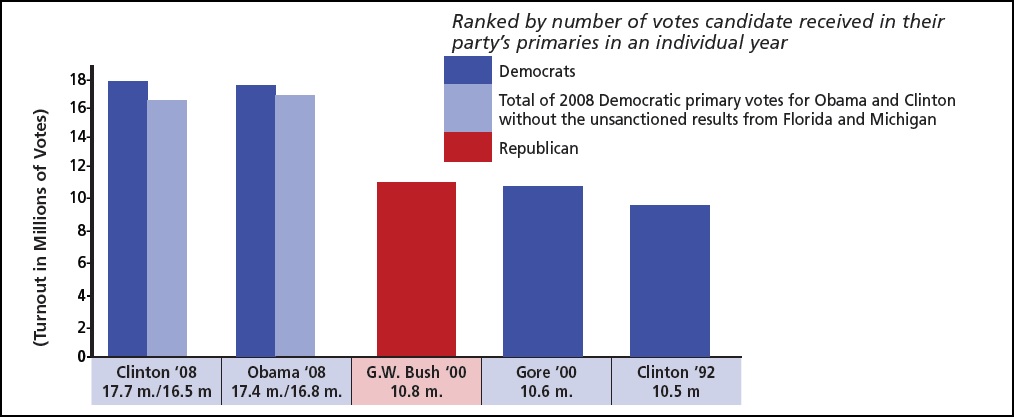 Whether Barack Obama or Hillary Clinton is the all-time leading presidential primary vote-getter is a matter of dispute. It depends on how one tallies the vote in their classic 2008 battle for the Democratic nomination, which lasted the entire primary season. If results are counted from all the primaries that year (in the states and the District of Columbia), Clinton ended up with 17.7 million votes to Obama's 17.4 million. However, the Democratic primaries in Florida and Michigan in 2008 were not sanctioned by the national party. Consequently, no delegates were at stake in either state and candidates were admonished not to campaign in them because both states flaunted party rules by holding their contests in January. Remove the Florida and Michigan results and the nationwide Democratic primary vote in 2008 favored Obama - 16,847,100 to Clinton's 16,515,604. Yet either set of numbers is far above the total vote that any other Democratic or Republican candidate ever received in a primary season.
Below, find a chart that shows highest vote-getting presidential primary candidates. You will also find a list of the candidates that received the highest share of their party's primary vote since 1972, the start of the primary-dominated era of the nation's presidential nominating process. Incumbent presidents are included who drew at least 90% of their party's primary vote, and non-incumbent candidates who garnered at least 50%.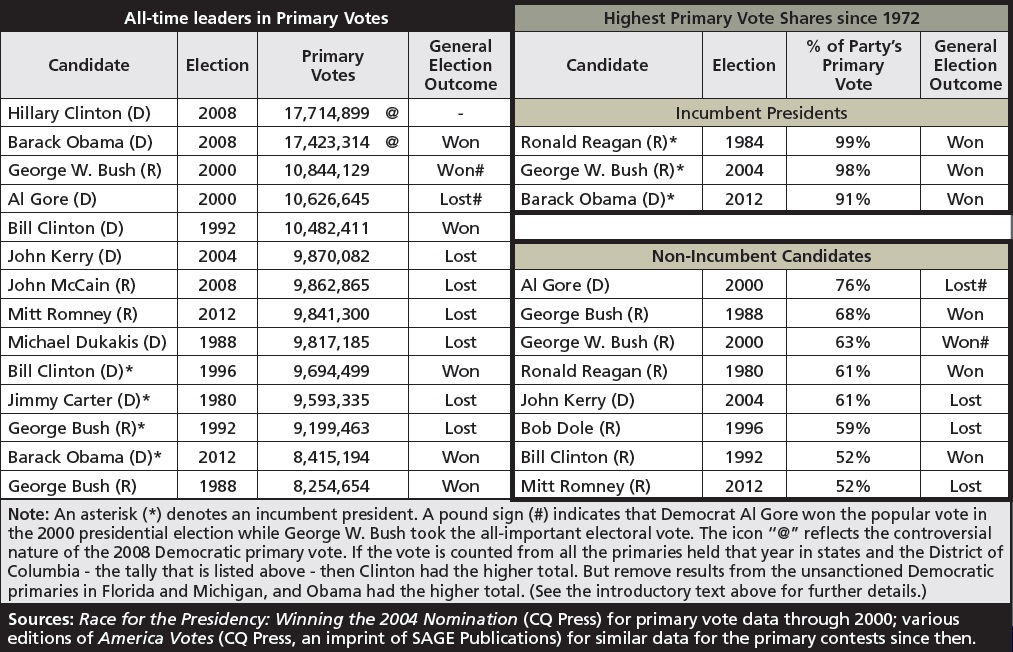 ---
Document Citation
Cook, R. (2015). Leading presidential primary vote-getters. Retrieved from http://library.cqpress.com/
---
Document ID: rcookltr-1527-97857-2711660
Document URL: http://library.cqpress.com/elections/rcookltr-1527-97857-2711660
---