Presidential Primary Turnouts since 1968

With the dramatic growth of presidential primaries in the 1970s and 1980s, there was also a stark increase in the primary turnout, as measured by the aggregate, nationwide number of votes cast in these contests. Turnouts have been highest in years when both parties had open, competitive battles for their nominations, as will be the case in 2016. Turnouts have been less in years when one party had a president running virtually unchallenged for re-nomination, such as in 2004 and 2012. The former was certainly the case in 2008, when both parties had open contests and set historic records for primary turnouts. Close to 37 million votes were cast on the Democratic side, as Barack Obama and Hillary Clinton contested each primary through the end of the spring. Close to 21 million votes were cast on the Republican side, where the nomination was decided earlier in the primary season. In most cases, the nominee in each election who won the larger share of his party's primary vote went on to take the general election. In the chart below, the party with the highest number of primary voters each election is shaded in blue (Democrat) or red (Republican), as appropriate. The highest all-time primary turnout for each party is shaded in a darker shade of blue or red.
The table below summarizes presidential primary voting going back to 1968. In it, you will find the total primary voter turnout for each election year, turnout by party, and each nominee's share of the primary vote.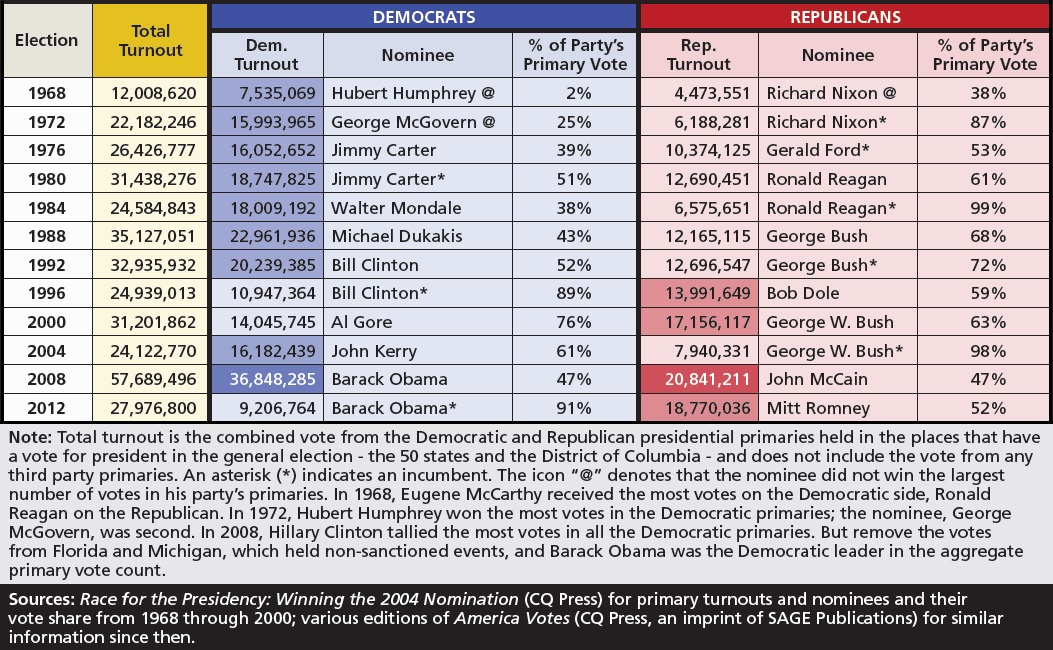 ---
Document Citation
Cook, R. (2015). Presidential primary turnouts since 1968. http://library.cqpress.com/elections
---
Document ID: rcookltr-1527-97856-2711655
Document URL: http://library.cqpress.com/elections/rcookltr-1527-97856-2711655
---