2016 Primary Landscape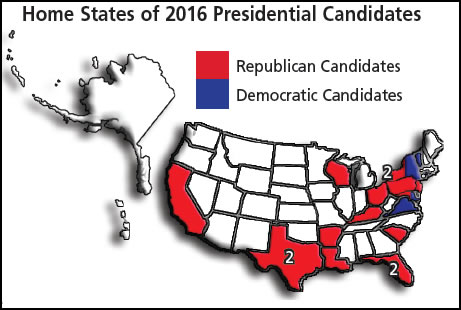 The 2016 presidential field is large, but not that geographically diverse. The five Democratic candidates are all from a small swath of America extending from Virginia northeastward to Vermont. The bulk of the 16 Republican candidates are primarily from two regions, the South (8 candidates) and the Northeast (5). Only two GOP candidates, Govs. John Kasich of Ohio and Scott Walker of Wisconsin, are from the battleground states of the Midwest. And only one candidate is identified with the West, Republican Carly Fiorina, who fashioned her previous professional and political careers in California. The state with the most candidates, New York, is currently home to Democrat Hillary Clinton and Republicans George Pataki and Donald Trump.]
Source: The Rhodes Cook Letter, July, 2015 The Rhodes–Cook Letter, July, 2015
Document Outline
The Symbolism of Place: Candidacy Announcements

The Symbolism of Place: Candidacy Announcements
Of interest, at least in this corner, is where the various 2016 candidates chose to announce their candidacies, with many of the locales clearly picked for their symbolic importance.
Trump, for instance, selected the luxurious Trump Tower in mid-town Manhattan as his announcement site. It was a place that underscored his Midas-sized wealth, as well as his ubiquitous branding.
Across the Hudson River, Republican Gov. Chris Christie took a different tack. He went to his old high school in Livingston, N.J., to formally launch his campaign. Another GOP governor, John Kasich, also took the academic route, declaring his candidacy at his alma mater, the Ohio State University.
Campus sites were chosen as well by Republicans Cruz and Bush, though more to make a broader political point than to reflect any personal connection. Cruz went to Jerry Falwell's Liberty University, long considered a bridge between Christian evangelism and conservative politics. Bush made his announcement at Miami Dade College, a heavily Hispanic academic community where the former Florida governor could underscore his outreach to Latinos.
Fellow Floridian Marco Rubio selected Miami's Freedom Tower as his announcement site. Rubio's parents were immigrants from Cuba, many of whom came into the United States through the Freedom Tower.
Meanwhile, former GOP Sen. Rick Santorum of Pennsylvania went to a factory on his political turf in the Pittsburgh area to draw the link between his conservative politics and the plight of struggling blue-collar workers.
Several other candidates chose their home towns in which to announce their candidacies, whether a major urban center such as Detroit (for Republican Ben Carson) or the small communities in Arkansas and South Carolina where Republicans Mike Huckabee and Lindsey Graham, respectively, have their roots.
And then there were the candidates who dispensed with announcement rallies altogether. The two leading Democrats, Clinton and Sanders, declared their presidential intentions via video and e-mail, respectively, while Republican Carly Fiorina went on ABC's "Good Morning America" to announce her presidential bid.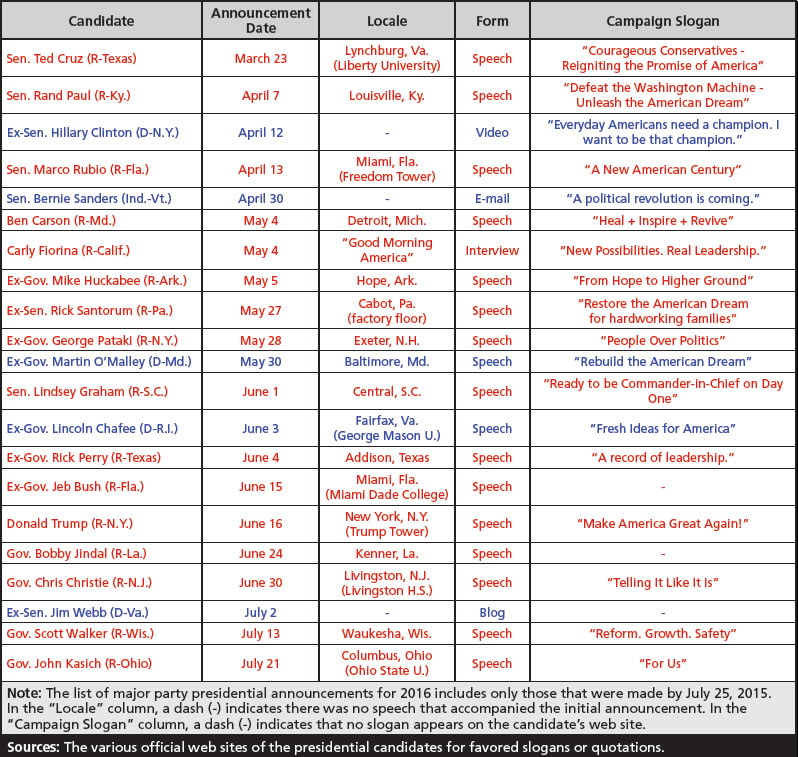 Document Outline
The Symbolism of Place: Candidacy Announcements

---
Document Citation
Cook, R. (2015). 2016 primary landscape. http://library.cqpress.com/elections
---
Document ID: rcookltr-1527-97782-2707658
Document URL: http://library.cqpress.com/elections/rcookltr-1527-97782-2707658
---