Primary Elections and Incumbency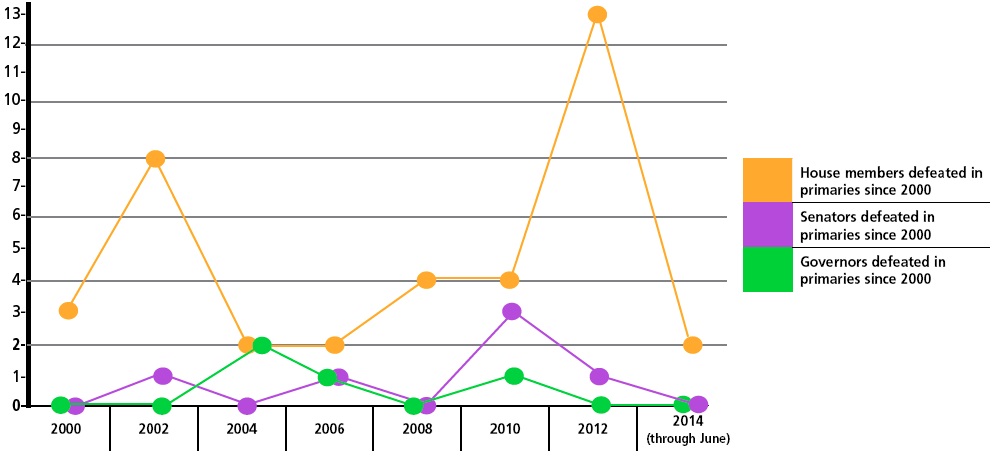 If the 2014 primary season was World Cup soccer, it might be described as a lot of action but few goals. The Republican primaries have been enlivened by "Tea Party" versus GOP establishment contests in a number of states and districts. But more than halfway through this year's primaries, the total of congressional and gubernatorial casualties has been small - no governors, no senators and just two representatives have lost. The number of incumbent primary defeats will have to increase significantly in the contests to come to match the 2010 totals. Then, there were losses at all of these levels, with four representatives, three senators and a governor losing their bids for renomination.
Source: The Rhodes-Cook Letter, June, 2014
How to: Voting & Elections Collection offers a number of ways in which researchers can view data on incumbents in general elections. To access the query, click on "Compare Data" on the homepage and select the "Incumbent Races" option. From there races can be found by Congress number or in a specific date range for U.S. House, U.S. Senate, president, and gubernatorial elections. The result will indicate how many incumbents ran from each party and what the win/loss record was. Clicking on the data points will reveal the underlying candidates by name.
Document Outline
Incumbents Defeated in Primaries Since 2000

Incumbents Defeated in Primaries Since 2000
There has not been much carnage thus far among congressional and gubernatorial incumbents in this year's primaries. Through June, only two House members had lost, Eric Cantor of Virginia and Ralph Hall of Texas, and no senators or governors. But there has been plenty of action, almost exclusively on the Republican side. The lone governor, the three senators, and 12 of the 14 representatives who have drawn less than 60% of their party's primary vote (including the two who lost) have been Republicans. The only Democratic House members to survive sub-60% primaries so far this year are both African-Americans, veteran Charles Rangel of New York and Hank Johnson of Georgia.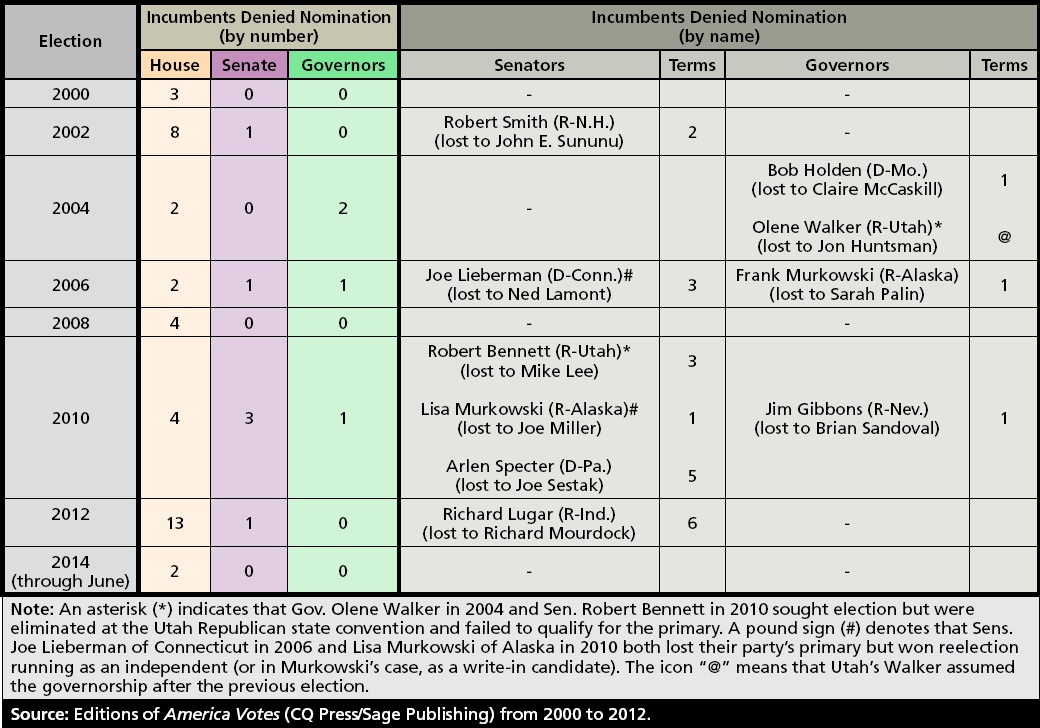 ---
Document Citation
Cook, R. (2014). Primary elections and incumbency. Retrieved from http://library.cqpress.com/
---
Document ID: rcookltr-1527-93201-2624058
Document URL: http://library.cqpress.com/elections/rcookltr-1527-93201-2624058
---