Libertarian Johnson Second Ever to Win 1 Million Votes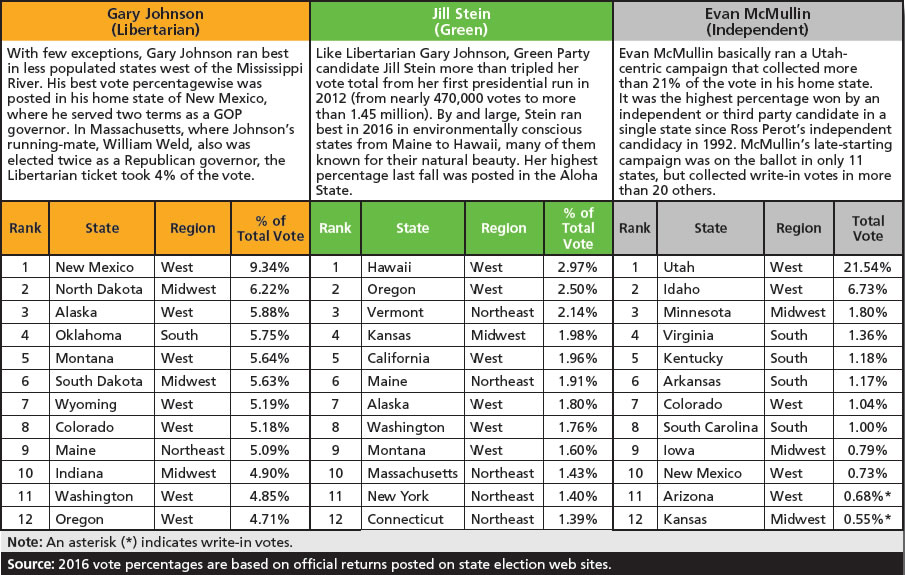 Libertarian Party presidential candidate Gary Johnson fell short last fall of his expressed goal of winning 5% of the nationwide popular vote, which would have triggered millions of dollars in public money to help fund the Libertarian presidential ticket in 2020. Yet Johnson did garner nearly 4.5 million votes in 2016, the highest total by far ever received by a Libertarian candidate and the sixth-highest total ever won by an independent or third party presidential entry. Also, Johnson is just the second independent or third party candidate to win more than 1 million votes in two presidential elections, following Ross Perot in 1992 and 1996. (Johnson drew slightly more than one and a quarter million ballots as the Libertarian standard-bearer in 2012). Following is a list of all independent and third party presidential candidates who have collected at least 1 million votes.
Source: The Rhodes Cook Letter, March 2017
Document Outline
Third Party Impact in the 2016 Election
2016 Third-Party and Independent Presidential Candidate Results

Third Party Impact in the 2016 Election
Roughly one out of every 17 votes cast e out of every 18 votes cast in the 2016 presidential election was for someone other than Trump or Clinton, the highest proportion of non-major party ballot activity since Ross Perot made his two presidential runs in the 1990s.
Altogether, votes for third parties, independents, and write-ins totaled nearly 8 million of the 136.66 presidential votes cast. That far eclipsed Clinton's nearly 2.9-million vote advantage in the popular vote. Most of the third party votes (nearly 4.5 million) went for the Libertarian ticket of Gary Johnson and William Weld (two former Republican governors), who posted by far the highest vote total ever for the ambitious third party in its more than four-decade history.
Green Party candidate Jill Stein drew nearly 1.5 million votes, second only in party annals to the nearly 2.9 million collected by Ralph Nader in 2000.
And independent Evan McMullin, who positioned himself as a polite, low-key, anti-Trump conservative, received more than 700,000 votes, although he was on the ballot in just 11 states. Nearly a quarter million of McMullin's votes came from his home state of Utah. The other votes cast in the 2016 presidential election went for smaller third parties and write-ins.
The third party vote was large enough in 2016 that it could have acted as a balance of power in a number of battleground states.
In Florida, which Trump carried by 112,911 votes, the combined total for third party, independent, and write-in candidates approached 300,000.
In Pennsylvania, which Trump won by 44,292 votes, the total for the non-major candidates was close to 270,000.
In Wisconsin, where the Trump margin was 22,748 votes, the vote that did not go for either Trump and Clinton was nearly 200,000.
In Michigan, which Trump carried by just 10,704 votes, the number of ballots cast for Johnson, Stein, McMullin, and friends reached 250,000.
Yet unlike Nader, who in the razor close election of 2000 took votes primarily from the Democrats, it is harder to make the case that Clinton was critically wounded in 2016 by the third party vote. The Election Day national exit poll showed that if the race had been restricted to Clinton and Trump, with no other options, the popular vote result would have been largely what it was – a wash.
In short, Trump won, Clinton lost, and there are reasons galore why the outcome was what it was in an election that was truly like none other.
Document Outline
Third Party Impact in the 2016 Election
2016 Third-Party and Independent Presidential Candidate Results

Document Outline
Third Party Impact in the 2016 Election
2016 Third-Party and Independent Presidential Candidate Results

---
Document Citation
Cook, R. (2017). Libertarian Johnson second ever to win 1 million votes. Retrieved from http://library.cqpress.com/
---
Document ID: rcookltr-1527-102581-2776775
Document URL: http://library.cqpress.com/elections/rcookltr-1527-102581-2776775
---