Trump Dominates the Battleground States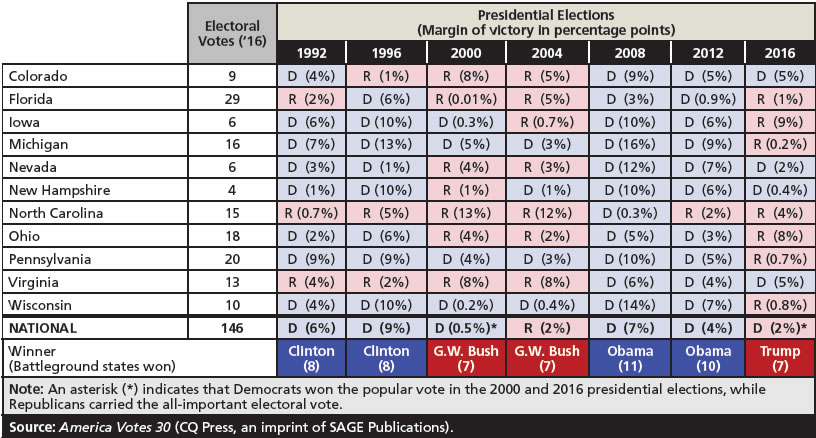 The key to winning the White House is rather simple: Win most of the battleground states. Of the 11 most closely watched in 2016, Republican Donald Trump carried seven. This, after Barack Obama had swept all 11 in 2008 and all but North Carolina in 2012. Trump was able to upset Democrat Hillary Clinton by pulling six closely contested, two-time Obama states into the Republican column. The half dozen included Florida plus a swath of Frost Belt industrial states from Pennsylvania west to Iowa, with Ohio, Michigan, and Wisconsin in between. Trump's victory in the six was an impressive political feat, since Florida, Iowa, and Ohio had not voted Republican in a presidential election since 2004, Michigan and Pennsylvania since 1988, and Wisconsin since 1984. There was also a considerable political payoff for Trump in the six states, as he moved 99 electoral votes from the Democratic column in 2012 to the GOP side in 2016. Add in the electoral vote that he won for carrying Maine's largely rural 2nd District, and that accounted for the change in the Republican electoral vote from 206 in 2012 to 306 in November (before defections by "faithless" electors reduced Trump's final total to 304).
Source: The Rhodes Cook Letter, March 2017
Document Outline
Winning Michigan, Pennsylvania, Wisconsin
2012 and 2016 Presidential Results in Key Battleground States

Winning Michigan, Pennsylvania, Wisconsin
Donald Trump won the White House in 2016 largely because he was able to carry the Frost Belt battleground states of Michigan, Pennsylvania, and Wisconsin. It marked the first time that a Republican presidential candidate had won Michigan and Pennsylvania since 1988, and Wisconsin since 1984. Since then, the Democratic formula had been to run up the vote in the most populous metropolitan areas of each state to a degree that offset Republican strength in smaller cities and rural areas. But last fall, that equation changed. Trump rolled up the vote outside the major metro areas, which in all three states was enough to overcome Hillary Clinton's metro edge.
Document Outline
Winning Michigan, Pennsylvania, Wisconsin
2012 and 2016 Presidential Results in Key Battleground States

Document Outline
Winning Michigan, Pennsylvania, Wisconsin
2012 and 2016 Presidential Results in Key Battleground States

---
Document Citation
Cook, R. (2017). Trump dominates the battleground states. Retrieved from http://library.cqpress.com/
---
Document ID: rcookltr-1527-102580-2776769
Document URL: http://library.cqpress.com/elections/rcookltr-1527-102580-2776769
---