2016 Election at a Glance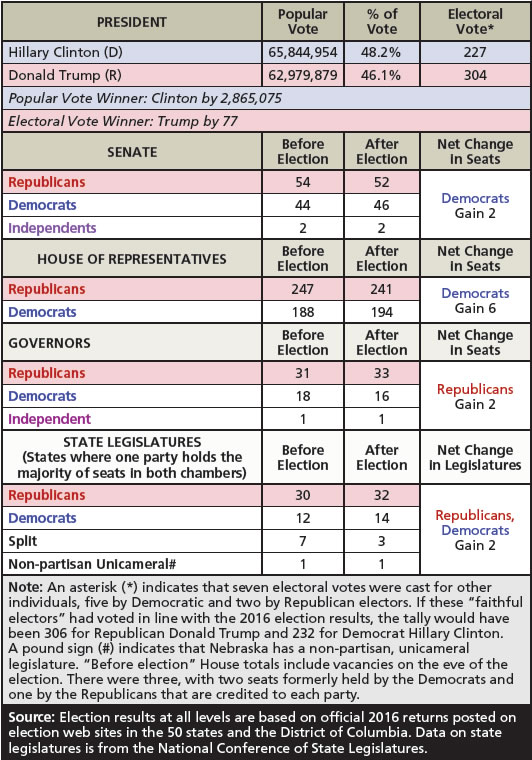 The night of Nov. 8 was a good time to be a Republican, as the party unexpectedly won both ends of Pennsylvania Avenue and maintained their dominance at the state level. The presidential election, however, was a matter of controversy, as it ended in an Electoral College "misfire," the second in 16 years. Republican Donald Trump handily won the electoral vote (and with it, the White House) but lost the popular vote by nearly 3 million. Meanwhile, the Democrats did score gains in both houses of Congress, but not nearly enough to win control of either the House or the Senate.
Source: The Rhodes Cook Letter, March 2017
Document Outline
An Election like None Other
2016 Presidential Popular Vote Results

An Election like None Other
The 2016 presidential election was like none other in American history. Russian hackers, the FBI director, even "Access Hollywood", a television show devoted to the goings on in La La Land, all played significant roles.
But throughout the year, the spotlight was firmly trained on Donald Trump, who confounded virtually everyone in the nation's political community by not only capturing the Republican nomination, but the White House as well.
Trump was a totally different breed of candidate than what politicians and the media were used to. He burst onto the political scene in 2015 as a brash billionaire, New York-based developer, the star of a reality TV show, and a political novice, albeit a savvy one. He belittled his rivals, railed against the media, debunked the credibility of both major parties, and questioned the legitimacy of the American electoral process itself.
As such, he was easy to underestimate, running his campaign by his own rules. Still, he won by galvanizing a "have not" coalition that few thought a Republican could assemble.
In one of the more skillful feats in political memory, Trump - who has liked to flaunt his great wealth - was able to sell himself to "forgotten" working-class Americans as a consummate deal-maker who would put his skills to work for them. "I am your voice," he proclaimed.
His campaign was nationalistic and anti-immigrant. "Make America Great Again" was his slogan, though it shared top billing with "Build the Wall," an edifice along the country's southern border that Trump promised would be paid for by Mexico. And being a political newcomer, Trump was able to run as an anti-establishment outsider, an agent of change in a year where most voters felt the country was on the wrong track.
In contrast, his Democratic opponent, Hillary Clinton touted an impressive political resume: Fist Lady of the United States (as wife of former President Bill Clinton), senator from New York, and secretary of state under Barack Obama.
Clinton allied herself closely with Obama, who was leaving office with both a presidential approval rating above 50% and an economy in far better shape than when he had taken office nearly eight years earlier. Clinton was also mounting a history-making candidacy. If elected, she would have become the nation's first woman president. But an agent of change she was not.
There was a negative undertone to the entire campaign, due in no small part to the unpopularity of the two nominees. Clinton's trustworthiness took a beating with the disclosure of her use of a private email server as secretary of state. The issue was magnified by the hacking of the emails of Clinton allies that were fed to WikiLeaks for publication. Russian hackers, sympathetic to Trump, were widely believed to be the culprits.
During the summer, FBI Director James Comey had acknowledged that Clinton had made significant mistakes in the handling of her government emails but declined to pursue legal action against her. Yet a fortnight before the election, Comey turned a spotlight back on the issue by indicating that the FBI was looking into a glut of newly discovered Clinton-related emails. Comey announced a week or so later that no incriminating evidence had been found, but it was an "October surprise" that many Democrats felt cost them the election.
As for Trump, his unorthodox candidacy was a magnet for concerns that revolved around his boorishness, questions about his knowledge or even interest in major issues, and head scratching about his "soft spot" for Russian strong man Vladimir Putin. His campaign bottomed out in early October when a decade-old tape from "Access Hollywood" surfaced that featured Trump in his own words bragging about his techniques as a sexual predator.
Not surprisingly, each candidate went after the other with gusto. Trump repeatedly brought up Bill Clinton's own checkered history with women and referred to his opponent as "crooked Hillary." Meanwhile, she dismissed Trump as unqualified to be president, and described many of his supporters as belonging in a "basket of deplorables" (in retrospect, not the best choice of words).
Still, as the campaign headed to the finish line, it was regarded as Clinton's to lose. National polls showed her narrowly, but consistently, ahead. So did those in most of the battleground states. The big question was whether Clinton would be joined in the nation's capital by a Democratic Senate. But what was widely expected to be a good election for the Democrats turned out on Nov. 8 to be a great one for the Republicans.
For the first time since 2004, they won both ends of Pennsylvania Avenue, taking the White House and maintaining control of both the House and the Senate. The GOP also strengthened its dominance in the states, where they emerged from the 2016 election with nearly two-thirds of the governors and state legislatures (as measured by control of both chambers).
Democrats were left with a handful of consolation prizes. Clinton won the popular vote by nearly 3 million, thanks to a gigantic lead of more than 4 million votes in California, and Democrats scored modest gains in both the Senate (two seats) and the House (six seats). But in both congressional chambers, they remained stuck in the minority.
Document Outline
An Election like None Other
2016 Presidential Popular Vote Results

Document Outline
An Election like None Other
2016 Presidential Popular Vote Results

---
Document Citation
Cook, R. (2017). 2016 election at a glance. Retrieved from http://library.cqpress.com/
---
Document ID: rcookltr-1527-102579-2776763
Document URL: http://library.cqpress.com/elections/rcookltr-1527-102579-2776763
---