November 2016 Rhodes Cook Letter for Voting & Elections

Like the Democrats and Republicans, the Libertarian ticket of Gary Johnson and William Weld will be on the ballot in all 50 states and the District of Columbia. The Green Party ticket, led by Jill Stein, will be on 44 state ballots plus the District (missing only in Georgia, Indiana, Nevada, North Carolina, Oklahoma, and South Dakota). Meanwhile, independent Evan McMullin made it on only 11 state ballots (Arkansas, Colorado, Idaho, Iowa, Kentucky, Louisiana, Minnesota, New Mexico, South Carolina, Utah, and Virginia), but claims that he is in position to receive write-in votes in about 30 other states.
Source: The Rhodes Cook Letter, November 2016
Document Outline
Third Party Turnout

Third Party Turnout
The Libertarians got nearly a quarter century jump on the Green Party in terms of fielding a presidential ticket. But it was Green nominee Ralph Nader in 2000 who drew far more votes (nearly 2.9 million) than either Libertarian or Green candidates have ever done before or since. Yet the Libertarians are the only third party since George Wallace in 1968 to have received an electoral vote. That came in 1972, when a Richard Nixon elector in Virginia, Roger MacBride, cast his ballot for the initial Libertarian candidate, John Hospers. MacBride's vote made the final tally 520 for Nixon,17 for Democrat George McGovern, and 1 for Hospers. Four years later, MacBride was the Libertarian presidential nominee.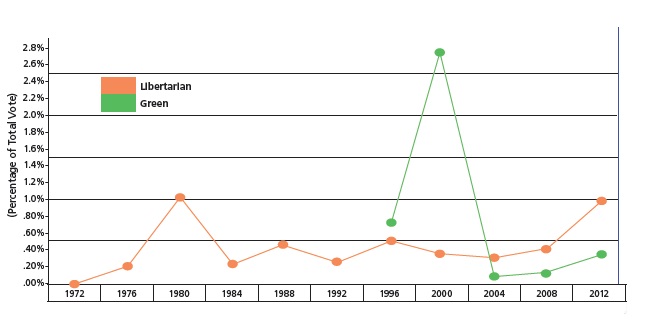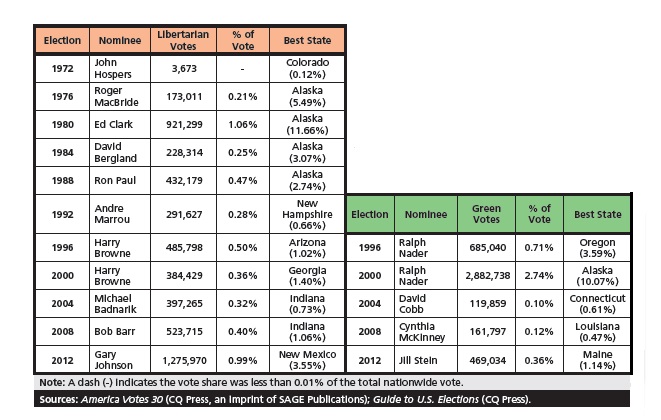 Document Outline
Third Party Turnout

---
Document Citation
Cook, R. (2016). November 2016 Rhodes Cook Letter for Voting & Elections. Retrieved from http://library.cqpress.com/
---
Document ID: rcookltr-1527-101320-2763373
Document URL: http://library.cqpress.com/elections/rcookltr-1527-101320-2763373
---