Close Calls, Clear Cut Wins, and Presidential Landslides since World War II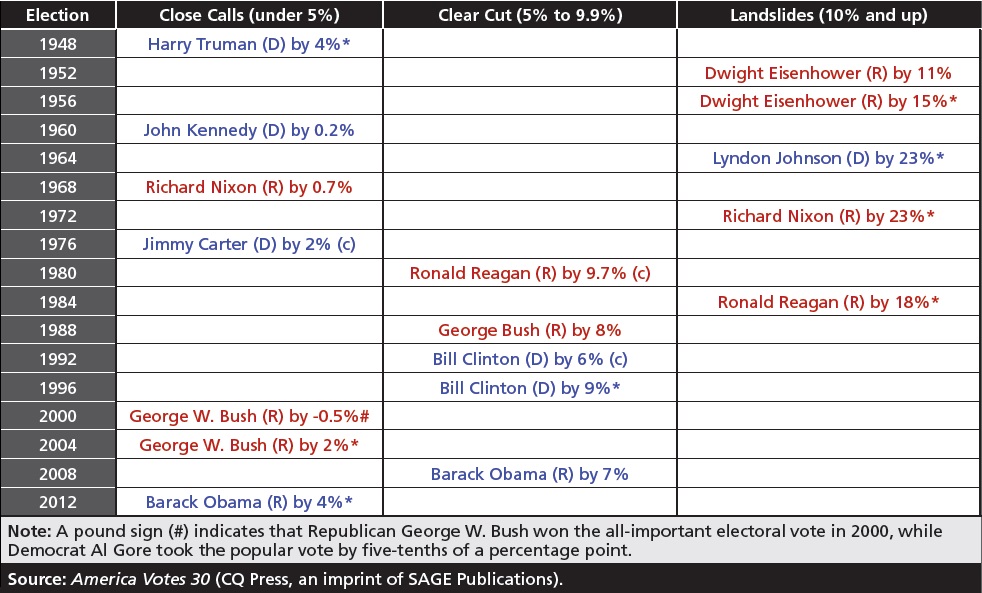 When it comes to presidential elections, there have been a virtually equal number of close calls, clear cut wins, and popular vote landslides since the end of World War II. Seven of the 17 elections have been close (defined in this corner as a popular vote margin of less than 5 percentage points). Five have featured a clear cut but not overwhelming result (with a margin of 5 to 9.9 points), and five have been landslides (decided by at least 10 points). However, there have been none of the latter since 1984, when President Ronald Reagan scored an imposing 49-state rout of Democrat Walter Mondale. An asterisk (*) in the chart indicates an incumbent president; "(c)" denotes a challenger.
Source: The Rhodes Cook Letter, September 2016
Good New for Democrats: They Have Ruled the Map Since 1992
Since Bill Clinton was initially elected president in 1992, presidential elections have shown the United States to be sharply divided geographically. Well over half of the states (31 to be exact) have voted six straight times for the Democrats or the Republicans, with the Democrats fashioning the stronger presidential base in the last quarter century. Eighteen states and the District of Columbia, possessing 242 electoral votes, have voted Democratic in all six presidential contests since 1992. By comparison, 13 states with 102 electoral votes have voted straight Republican for president in that same period. Altogether, 23 states and the District, have voted Democratic in at least four of the last six presidential elections. They have 281 electoral votes, with 270 necessary to elect a president. Meanwhile, 25 states have voted Republican in at least four of the last six presidential elections. They have 219 electoral votes. And there are two states with 38 electoral votes, Colorado and Florida, that since 1992 have voted three times for the Democratic presidential nominee and three times for the Republican. An asterisk (*) indicates that Democrat Barack Obama won a Nebraska electoral vote in 2008.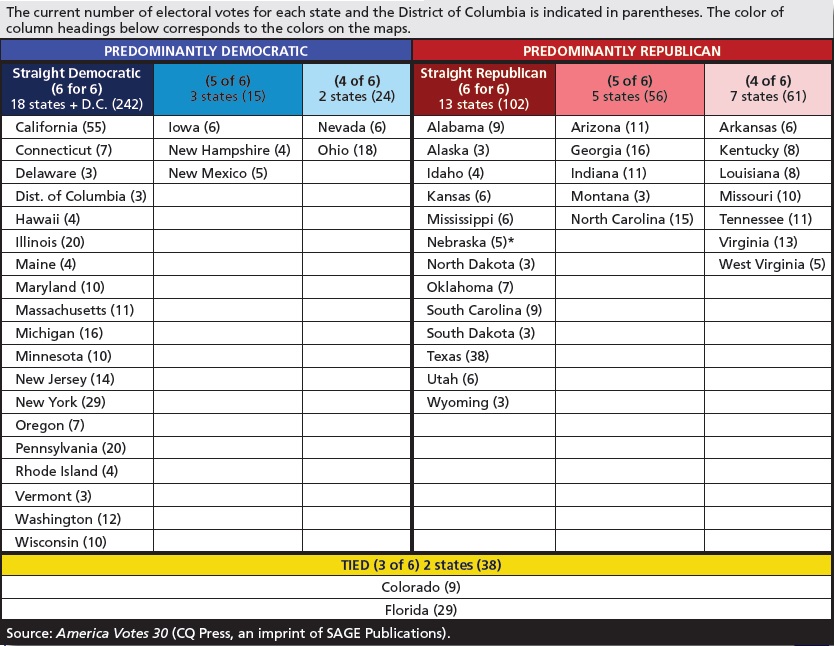 Good News for Republicans: Map Most Volatile in Open Presidential Races
For Republican Donald Trump to win the White House, the GOP will have to change the electoral map that has favored the Democrats over the last quarter century. Yet to Trump's advantage, the largest number of switches in recent presidential elections have come in years such as this one when no incumbent is running. In the open presidential election of 2000, 11 states that Democrat Bill Clinton had carried in 1996 went over to Republican George W. Bush, enabling Bush to narrowly win the Oval Office. Similarly, in the open election of 2008, Democrat Barack Obama took nine states that had backed Bush in 2004, paving the way for Obama's victory. In contrast, the last three times that incumbent presidents won reelection - 1996, 2004, and 2012 - the number of states that shifted parties were five, three and two, respectively.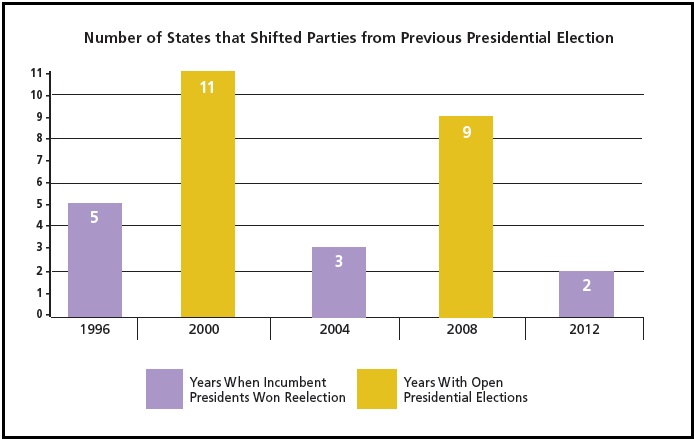 ---
Document Citation
Cook, R. (2016). Close Calls, Clear Cut Wins, and Presidential Landslides since World War II. Retrieved from http://library.cqpress.com/
---
Document ID: rcookltr-1527-101061-2757037
Document URL: http://library.cqpress.com/elections/rcookltr-1527-101061-2757037
---