August: A Good Month for Big-Name Congressional Incumbents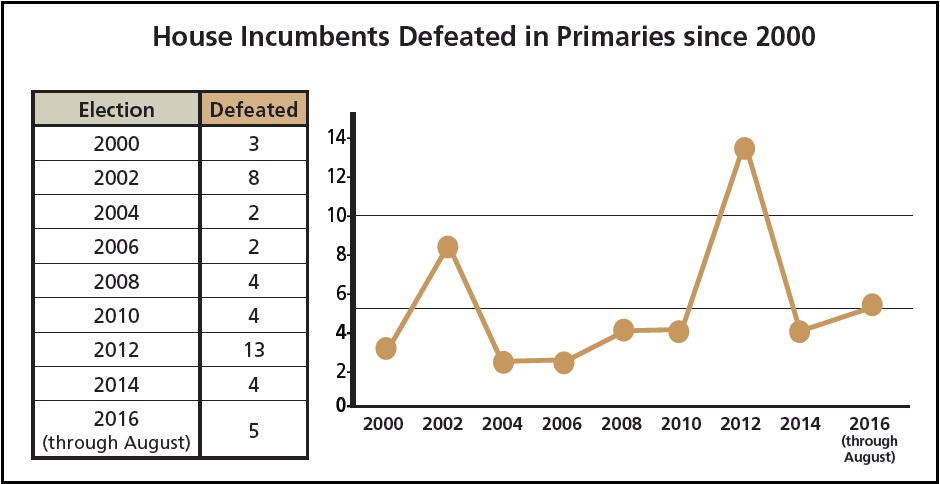 The 2016 congressional primary season came to a head in August, when some of the most prominent members of Congress faced determined primary opposition. Among them: House Speaker Paul Ryan of Wisconsin, Sens. John McCain of Arizona and Marco Rubio of Florida, and Rep. Debbie Wasserman Schultz, the erstwhile chair of the Democratic National Committee (DNC), who is also from Florida.
Source: The Rhodes Cook Letter, September 2016
Ryan in Wisconsin
Being leader of a quarrelsome Republican House in recent years has been a lightning rod for controversy. But in Wisconsin, Ryan's bid for renomination was complicated by the Republican standard-bearer, Donald Trump, who within a fortnight of the early August primary announced that he was "not quite there yet" in his support of Ryan (nor for that matter, Sens. McCain and Kelly Ayotte of New Hampshire). Trump, though, had kind words to say about the speaker's primary challenger, Paul Nehlen.
The Trump mention spurred 11th hour interest in Nehlen's candidacy. Conservative commentator Anne Coulter went to the southeastern Wisconsin district to help the challenger, while Sarah Palin lent support from afar. But Nehlen was a relative newcomer to Wisconsin, and the deeply rooted and well connected Ryan left nothing for granted.
The speaker mustered support from a bevy of state and local GOP leaders and won a primary-eve endorsement from Trump, who reversed his more antagonistic position under pressure from Republican officials. (At the same time, Trump also endorsed McCain and Ayotte).
As for Nehlen, Ryan charged that he was a fringe, "alt-right" candidate, far removed from the district GOP's mainstream. It was an assessment underscored by the menacing behavior of Nehlen's supporters, who had been gathering outside Ryan's Janesville home.
Yet in spite of all the drama, the primary election on Aug. 9 did not come close to being a reprise of Cantor's 2014 loss, but was rather a Ryan rout. He swamped Nehlen, 84% to 16%.
The 46-year-old Ryan is strongly favored to win a 10th term in the House this fall. His share of the vote fell to 55% in November 2012, when he was running simultaneously for reelection to the House as well as Mitt Romney's vice presidential running mate. In 2014, Ryan's winning percentage bounced back above 60%.
McCain in Arizona
McCain has earned iconic status on the national level, but has been the target of increasingly virulent opposition from the right wing of the Arizona GOP. In 2010, he faced a high-profile primary challenge from former Rep. J.D. Hayworth, a conservative talk show host, and this year drew spirited competition from former state Sen. Kelli Ward. In 2010, McCain spent heavily to squash Hayworth and did so by a margin of 24 percentage points. This time, it was much closer.
Ward used Trump-like salvos to deplore McCain's bipartisan efforts on immigration reform, and openly questioned whether the incumbent could survive another six-year term in the Senate. To remind voters of McCain's age, Ward mockingly wished the incumbent a happy 80th birthday, which took place a day before Arizona's Aug. 30 primary.
McCain won the Republican primary with 51% to Ward's 40% - a margin less than half as large (11 percentage points) as six years earlier. Outside populous Maricopa County (Phoenix), which the incumbent carried by more than 60,000 votes, McCain and Ward ran virtually even. Altogether, she carried five of Arizona's 15 counties, albeit rural ones.
For McCain, the primary was just the first of two hurdles that he must clear to win a sixth term in the Senate. In the general election, he faces Democratic Rep. Ann Kirkpatrick, who is widely regarded as his most difficult opponent since he first won his Senate seat in 1986. Her district covers more than 40% of the land area of Arizona, including portions of the Phoenix and Tucson metro areas.
Rubio and Wasserman Schulz in Florida
Meanwhile, in the Sunshine State, both Rubio and Wasserman Schultz scored primary victories Aug. 30 that provided each with a measure of political redemption. Rubio had lost Florida's Republican presidential primary in March by nearly 20 percentage points to Donald Trump, a home state defeat that drove Rubio from the race. It looked for a time as though the loss would force an intermission in Rubio's political career, if not outright closure, as he had repeatedly stated during the presidential campaign that he would not seek reelection to the Senate in 2016.
But under pressure from Republican colleagues in Washington intent on retaining the party's Senate majority, Rubio announced in June that he would run for reelection after all. With that, the Florida GOP Senate field largely dispersed, including Reps. Ron DeSantis and David Jolly, who returned to their House districts to mount reelection bids.
The only challenger of note who stayed in the Republican race was a wealthy home builder, Carlos Beruff, who like Rubio, had a Cuban-American background. But ultimately, Beruff offered little competition for Rubio, who cruised to victory in the GOP Senate primary with 72% of the vote. In the process, Rubio swept all of Florida's 68 counties, a sharp contrast to the presidential primary earlier in the year, when Rubio defeated Trump in just one county, the former's home base of Miami-Dade.
This fall, Rubio will face the Democratic primary winner, Patrick Murphy, who easily defeated his House colleague, Alan Grayson, by a margin of better than three to one. The Democratic establishment rallied behind Murphy, a 33-year-old, two term congressman, in a successful bid to thwart Grayson, a liberal gadfly.
Wasserman Schultz's Democratic primary contest in her South Florida district also had overtones of presidential politics. An ardent supporter of Hillary Clinton during her first presidential run in 2008, Wasserman Schulz chaired the DNC through this year's presidential primaries and was seen by Bernie Sanders and many of his supporters as a Clinton ally. DNC emails released on the eve of the Democratic convention in late July tended to confirm that impression and Wasserman Schulz resigned her chairmanship before the opening gavel.
Sanders endorsed her primary challenger, law professor Tim Canova, and helped him assemble a war chest of more than $3 million that was similar in size to that of Wasserman Schultz. But the Obama administration had kind words for the incumbent, as did Hillary Clinton, who literally embraced Wasserman Schultz in August at her South Florida campaign office. In a district that Clinton carried over Sanders in the Democratic presidential primary with more than two-thirds of the vote, Wasserman Schulz defeated Canova, 57% to 43%.
An eighth House term should be in the offing this fall. She has never won a congressional election with less than 60% of the vote.
2016 Congressional Primaries: Incumbent Losers and Modest Winners (through August)
With the 2016 congressional and gubernatorial primary season winding down, no sitting senator or governor through August had lost their primary. And only one, Republican Sen. John McCain of Arizona, had drawn less than 60% of their party's primary vote. On the other hand, five House members were denied renomination by the end of August, the most in any non-redistricting year since 1980. (Redistricting years are those that end in "2"). On Aug. 30, veteran Democratic Rep. Corrine Brown of Florida became the latest to suffer a primary defeat. She was hit by the double whammy of redistricting and ethics problems.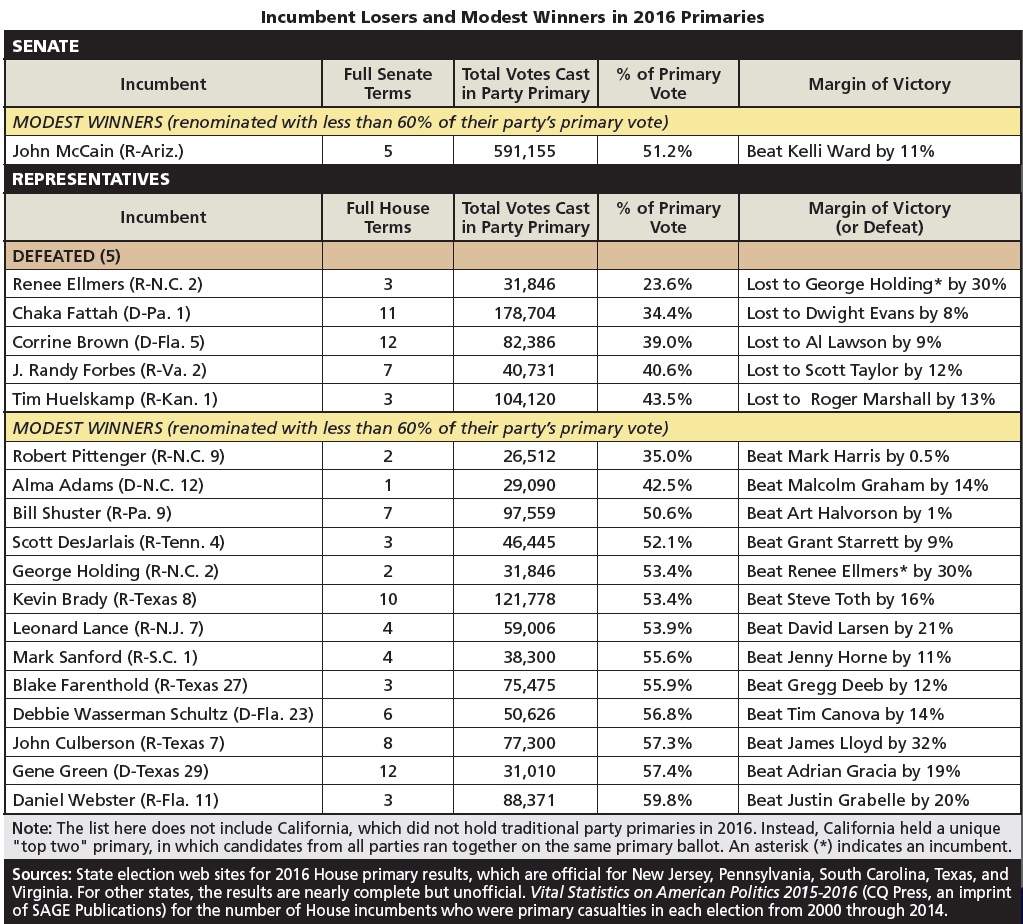 ---
Document Citation
Cook, R. (2016). August: A good month for big-name congressional incumbents. Retrieved from http://library.cqpress.com/
---
Document ID: rcookltr-1527-101060-2757029
Document URL: http://library.cqpress.com/elections/rcookltr-1527-101060-2757029
---