Voters Turn Out in Record Numbers for 2016 Primaries

More than 60 million votes were cast in this year's presidential primaries, breaking the all-time record for the two major parties of nearly 57.7 million ballots cast in 2008. More than 30.6 million votes were cast in the 2016 Democratic primaries, compared to more than 30.1 million primary ballots cast in their GOP counterparts. (Both totals could go up a tad as votes trickle in from the primary states where the vote is not yet official.) The Republican total eclipsed the previous record for the number of GOP ballots cast in a single primary season by more than 9 million. The Democratic total this year represented the second-highest number of primary votes ever cast in a single party's primaries, behind only the Barack Obama-Hillary Clinton contest for the Democratic nomination in 2008. The latter set the record for either party of 36.8 million primary votes.
Source: The Rhodes Cook Letter, July 2016
Document Outline
All-Time Leading Primary Vote-Getters: Clinton on Top: Trump, Sanders Among Top Five

All-Time Leading Primary Vote-Getters: Clinton on Top: Trump, Sanders Among Top Five
Donald Trump has liked to remind audiences that he won more votes in the presidential primaries this year than any other Republican candidate ever has. Altogether, he drew nearly 3 million more votes than the party's previous primary record-holder, George W. Bush, did in 2000. However, Democrat Hillary Clinton won more than 3 million more primary votes this year than Trump. That was due in large part to the fact that Clinton had only one significant challenger, Bernie Sanders, while Trump had many. Clinton fell just short this year of the all-time, single-year record of 17.7 million primary votes that she set in the 2008 Democratic primaries against Barack Obama. As for Sanders, he finished the 2016 primary season with more votes than any other candidate has ever won who was not named Clinton, Obama, or Trump.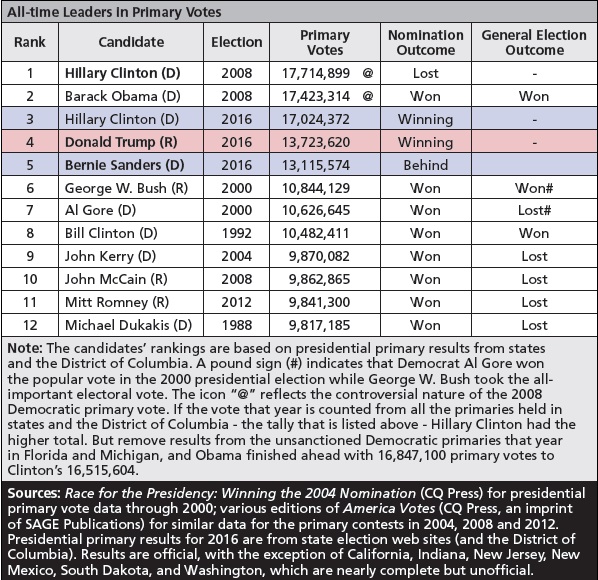 Document Outline
All-Time Leading Primary Vote-Getters: Clinton on Top: Trump, Sanders Among Top Five

---
Document Citation
Cook, R. (2016). Voters Turn Out in Record Numbers for 2016 Primaries. Retrieved from http://library.cqpress.com/
---
Document ID: rcookltr-1527-100612-2745430
Document URL: http://library.cqpress.com/elections/rcookltr-1527-100612-2745430
---